Hurray, it's that fun time of year again. You've hauled the Christmas decorations down from the loft, put on your loudest Christmas jumper and made a festive shopping list. Before you step foot in the supermarket, why not get your fridge organised and avoid any squished pigs in blankets. To help inspire you we've put together a guide on how to prep your fridge for the biggest shop of the year from where to store everything from Brussel sprouts and brandy butter to the benefits of a swanky Liebherr wine cabinet. It's never too early to pour.
Mistletoe and wine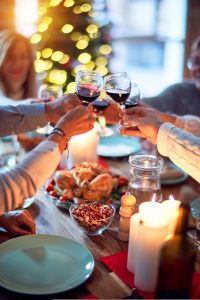 If you're stocking up, why not invest in a Liebherr wine fridge to keep your wine in controlled conditions for the festive season? They have lots of space and multi-temperature zones for serving different types of wine. The best way to store wine is on its side. When the wine is in contact with the cork (we're talking real natural solid cork, not the plastic ones) it expands to create a tight seal for the bottle and your wine stays free of oxygen and tastes fresher for longer. Screw top wines are to be drunk fast and young. No judgement whatsoever.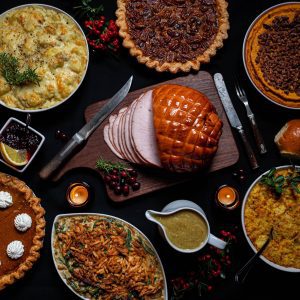 Make way for the turkey
Carve (sorry) out some time to give your fridge a good clear out before your Christmas big shop. Liebherr fridges are outstanding appliances and come in a range of sizes, with plenty of room for storage and long lasting freshness, thanks to the BioFresh technology. Liebherr's spacious vegetable compartments are particularly practical for storing big bags of Brussel sprouts and potatoes. The new LightTower concept means once your fridge is nice and tidy the contents will get the full Hollywood lighting treatment. Get ready for your close up.
Let's talk storage
What we mean by that is easily adjustable fully-extendable glass shelves. They extend on telescopic rails and you can adjust the height inside the fridge as and when you need more space. The VarioSafe feature offers contained space for smaller items such as cranberry and bread sauce to create calm and order where there's only chaos elsewhere. If every item has its own place you can see what needs replenishing or eating up. And relax.
What food goes where?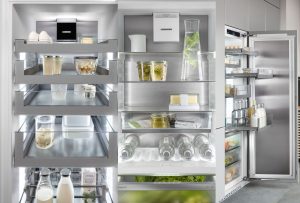 Keep some space on the upper shelves for foods that don't need cooking, such as deli meats and leftovers and ready to eat bites (cooked pigs in blankets anyone?) and you can adjust the height of the glass shelves when loading them with Boxing day tupperware. Cheeses and brandy butter go in the middle and the bottom (the coldest part) is for raw meat and smoked salmon. FYI bread will go stale faster in an airless fridge than in a bread bin.
Keep things fresh
You do your food shopping before Christmas and it might need to last until the new year, we get it. Liebherr appliances offer a perfect combination of integrated freshness technologies. With the BioFresh tech, for example, your carrots will stay fresh for 40 days and cabbage for 12 days! BioFresh keeps food stored at
 a temperature just above 0 °C, cooler than in the rest of the fridge. No mouldy sprouts on Christmas day, hurray.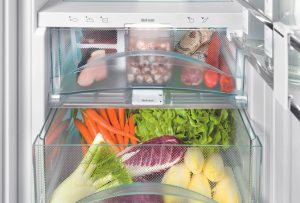 Smart thinking
There's a lot to remember over Christmas, especially if you're the chef. So how would you feel about getting important status messages from your fridge sent directly to your phone? Helpful indeed. A Liebherr fridge will think for you this festive season. How? There's the DoorAlarm, if the fridge door is left open and the integrated BottleTimer means burst Prosecco bottles are a thing of the past. The SmartDevice also offers storage tips, access to operating instructions and several cool accessories.
Will it do the washing up? No, sorry about that.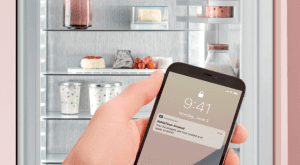 Wondering what the best wines are for the festive season? Do you want to know which wine pairing is best? Join us for more FreshMag tips