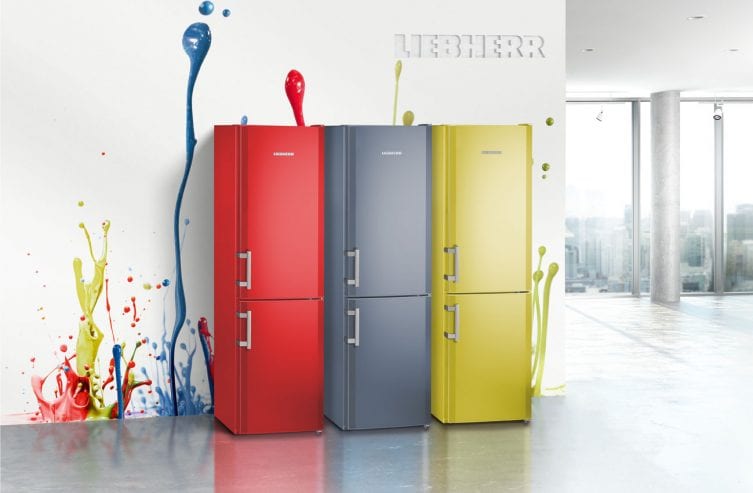 Adding a splash of colour: Liebherr's ColourLine refrigerators are available in the fresh and glamorous hues of FireRed, WaterBlue and AvocadoGreen.
Long gone are the days when the refrigerator was just an appliance in the corner for chilling foods; today it's increasingly becoming a design centrepiece in its own right, captivating attention in the modern home. Liebherr always keeps an eye on both current trends and customer requirements when developing its new appliances and, in bringing these together, never compromises on quality, design or innovation. Our new ColourLine appliances are a perfect marriage, combining gorgeous modern colours with outstanding refrigeration performance and convenience. These fashion-savvy fridge-freezers, which will draw admiring glances in any modern living space, are available in FireRed, WaterBlue and AvocadoGreen.
And their beauty is not only skin deep… on the inside too, the ColourLine appliances cannot fail to impress with a host of innovative functions and features, so typical of Liebherr. Two easy-to-clean, transparent fruit and vegetable compartments provide a generous amount of space to store products in an organised and clear manner. Energy efficient LED lighting guarantees top quality illumination throughout the interior, and sophisticated GlassLine fittings add the finishing touch to the elegant interior design. The GlassLine shelves are made from satin-finished safety glass and are hardwearing, scratch-resistant and easily cleaned; their high-class appearance is rounded off beautifully with stylish stainless steel railings and trims.
Another fantastic feature of the new ColourLine range is SmartFrost-Technology, which vastly reduces ice formation in the interior and on frozen goods, so that defrosting is required far less often. The interior walls of the freezer compartment are particularly smooth and, thus, easy-to-clean. Meanwhile, the drawers and intervening safety glass shelves in the freezer compartment can be easily removed to create VarioSpace – a practical way to quickly make extra storage space so that you can easily accommodate bulkier items.
New freshness ideas and fresh design – that's what you get with Liebherr's ColourLine range! Now it's time for you to show your true colours: which of these three is going to be your favourite?
If you have any questions about Liebherr's ColourLine range, please write to us! Use the comment function below this post or start/join in discussions with us on Facebook.