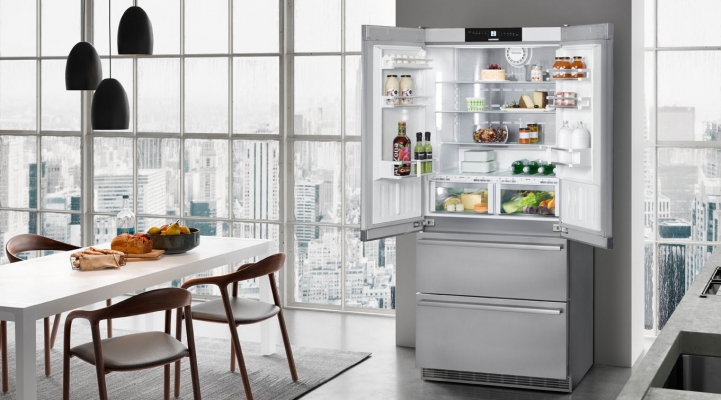 Do you know what we mean when we talk about a combination fridge-freezer? Here is how a combination appliance works and the different features on Liebherr combination models.
A fridge-freezer, as the name suggests, is an appliance with dedicated refrigeration and freezer compartments. The majority of fridge-freezers are bottom freezers, having the freezer compartment below the refrigerator compartment, in the lower half of the appliance. The rest are top freezers, where (yes, you've guessed it), the freezer compartment is above the refrigerator compartment.
Fridge-freezer combinations feature separate temperature regulation in the refrigeration and freezer compartments so that there are two independent temperature zones. This means that you can individually set temperatures in each compartment and that there is no "temperature-linking" between the refrigeration and freezer compartments. One advantage of this set-up is that you can turn off the refrigerator when you go away on holiday, and leave the freezer compartment switched on. Our combination technology is possible thanks to the use of a highly modern compressor that is fitted with a solenoid valve. In the past, combinations always required two compressors, but now, Liebherr has switched over to a single compressor design (except for the model CBNes 6256). Our appliances are significantly more energy efficient than those using two compressors.
Liebherr's fridge-freezer combinations are available as either Comfort models or as high spec Premium versions. You can choose from different configurations:
• Refrigerator + freezer compartment (with or without NoFrost)
• Refrigerator + BioFresh + freezer compartment (with or without NoFrost)
Liebherr fridge-freezer combinations are extremely energy efficient: with a designated energy efficiency class of either A++ or A+++ or even higher. The BluPerformance premium range, for example, features particularly quiet operation, increased storage capacity, and truly exceptional energy efficiency ratings of A+++ and A+++/-20% (the latter surpassing the highest designated energy efficiency class to date).
Top refrigeration performance whatever the climatic conditions
Our fridge-freezer combinations are aligned to the SN-T climate classes. This essentially means that they are suitable for operation in ambient temperatures ranging from +10°c up to +43°c. These appliances can, therefore, be used all over the world, in all kinds of climatic conditions, and still deliver highly energy efficient performance.
Furthermore, Liebherr combination refrigeration and freezer compartments each have their own separate evaporators, which prevents any drying out of foods stored in the refrigerator compartment, because cold air is not diverted from the freezer into the refrigerator. Moreover, this also prevents any odours being transferred from foods in the refrigerator into the freezer. And, when it comes to design, Liebherr combinations have plenty to offer: they are available in either a stylish BlackSteel finish, with a stainless steel front (painted side panels), as a complete stainless steel appliance. There are also GlassEdition models with black or white glass fronts, and stainless steel or classic white side panels as well as the ColourLine ranges (pictured below).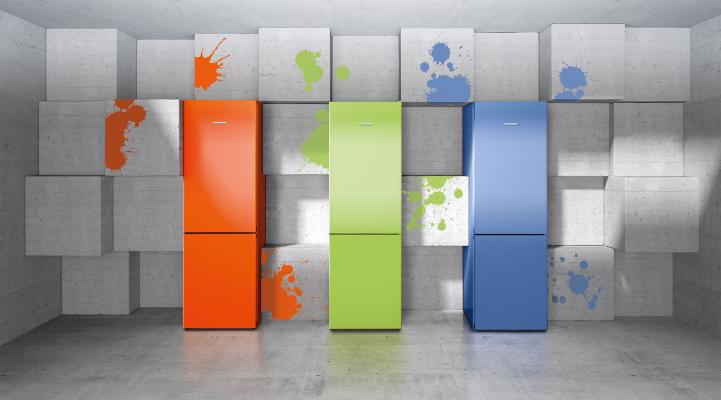 Do you have any questions about Liebherr fridge-freezers? Please get in touch with us on Facebook, Twitter or Instagram.