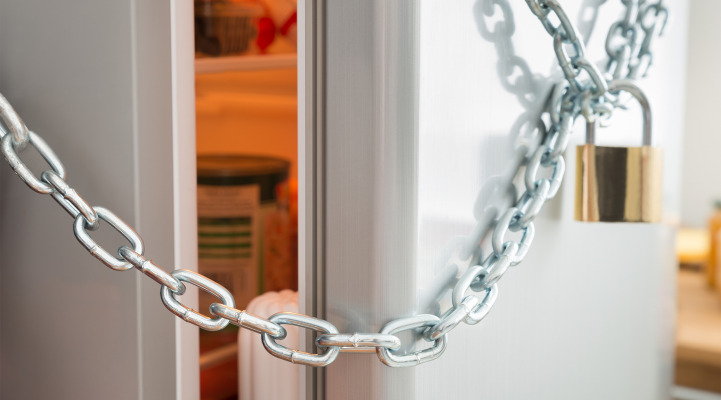 It's World Health Day on 7th April, the day when the World Health Organisation (WHO) annually commemorates its founding in 1948. 
Food Safety is an issue that touches our lives on a daily basis whenever we come into contact with food, whether we're at home in the evening at the dinner table, or at work visiting the canteen. But what do we need to pay particular attention to when it comes to safe food storage? In all likelihood, you'll recognise this situation: you've spent all day looking forward to a nice crisp salad but, when you get home, to your disgust and annoyance, you discover that your nice crisp salad is, in fact, all soggy and wilted!
So why do foods spoil like this? The blame lies with, among other things, microorganisms, such as bacteria, yeasts and moulds. These usually find their way onto foodstuffs from outside sources and then they multiply rapidly on the food's surface. Since the multiplication of most bacteria is slowed or even prohibited at cool temperatures, perishable foods should always be refrigerated right up until their consumption or their preparation as part of a meal.
In the instance of a salad, it would stay fresh for up to 5 days in a refrigerator and for up to 13 days in a Liebherr BioFresh compartment.
WHO have put forward five key recommendations when handling food:
Maintain cleanliness
Store raw and cooked foods separately
Heat foods thoroughly
Store foodstuffs at safe temperatures
Use clean, safe water and raw ingredients
Of course, as specialists in refrigeration and freezing, Liebherr is particularly committed to recommendation 4 of WHO's food handling guidelines. Our refrigerators and freezers have a whole host of features to ensure that food is always stored in the ideal conditions, and this means that foods stay fresher for longer.
Precision temperature setting
Appliances with touch electronics deliver constant temperatures throughout the whole of the refrigeration zone. Not only are foods chilled gently and consistently, they also maintain their freshness for longer.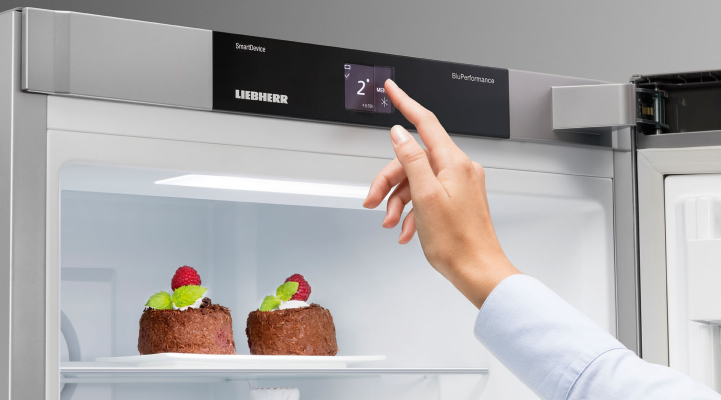 Flexible interior configuration
Appliances with the VarioSafe concept provide dedicated storage areas for smaller food items, packets, tubes and jars. The GlassLine storage shelves are shatterproof and scratch resistant. They are very easy to clean, contributing to overall refrigerator hygiene, and they offer plenty of space to store raw and cooked foods safely and separately.
Greater freshness with DrySafe and HydroSafe
Thanks to BioFresh technology, food stays fresher for much longer than in a conventional refrigerator because the BioFresh drawers create perfect environmental conditions. The BioFresh drawers provide a temperature of just over 0°C, together with the appropriate humidity level, so that fruit and vegetables, meat, fish and dairy products all retain their quality and nutritional content for considerably longer. The bottom line for you is greater freshness and greater enjoyment.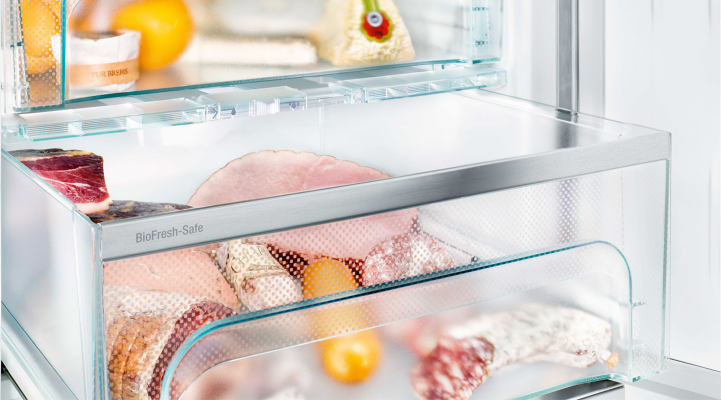 Automatic closing
If a refrigerator door stays open for longer than necessary coldness will be lost, with warm air invading the refrigerator. Energy will then need to be consumed to restore the correct degree of coolness within the system. With Liebherr's integrated SoftSystem, appliance doors close automatically from an opening angle of 45° to prevent too much outside warmth entering. This safeguards foods, keeping them chilled to the constant compartment temperature, and your appliance ultimately consumes less energy.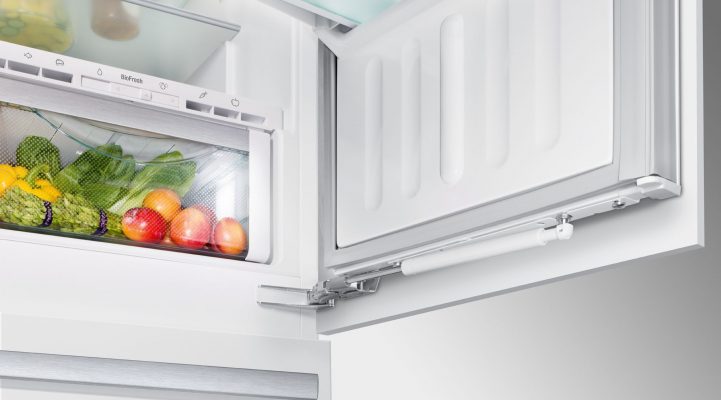 Open door Alarm
If your appliance isn't fitted with SoftSystem and, in all the hustle and bustle of your hectic kitchen life, you forget to close the refrigerator door, an open door alarm will let you know so you can avoid the risk of temperatures rising in the interior and thereby protect your stored foods.
At Liebherr food safety is very close to our heart and, for this reason, we are committed to continuously developing innovative solutions to keep your foods fresh for as long as possible.
You might also be interested in our articles on BioFresh-Plus which offers more control over the temperature setting, and how to prevent food perishing.
Do you have any questions? Please get in touch using the comment function below this post or reach out to us on Facebook and Twitter.