It doesn't always have to be the chic restaurant in the city center when you're in the mood for a really nice evening with good food. Whether you are grumpy cooks, everyday spoons or self-proclaimed top chefs – we all manage to put together a star-worthy evening in our own four walls that hardly misses the restaurant. Our tips and tricks will certainly motivate you and your sous-chef to create an incomparable culinary evening.
We have put together six tips for you that will help you to serve a truly fine dinner within your own four walls. From the choice of dishes to shopping, creating the right atmosphere and limiting the damage to possible piles of dishes: this is how you impress your loved ones without going to the restaurant.
Tip 1: Planning is everything: Why the shopping list is an essential companion
The sauce simmers, the oven is preheated and suddenly it is noticeable that the lemongrass is missing. You're already sweating: still to the supermarket quickly? Just leave it out? Or maybe ask Google which sensible alternative is possible? Something like this has certainly happened to everyone, with stress and frustration as a consequence. Therefore, for a stress-free evening: planning is everything! List the required ingredients (and their quantities) of all planned meal components. Especially for unusual dishes, some ingredients are not available in the supermarket around the corner, so you should plan a little in advance for the purchases. Shopping list apps are also helpful for thisthat can be edited by several users at the same time. We recommend the HNGRY app to plan your next purchase perfectly and guaranteed not to forget anything!
Tip 2: Just dare to do something new
First of all, a restaurant atmosphere at home does not necessarily require a seven-course menu with exotic ingredients that have never found their way into your shopping bag before. Even a simple dish and a purchased dessert can be turned into an extravagant meal with a little skill (see tip 5). Nonetheless, if you don't dare, you won't win. So why not try something new, extravagant, challenging.
How about a theme evening? Orientate yourself, for example, to country kitchens: Whether a Mexican evening, Australian barbecue, Moroccan cuisine, Russian specialties or Vietnamese delicacies. Every cuisine offers an enormous variety that is incredibly fun to discover. For example, dedicate yourself to the Japanese noodle soup "Ramen". Ramen is a science in itself, but it is all the more fun to enjoy the elaborate dish afterwards – and variety is guaranteed.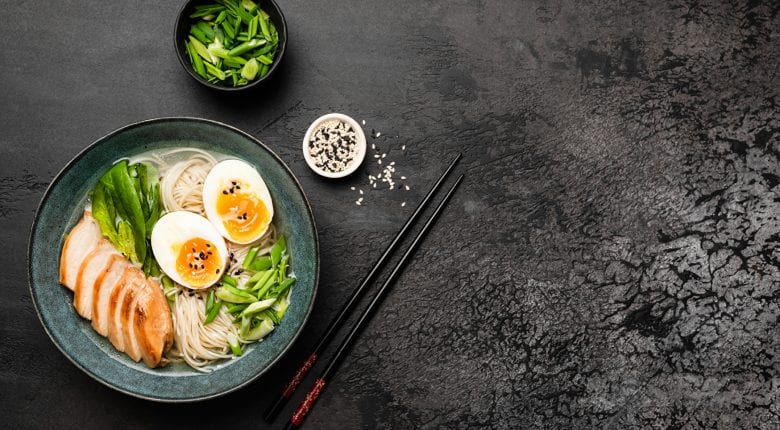 Tip 3: Leisure time to cook: Event character instead of everyday burdens
The Americans say: "Let's make a day of it" – let's turn it into a full-time job! The goal of creating a nice evening like in a restaurant has numerous, exciting components: Which of the many wonderful-looking dishes do I cook? How do I design the table in the most beautiful way? Which ingredients and preparation methods can I rediscover? Not to mention the cooking experience itself. So see the project as an exciting event, and not as an evening meal need . After all, you don't go out to a fine restaurant every evening.
Several small dishes instead of a large plate dish immediately create a more festive atmosphere. Not every dish has to take three hours to cook. As in a restaurant, start with good bread and salted butter. Simple intermediate dishes, such as a beetroot carpaccio with a simple vinaigrette or a prepared sorbet, look great and are not very expensive.
Make use of simple, optical tricks: Small portions on large plates suggest that professionals were at work here. Under no circumstances should the plate appear overloaded. Served with fresh herbs, fine spring onion rings or edible flowers it immediately looks even more festive. Another tip: fill sauces or thick dressings in a garnish bottle (available for little money in many online shops) and spread them on the plate in quick zigzag movements or pretty dots. If something goes wrong, simply remove it with kitchen paper or cotton swabs.
Tip 4: Trick your own psyche: How colours and co. Influence us
It is known in science that factors such as temperature, light, music, noise, smells and decorations influence the eating experience. Studies have shown that the cleanliness and order of the environment have a significant influence on satisfaction with eating. Therefore: Eliminate the chaos that is visible from the dining table before the first course .
Other scientific findings relate to the subject of colors. Sensory research has shown that colors trigger many things in us. The color red, for example, is associated with the sweet taste, while yellow inevitably reminds us of something sour. It is also known that the color red is associated with danger. This leads to the fact that we unconsciously eat less when we eat from a red plate. Certainly good to know for a possible diet, but not the best choice for a candlelight dinner. Otherwise: Warm colors stimulate our emotions – and thus our appetite.
In addition, environmental psychology shows how background music can also influence our eating experience. Studies have shown that diners dine slower when slow music is playing in the background. And: if we listen to French music, for example, we would rather choose a French-looking dish in the restaurant than another. For the restaurant evening at home, the following applies: Slow music that goes with the menu choice contributes to the perfect evening.
Tip 5: eat with your eyes: table and plate decorations for that special evening
To add the icing on the cake to the evening, you should not only dress yourself up, but also your dining table. After all, it should also be reminiscent of a chic restaurant in terms of appearance. Don't skimp on plates and cutlery : A large underplate (ideally on a place mat) is the beginning, followed by the various menu plates. Use the same fork for both the starter and the main course? Not on the evening at home in a restaurant!
The icing on the cake is a specially written menu card or a chalkboard with writing on it . Let your creativity run free and decorate the names of the dishes – this gives you the feeling of dining in a chic restaurant. Candlelight and a few fresh flowers, matching napkins and the right assortment of drinking glasses complete the dining table. By the way: it doesn't always have to be the classic plate. Arrange a dish in a glass or drinking glass (especially nice for dishes that are layered) and achieve a real eye-catcher.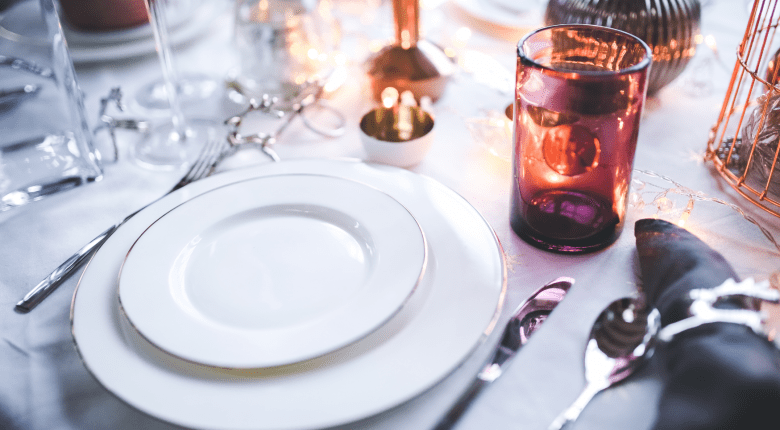 Tip 6: Mental preparation for eliminating chaos
Admittedly, a very clear advantage of the evening in your favorite pub is that you can lean back and not worry about anything. Pans, boards, pots, sieves, plates, measuring cups and the like are stacked next to the sink at home. Eliminating the chaos for hours after a wonderful meal is probably not a joy for the fewest people. With a few tricks, the chaos is only half as bad.
Use cooking breaks: Use free minutes while cooking to wash and put away kitchen utensils. Then the pile doesn't get that big in the first place and pots and the like are easier to clean, the fresher the dirt is. Also, empty the dishwasher before you start cooking. Then everything can be put away quickly and there may be no mountains of dishes in the first place.
Deal or no deal? How about a little swap deal with your dinner companion: Today one person cleans the kitchen and the next big cooking event is the turn of the other.
Is there anything left standing at the end of the evening? Then let it be five straight. The day shouldn't end in a bad mood. So that the next day doesn't start with frustration, you should at least soak heavily encrusted utensils with water and a little washing-up liquid.