A well-organised fridge calms the nerves, avoids food waste and also saves you money!
We've all been there, haven't we? After coming back from a hectic trip to the supermarket, the food has to put in the fridge straight away. But if you don't store it in a systematic way, you'll quickly lose sight of what you have and where it is. Luckily, you only need to remember a few tips to achieve a well-organised fridge. And once you start enjoying the benefits of an organised fridge you won't want to fall back into old habits.
Tip: Everything has to be taken out!
In order to create a clean and tidy fridge, you have to start by saying goodbye to your old system. The best thing to do is to take everything out and sort it all on the kitchen table. Which food has already gone off? Which food won't I use again? And what should go back in? Remember: an expired best-before date doesn't necessarily mean that you can't still eat a product! Trust your senses instead. Food that is still edible but you don't fancy eating any more of might find a new home with your friends or neighbours.
Once the fridge is empty, clean it with a cloth and a standard household cleaning agent. Make sure you clean every corner of the fridge and take out glass plates and other removable parts to clean them. Once this has been done, it's time to start sorting properly.
Tip: Sort with the help of BioFresh technology
Now that your fridge is sparkling clean you can devote yourself to storing food correctly. First, you should put any leftovers in suitable containers and label them. So everyone knows what's inside. We also recommend storing sliced cheeses and meats in containers. This avoids having excess plastic packaging in the fridge and increases the storage life of the products. It's also best to remove plastic packaging from fruit and vegetables or to buy unpackaged items in the first place. You can find more information about unpackaged food here: https://blog.liebherr.com/hausgeraete/de/lebensmittel-unverpackt-einkaufen-und-lagern/.
The assumption that the top areas of the fridge are warmer than the bottom areas is no longer true for most modern appliances. Thanks to fan-assisted cooling, the temperature is the same throughout all compartments. The only exception to this is the fridge door. Due to constant opening and closing, products stored here are subject to constant temperature fluctuations. That's why it's best to store less delicate products, such as drinks, butter and sauces here. But take note: Storing an open bottle of bubbly in the fridge door will make it go flat faster. Instead, store both your opened and unopened bottles in the built-in bottle shelf in your Liebherr fridge. This ensures that drinks don't roll around and the closed bottle of bubbly will taste sparkling fresh when opened.
BioFresh technology means it's easy to find the right place for everything in the fridge. The safes maintain a temperature just above 0 °C, combined with ideal humidity to ensure extra long freshness. The humidity and temperature can be adjusted as required. For example, the Meat & Dairy safe ensures optimal storage of delicate foods such as meat and dairy products and the Fish & Seafood safe, with its temperature of -2 °C, is perfect for storing fish and seafood. The practical drawer principle of the BioFresh safes also helps you to keep an overview of everything in them.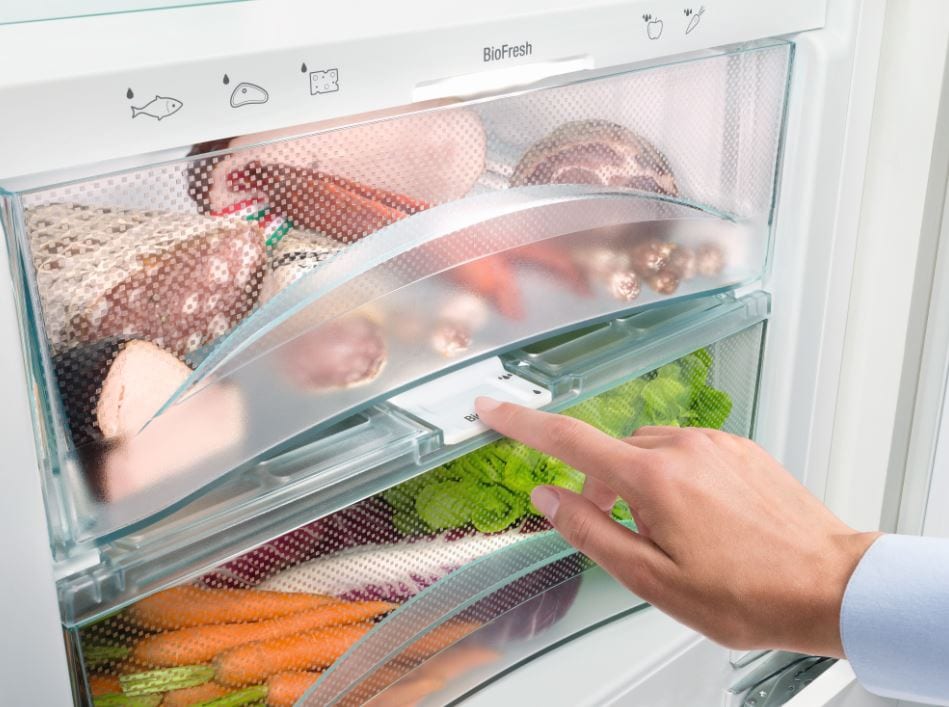 Tip: Use containers, compartments and jars
Using containers, jars and other storage features is essential for ensuring your food stays organised and does not get lost in the fridge. You've already put sliced food and leftovers in suitable containers. Now, thanks to the large selection of accessories in your Liebherr fridge, you can easily sort the rest of the food. VarioSafes are ideal for storing food in smaller containers such as packs, tubs and glasses. To do this, hang the VarioSafe at the desired height in the fridge compartment.
The Liebherr FlexSystem is designed to maintain an overview of your BioFresh compartments at all times. Food can be clearly separated into categories such as fruit or vegetables. The accessory is easy to clean and dishwasher-safe. Another tip: Always store food which needs to be used up first at the front. Products with a longer shelf-life can be stored at the back of the fridge!
Tip: Don't forget the freezer!
One area that is often forgotten is the freezer. This can be an especially chaotic area in many households. If you have multiple freezer compartments, we suggest sorting items by food groups: Fruit and vegetables in one, meat and fish in another and fruit and ice cream in their own compartment. We also recommend using containers or freezer bags here too, and labelling them with the date and contents. The transparent design of the compartments in your Liebherr freezer provides an excellent overview and means you can find what you are looking for quickly. And what's also important: You'll not only save time, you'll also save electricity!
With these tips, nothing can stop you from enjoying the benefits of a well-organised fridge. Have fun trying it out!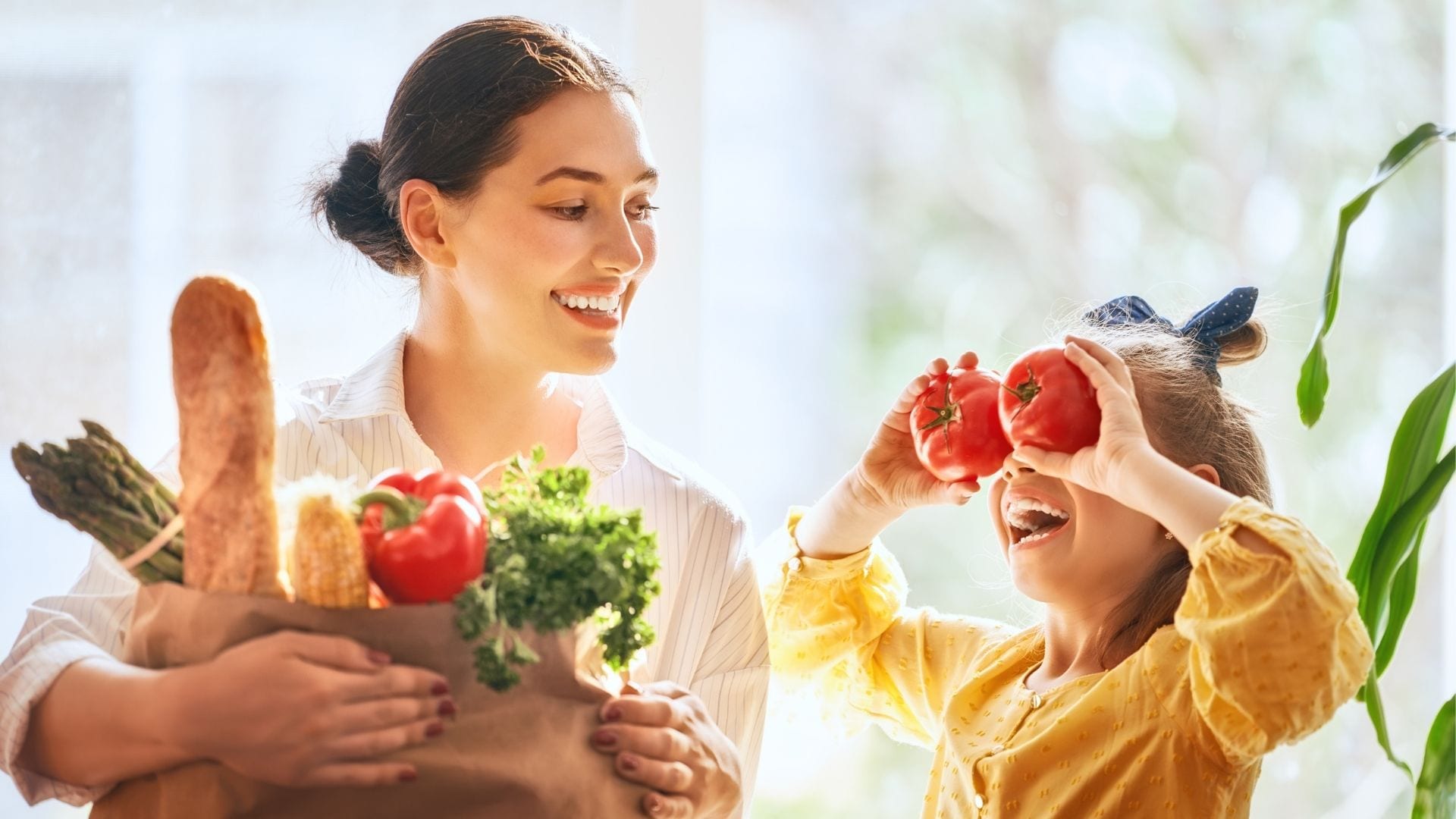 #fridge, #organisation, #order, #system, #biofresh, #technology, #containers, #jars, #compartments, #fridgedoor, #fanassistedcooling, #bottleshelf, #drysaf,e #fish&seafoodsafe, #variosafe, #flexsystem