'Quality, Design and Innovation' is Liebherr's defining motto and the exclusive new range of BlackSteel appliances underscores our commitment to fulfilling this high aspiration. Read on to find out exactly what BlackSteel is all about.
If you've read any of our brochures and catalogues you'll be more-or-less familiar with the following description of BlackSteel:
"BlackSteel is a visually stunning and exceptionally appealing black stainless steel. Paired with Liebherr's high quality SmartSteel finish, BlackSteel lends an appliance hi-tech appeal, timeless elegance and an exceptional textural depth. The transverse-polished finish gives BlackSteel a compelling and exclusive appearance, ensuring that BlackSteel appliances are real style-highlights. Moreover, this finish significantly reduces the visibility of fingerprints on the doors and side walls, is easy to clean, and much less sensitive to scratches."
Spotlight on design
With the unique BlackSteel range, design is truly propelled centre-stage, affording Liebherr another opportunity to demonstrate its great creative vision and to emphasize its commitment to the ongoing development of new and innovative products. Liebherr frequently sets innovative refrigeration trends: our appliances are classy, elegant and exclusive; they are stylish in form, and beautiful inside and out. And, our exquisite BlackSteel appliances are certainly no exception.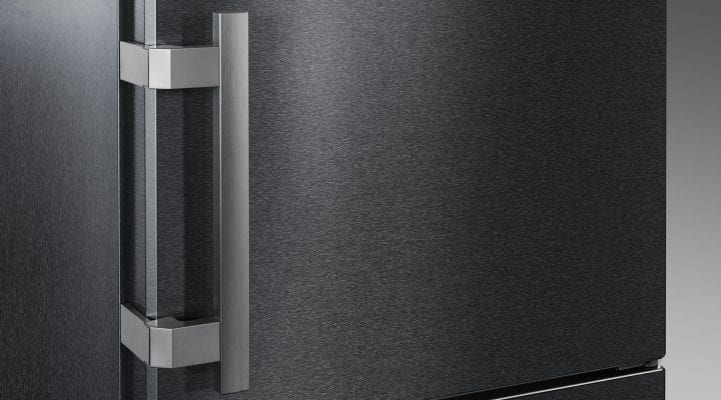 Much more than great looks
With its innovative BlackSteel, Liebherr has created a modern interpretation of the classic stainless steel front. Appliances are characterized by their striking black colour and their unique surface finish. The cross-ground textured effect of their finish creates amazing visual impact and gives the appliances a very special feel. On BlackSteel models, the patented Liebherr bar handle with integrated opening mechanism is designed in complementary aluminium. Both the design and the technology have won multiple awards.
The idea behind BlackSteel
Within the scope of its CoolVision design studies series, Liebherr regularly sets new refrigeration standards and showcases new innovative trends. For example, every year at the IFA (Internationale Funkausstellung) trade show in Berlin, you can see how we experiment with design, light and new finishes to create inspirational ideas for future products, revealing just what is possible in these areas. Some time ago now, the idea for BlackSteel was first presented as a CoolVision design study.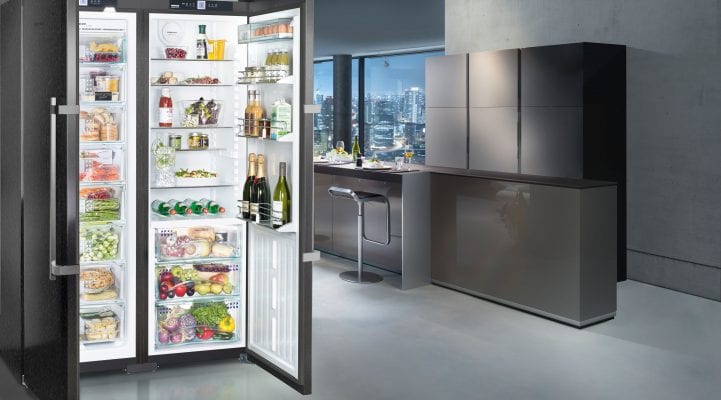 Incidentally, the exclusivity of BlackSteel makes these appliances stand out as truly sensational additions to even the most high-end kitchens. Complemented by a generously proportioned yet stylish and elegant aluminium handle with integrated opening mechanism, the appliance doors are virtually effortless to open. The fascinating combination of the aluminium with the stainless steel somehow amplifies the unique nature of the BlackSteel; it is highly impressive and with it Liebherr reiterates that 'Quality, Design and Innovation' are an intrinsic trio in the development of its appliances.
We hope you enjoyed this post. If so, please feel free to recommend it to others and share it on social networks