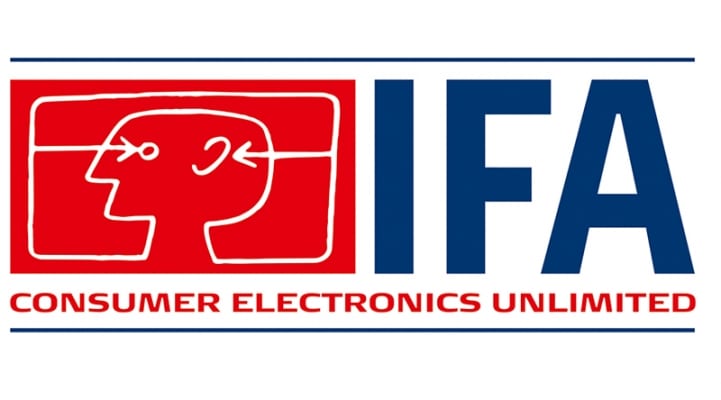 What new products will Liebherr Domestic Appliances be showing at the IFA 2017 international trade show for consumer electronics and home appliances in Berlin? Digital, creative and individual are just some of the keywords to describe this year's topics. Learn more about our trade show topics in the overview.
"Making your life smarter" is Liebherr's motto this year – making clear the direction in which we are heading. After all, fridges and freezers arrived in the digital age quite some time ago. Naturally, Liebherr is ready for this with a whole range of innovations. And for those with a creative touch, our online configurator can be used to design fridges according to their personal taste. However, one thing at a time…
On the topic of digitalisation:
SmartDeviceBox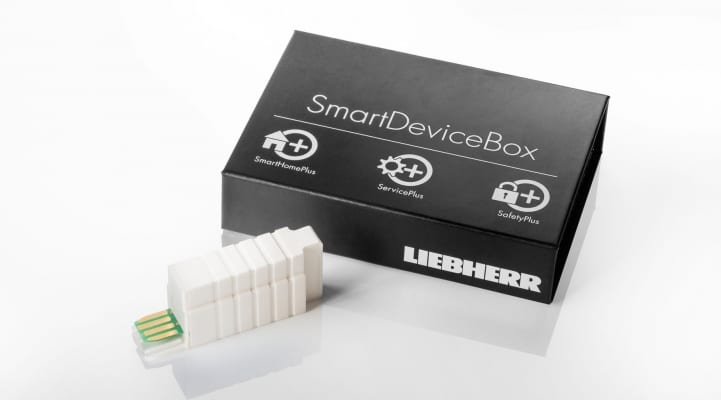 The integration of the SmartDeviceBox into fridges, freezers and wine storage cabinets opens a new dimension in food storage combined with intelligent food management. The SmartDeviceBox makes it possible to link our fridges and freezers to a network. Featuring modular built-in elements such as the FridgeCamTM and the MIA VoiceControl system, the fridge is becoming the control centre for intelligent living. All SmartDevice Liebherr appliances can be easily fitted with the SmartDeviceBox and can be integrated into SmartHome solutions using WiFi with almost no effort. With the SmartDevice app, for example, customers can obtain an immediate overview of all the important functions and control the appliance from anywhere. You can read all about these new and exciting functions tomorrow in an article in our own FreshMAG.
Customisation/3D mapping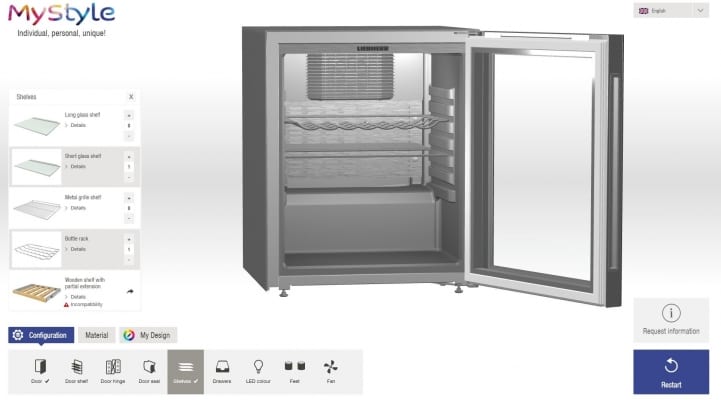 The desire to have a custom-designed environment with products that fit your own individual lifestyle is now a major trend. "Design your fridge" now grants customers the unique opportunity of designing a fridge in accordance with their own tastes and preferences using the Liebherr online configurator. Whether as a hobby, as a gift or as a design highlight in the home environment – MyStyle will soon make this viable. Housing colours and materials can be customised using MyStyle, just like interior features can be. As an exclusive trade show attraction, visitors can try out the configurator for customised appliances our stand. Just like last year, when video sequences and light effects for BluPerformance contents were presented on cube elements by means of 3D mapping, there will be 3D mapping on the topic of "Design your fridge – MyStyle" on display this year. The variety of options for putting your own fridge together is demonstrated in an entertaining way on the cube elements. There will also be more information on this topic in an article soon to be published here in FreshMAG.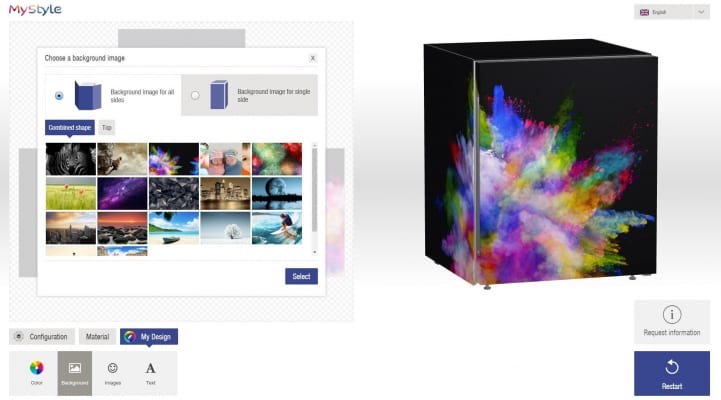 On the topic of appliance innovation:
Whether free-standing, built-in, under-worktop, side-by-side appliances or wine storage cabinets – Liebherr offers innovations for all appliance groups. These include:
BluPerformance
Three new appliances from the BluPerformance series that were showcased:
* CBNPes 4878
BioFreshPlus with Fish & Seafood-Safe.
* CNef 4825
IceMaker with water tank
* CNPes 4868
IceMaker with water tank
Under-worktop appliances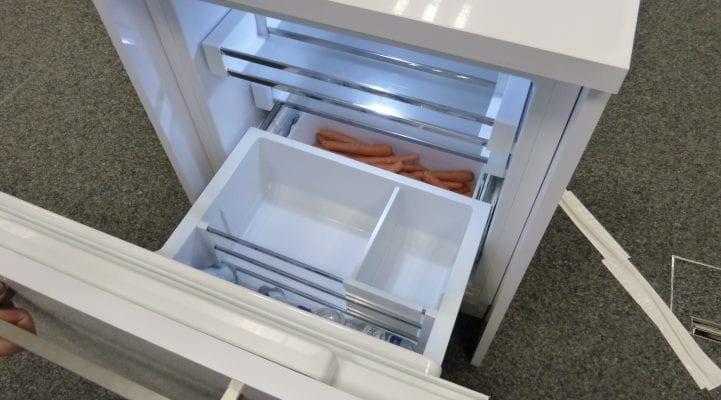 Ergonomics is the key focus of the new 2018 generation of under-worktop appliances (niche 82-88), which encompasses eight appliances. The operating philosophy is: "The items are delivered to the customer". Our IFA articles will also keep you up to date regarding this topic.
Built-in appliances
* SIGN 3524 with an A++ rating, a digital temperature display and push-button operation in the growing market for 178 cm niche freezers
* IKF 3514 bottle basket unit with a 4-star freezer compartment
* ICN 3314 NoFrost combination with fixed door, DuoCooling and BioCool
Food and indulgence centre
Two tall units produce the ultimate food and indulgence centre with four cooling zones:
* Fridge: IKP 1660
* Freezer: IGN 1664
* BioFresh: SIBP 1650
* Wine: EWTdf 1653
"Stiftung Warentest" (Consumer product testing): Liebherr as a double test winner
Two appliances that are being showcased at the IFA were declared test winners by the "Stiftung Warentest" in their 08/2017 edition. The best appliance, awarded a rating of "Good" (2.2) and therefore the test winner among the built-in freezers, is the IGN 1064. Among the free-standing freezers, the GNP 3255 is the test winner, also being awarded a rating of "Good" (2.1).
Side-by-Side
Liebherr is showcasing two new BluPerformance SBS appliances:
* SBSes 8473 with a separate full-space BioFresh area and IceMaker
* SBSes 8486 with a wine compartment, IceMaker and BioFreshPlus
Wine
Vinidor built-in appliances
The new Vinidor built-in appliance series encompasses nine models in the three niche heights of 88, 122 and 178 cm, with each being available as a GlassBlack and GlassWhite version with TipOpen opening technology, as well as three appliances that can be fitted with a customised décor panel.
Wine under-worktop
The design of this appliance group has undergone an upgrade. In addition, the integrated SmartDeviceBox can be used to form a network connecting individual appliances.
* UWTgb 1682
* UWTigb 1682 with SmartDeviceBox
* UWTes 1672
* UWTies 1672 with SmartDeviceBox
The SmartDeviceBox makes it easy to control the wine storage cabinet using an app
Silent appliances
Liebherr Domestic Appliances will be presenting new silent models that feature a design and low-noise components to make them extremely quiet.
Wine: EWTgb 2383 previously: 36 dB(A) now: 32 dB(A)
Best in class: There is no quieter appliance on the market in this product category
Free-standing appliance: CB 4815 previously: 38 dB(A) now: 34 dB(A)
The only 34 dB(A) combination on the market* with chill compartment
Built-in appliance: ICP 3334 previously: 34 dB(A) now: 31 dB(A)
Best in class: There is no quieter appliance on the market in this product category
* As at: August 2017
CoolVision:
Liebherr regularly presents new trends within the scope of its "CoolVision" design study. Of the four designs showcased at the IFA, one will ultimately be launched
based on the CBef 4815 BluPerformance model. Visitors to the IFA trade show stand can use a display to vote for the design that they like best.
* GalacticArt
* CityArt
* PaintingArt
* NaturalArt
StickerArt:
The new Liebherr combination featuring a StickerArt design is bang on-trend. The exclusive and limited-edition StickerArt combination now allows customers to take the trendy patch look home with them. A high quality printing process is used to apply the design to the doors, with the design being durable, particularly vibrant in colour and easy to clean. This original eye-catcher attracts attention, and there are lots of playful details waiting to be discovered.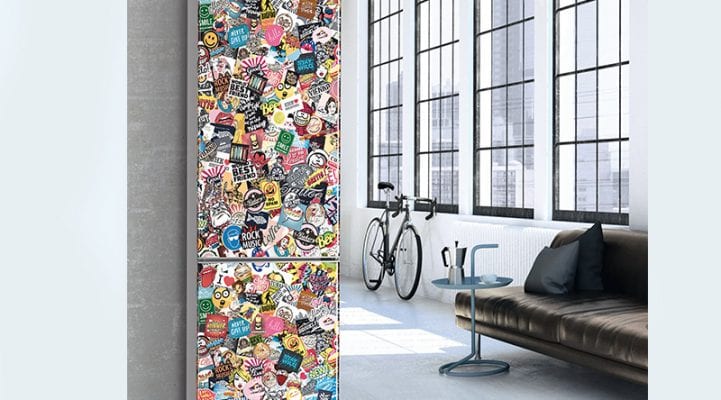 ColourLine
The fridge is gaining importance as a designer object and head turner in modern kitchens. This is why Liebherr factors the latest trends in colours, and its customers' preferences, into the development of new appliances. This is reflected in the new ColourLine combinations featuring NoFrost technology, which combine the latest colours with perfect cooling convenience. In future, the popular ColourLine series will be expanded to include additional attractive colours. Of the four colours showcased at the IFA, the three most popular ones will be launched as new products.
If you liked this post, subscribe to our newsletter or share it on Facebook, Twitter or other social media on the list below. If you have any questions, please write to us. Use the comment function below this post or discuss your views with us on Facebook.