Fresh fish is obviously healthy and delicious. Seafood, too, should feature regularly on the menu – ideally while fresh. However, fresh fish spoils quickly and so is difficult to store. That is why it is not always advisable to keep it in a normal fridge compartment. Liebherr, however, is an expert in food storage and so has a suitable solution. In this FreshMAG article you will learn the best way to store fish and seafood.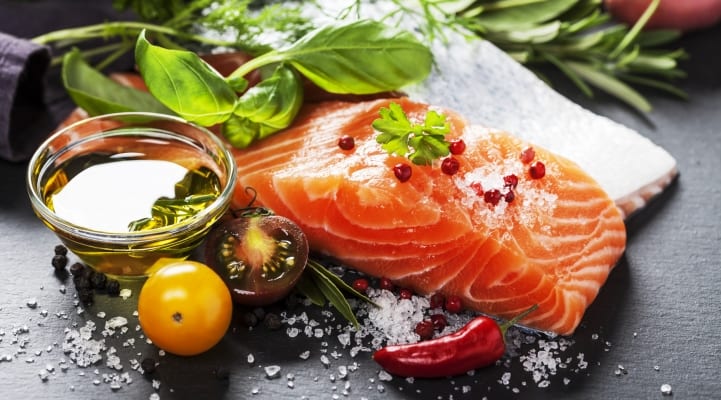 If you are a lover of fresh fish, you have surely often wondered how best to store seafood and fish. That is the question our developers asked themselves, and as usual they took a scientific approach. The renowned Max Rubner-Institut (federal research institute for nutrition and foodstuffs) examined different types of fish with regard to
* Microbiology: Bioburden, fish-specific spoilage germs
* Chemistry: Fat content, protein content
* Physics: Texture, pH value, water binding capacity
Result: If the storage temperature is dropped from just above 0 degrees to -2° Celsius, storage life increases by approx. 56%. What does that mean for you as a customer?
The fine art of precisely controlling low temperatures While the BioFresh zone in a Liebherr fridge with a temperature just above 0° Celsius is perfect for storing fruit, vegetables, meat and dairy products, an additional zone at -2° Celsius can extend the storage life of fish and seafood from two to three days. Reason enough for our developers to develop such a zone with a temperature of -2° Celsius. A layman will wonder what the problem is. Well, the challenge is that there is one cooling unit, and that this cooling unit has to supply constant cold to 3 different temperature zones in the fridge compartment alone. It also needs to be ensured that the temperature zones do not influence each other. The art lies in the precise control of all components such as the compressor and fan, in the activation of special air flaps used to (re)circulate the cold air, and in the design of special insulating plates. But the flexibility we want to offer our customers is also a challenge. After all, you may not need the full capacity of an entire drawer to store fish or seafood, and may prefer to have the rest of the drawer at the standard BioFresh temperature of just above 0 degrees. The result of our developers' work is called BioFresh-Plus and meets all the expectations you could have of the perfect food storage. The first model to feature the new BioFresh-Plus is the Liebherr CBNPes 4878.
Maximum flexibility for all storage requirements – with BioFresh-Plus
And it really offers everything. The fridge compartment contains two built-in drawers (safes). The bottom BioFresh drawer is always at a temperature of just above 0° Celsius, while the top drawer can be set to just above 0° to serve as another BioFresh safe or to -2° Celsius to serve as a BioFresh-Plus safe for fish and seafood. To save you from having to enter the menu every time to determine the configuration you have selected for the top drawer, the CBNPes 4878 displays the current temperature at a glance on the horizontal divider plate.
This small drawer can be pushed from right to left and vice versa. And so the right part of the drawer (which can be large or small, depending on the position of the small drawer) is at -2° Celsius while the left part of the drawer is always just above 0° Celsius.
So you can choose whether to use the top safe as a full BioFresh safe or as a BioFresh and BioFresh-Plus safe. And with the latter option you can choose a size for the BioFresh-Plus safe that suits your fish storage needs.
The storage perfectionist – not just for fish and seafood
If you want the perfect storage result, the CBNPes 4878 is the perfect model for you and meets all your needs as a storage and cookery professional. That is because the CBNPes 4878 has a whole range of clever features in addition to BioFresh-Plus and BioFresh. They include an ice tray with a mains water connection – so you always have fresh ice cubes at home, and there is no need to top up and clean a water tank. The CBNPes 4878 also has an integrated NoFrost freezer compartment, so you don't have to rush off to the cellar every time you need something frozen. If you think that such convenience has its price in form of high electric bills, you would be wrong: the CBNPes 4878 uses 20 percent less energy than energy efficiency class A+++, currently the highest class, demands.
So if you are an enthusiastic and frequent cook and care about the freshness of your ingredients and thus want to store everything perfectly, you should take a closer look at the CBNPes 4878. Check out our website for the full range of products