Give your kitchen an extraordinary dash of colour! With new colours from the popular Colour-Line series your fridge & freezer combination will be a real eye-catcher. In addition to their appearance, the appliances are particularly impressive because of their high quality features and design. But why not read about the quality of our new, colourful stars and see for yourself.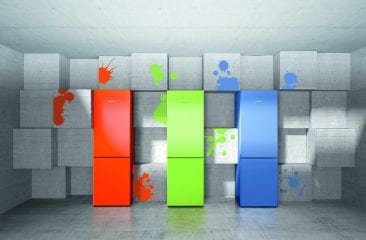 Quality. Design. Innovation. The fact that we attach such importance to these three features at Liebherr Domestic Appliances is once again superbly demonstrated in the appliances in the new ColourLine series. The type CN 4313 appliances are now available in three colours.
Cool colours for a cool appliance
At first glance the new appliances impress largely due to their appearance. The colourful surface combined with the angular Hard-Line door and the side recessed handle creates a harmonious overall picture and guarantees optimal integration into your kitchen environment. The following three colour variations are available: NeonOrange, KiwiGreen and FrozenBlue
Top-quality features
The visual aesthetic isn't the only thing that makes these appliances stand out. The true strength lies inside. The three ColourLine appliances have the following impressive features: * NoFrost – automatic defrosting in the freezer compartment * DuoCooling – no air & odour exchange between the fridge & freezer compartment
* Excellent energy efficiency class A++
* Ergonomic opening of the door thanks to the recessed grip on the side
* LED lighting for optimum lighting conditions
* Bottle shelves allow for an additional storage of bottles
You see, the appliances don't just look good. The true "strength" of the appliance is hidden inside. If you are also interested in one of the three appliances, you can conveniently select a Liebherr retailer in your area in our retailer search.
If you have any questions about the Liebherr ColourLine series or other appliances please feel free to contact us! Simply comment on the post or initiate a discussion with us on Facebook.