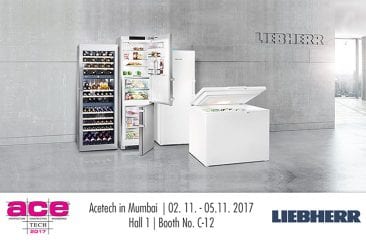 We would like to invite you to join us at ACETECH Mumbai where we are making our debut to showcase our state of the art product range which symbolize true meaning of Quality, Design and Innovation. As a market leader in premium refrigeration and wine cabinets, our motto is to offer unique , technologically advanced products to our consumers to satisfy their varied needs. Since last 6 decades we have been offering innovative technologies making refrigeration smarter year on years.
Here at ACETECH Mumbai we shall be showcasing high-quality & innovative refrigerators and wine cabinets which are specifically designed for Indian market. Those product showcase the very best of German engineering in refrigeration!
At the center of our exhibition booth are our two side by side appliance SBSes7165 and SBSbs7263 (black steel). These appliances meet your every need in terms of refrigeration & freezing , as well as high quality premium equipment and excellent design.
In addition to those we would also like to introduce you to our flagship wine cabinet the WTes5872 – a special treat to wine connoisseurs. With its three individually adjustable temperature zones ranging from +5⁰C to +20⁰C, this appliance provides perfect conditions for storing different types of wines. For examples, red and white wines can be stored at their ideal serving temperature simultaneously. These appliances also provide perfect climate conditions for long term storage of your favorite wines. Liebherr wine storage cabinets WKb4612, Wkb4112 and Wkb1712 are further highlights at our stand.
Do visit us at ACETECH Mumbai in Hall No. 1 at Booth No. C-12 during 2nd Nov'17 to 5th Nov'17
Venue : Bombay Convention & Exhibition Centre, NSE Nesco Complex, Off Western Express Highway, Goregaon East, Mumbai
We look forward for welcoming you and introducing you to the world of Liebherr Appliances.
Venue : https://goo.gl/maps/ntCcZpwnCqG2
Please connect with us socially: www.facebook.com/LiebherrAppliancesIndia
For more information visit us at https://home.liebherr.com