In the second instalment of this FreshMag series, we're 'on the road' with Liebherr's UK Wine Ambassador, American Wine Expert Dan Belmont as he guides us on journeys to America's premier wine regions. There's no travel like wine travel – and you may even discover somewhere new for your future adventures! Cheers!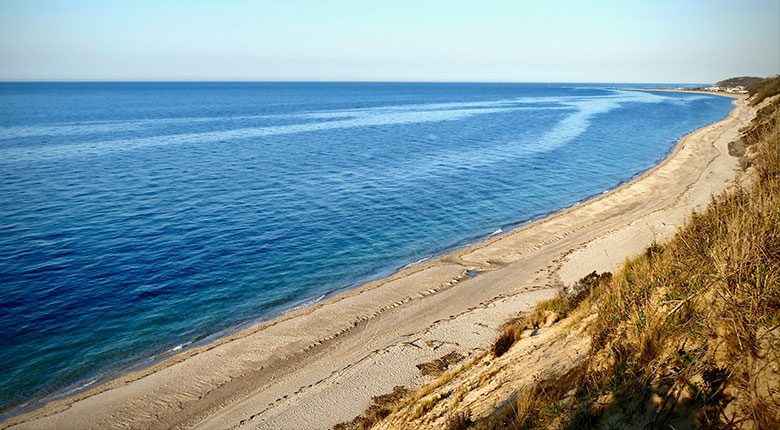 Long Island
I recently had the pleasure of revisiting the Long Island wine region in New York State in early November 2021. With harvest recently wrapped and wines fermenting away, it was a delightful off-season visit. With nearly 5 years passing from my last jaunt, I am thrilled to report that the wine has never tasted better in this budding wine country.

Long Island begins in the New York City boroughs of Queens & Brooklyn and runs east for about 190km. It is a true island, with the Atlantic Ocean on it's south shore and the Long Island Sound on its north shores, separating it from the mainland United States (Connecticut). Towards the east end, the island splits into a North and South Fork by the Peconic Bay – it's here where the majority of vineyards and producers are found.
I drove out from Newark, New Jersey – and I don't recommend it! Getting through or around New York City is tedious and time-consuming. Ideally, you plan a trip out to the vineyards with a more easterly starting point. From NYC, you can get out there by train (LIRR) or bus (Hampton Jitney), but once you get out there, you're still likely to need a car to get around. Renting from LaGuardia or JFK airports is easy enough, and from either – all roads lead to the Long Island Expressway (LIE), and you drive east until it ends.
It's incredible how quickly the landscape shifts from densely populated city, to densely populated suburbs and after exit 68 or so you realise there's very little population surrounding you at all. It all quickly turns agricultural. It wasn't a bad drive, I left early and built-in time for a coffee stop in Southampton before my first late-morning winery visit.
I chose to start with visits to south fork wineries, home to The Hamptons, Long Island AVA (American Viticultural Area). I then spent the night at a modest hotel in Riverhead which sits at the base of the two forks and spent the second day visiting the North Fork of Long Island AVA.
Once you're out there, it's lovely! Small roads and quaint, bucolic "main street" American towns, boasting colonial architecture, farm stands, antique stores and cafes galore.
I referred to the area earlier as a 'budding wine country' because the modern era of winemaking there as we know it is relatively young, especially when compared to its European counterparts across the pond. Before the New York State Farm Act of 1976 significantly lowered the fees required for a winery or distillery licence, there were only 14 wineries in New York. Today there are nearly 500! The first commercial vineyard on Long Island was planted in 1973.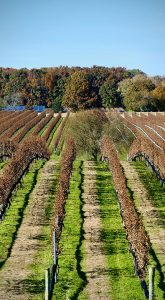 The region is characterised by its maritime climate – the surrounding bodies of water have a great impact on the grape-growing conditions. Long Island winters are significantly milder than most of New York state, making the region desirable for growing the more cold-sensitive grapes varieties. Unlike most other wine-growing areas in the eastern United States, Long Island's vineyards are planted entirely with European V. vinifera grape varieties. Chardonnay & Merlot are popular, along with Bordeaux varieties and sparkling wines. A bastion of experimentation, the sheer number of varieties planted and vinified with success in such close proximity is wild.
There's really something for everyone. As this is a famous summer beach destination and celebrity haunt, playful whites and juicy dry rosés are iconic. Sparkling wines from various production methods are popular and robust reds are ready for your BBQ dinner.
I was particularly taken by a few smaller production wines, experimental series from small plantings of grapes like Albariño and Melon de Bourgogne (both planted in coastal European regions). These high-acid whites sing with the local seafood bounty. Revisiting the red wines was a revelation – less use of oak ageing (if at all – everybody has a couple of amphorae tucked in a corner of the winery these days) and more moderate alcohol, with 12-12.5% common across varieties like Cabernet Franc, Blaufränkisch and Malbec.
There's not much Long Island wine currently in the UK, but there are more and more being exported to the UK every day!
If this article made you thirsty, check out the NEW newyorkbottleshop.co.uk – boasting the UK's largest selection of New York wines and producers under one roof and all available for next-day home delivery. Powered by Good Wine x Good People. There's a wealth of more information about New York wine, detailed maps and more!
When you are ready to visit, I am thrilled to recommend just a few of my favourite producers, in no particular order – tell them Dan sent you!
Wineries

South Fork
Channing Daughters Winery

Wölffer Estate
North Fork
Bedell Cellars

Macari Vineyards

Lieb Cellars

Paumanok Vineyards

Jamesport Vineyards

McCall Winery

Sparkling Pointe
Dining
With largely upper-class residents and holiday goers, you're spoiled for good dining choices from casual to high-end fine dining. Farm-to-table options abound, showcasing the local agricultural bounty. Seek out the seafood – lobster shacks a plenty! And there's no better way to shake off yesterday's hangover (before more tasting) than a good egg-and-bacon bagel sandwich. Check out website for https://www.ediblelongisland.com/ for up-to-date restaurant listings.
Parks & Activities
At the very end of the North Fork is Orient Point, which has a beach, park and ferry terminal to Connecticut. The end of the South Fork is marked by the Montauk Lighthouse; Fire Island Beaches on the south shores are world-famous!
Peak tourist season continues beyond beach season and only slows down slightly as the area welcomes leaf-peepers in autumn, and special activities surrounding the grape harvest from the end of August through October. Harbes Farm and Winery is a popular stop for families – especially during pumpkin and apple season with hayrides and a corn maze.


Dan Belmont, AWE (American Wine Expert, WSET L3) is Liebherr's UK Wine Ambassador and the proprietor of goodwinexgoodpeople.com. He is a New York native, former education manager for Murray's Cheese in NYC (the largest artisan cheese retails in the United States), and former education manager for Beadles of Borough, based in the heart of London's Borough Market.
At GWxGP, Dan is constantly experimenting with new ways to share his love of wine. The Personal Somm Questionnaire is our flagship product – a UK first, (often imitated but never duplicated), it quickly collects all the info Dan needs to confidently introduce you to wines that you'll love. No artificial intelligence or algorithms, just real people who love wine.

Prefer to choose your own adventure? You can now shop all 300 wines by-the-bottle with search, sort and filter functionality to find your new favourite wine from one of the most exciting retail portfolios in the UK.

FreshMAG readers receive 5% off your first order with code FRESHMAG5. Free UK-Wide Delivery on Orders Over £100.