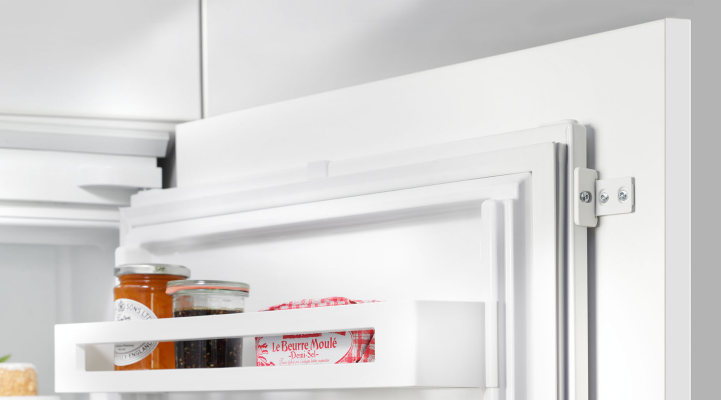 Liebherr appliances can be integrated into kitchens in two ways: using door-on-door or sliding door installation. Converting a sliding door format to a door-on-door format is also extremely easy.
So, these are the two methods whereby built-in Liebherr appliances are seamlessly integrated into kitchens to create a visually uniform appearance.
This might not sound particularly exciting but many customers who are planning a new kitchen leave it far too late before they think about this. We're bringing this to your attention today so that you are well informed before you buy your next kitchen. You need to consider what method of attachment to the kitchen unit's door you want.
Door-on-door installation
With door-on-door installation, the kitchen unit and appliance doors are firmly connected with direct attachment of the unit door to the appliance door. The refrigerator door therefore bears the weight of the unit door.
Sliding door installation
In the case of sliding door installation, the unit door is directly attached to the unit using hinges and connected to the appliance door using sliding rails. When opened and closed, the unit door slides along the rails. The weight of the unit doors is borne by the hinges on the kitchen unit; the weight of the appliance door is borne by the refrigerator's own hinges.
If you want to replace an old sliding door system with a new Liebherr door-on-door system, you will find it a straightforward process. To do so, simply remove all the hinges from the kitchen unit door. The 'naked' kitchen unit door can then be directly attached to the refrigerator door using the door-on-door installation aid. The weight of the kitchen unit door is borne by the refrigerator. With regards to appearance: when closed, sliding door and door-on-door appliances look.
Do you have any questions or comments about sliding door or door-on-door installation? Write to us! Use the comment function at the bottom of this post or join in discussions with us on Facebook, Twitter and Instagram.