Homemade Easter treats, a great activity whilst we stay home!
Easter is synonymous with chocolate, it's the only time of year where children are allowed to eat chocolate for breakfast, delivered overnight by the Easter Bunny. Let's be honest, there is nothing more anticipated than the Easter egg trail – a battle to see who can collect the most chocolate eggs.
While the stores are full of Easter chocolates in all shapes and sizes, engaging children whilst we stay home to keep safe by making homemade treats makes for many happy memories. All you have to do is say the word 'chocolate' and I am sure there will be a rush to the kitchen, knowing that in the end the honour of licking the spoon and bowl would have to be delegated to someone.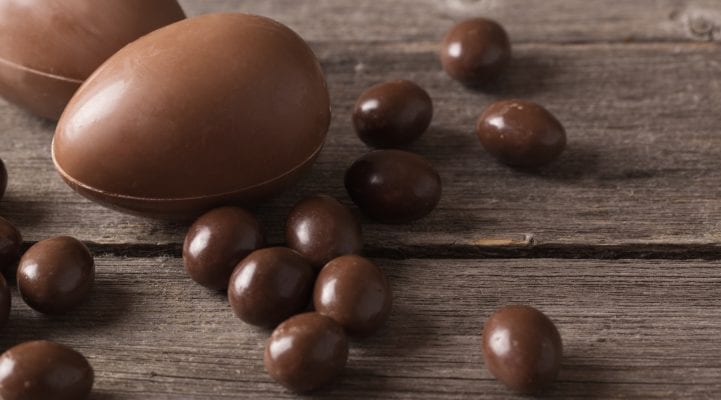 What's the best way to melt your chocolate?
There have been many methods used to melt chocolate, including a flat electric hot plate where you place 4 – 6 small ramekin dishes on the hot surface, filled with a handful of either white or milk chocolate buds, occasionally stirring until it was a smooth consistency. Today, the easiest and safest way is to melt the chocolate in a microwave.
Now you might be wondering why the need for multiple ramekins filled with white and milk chocolate and not just one or two, well it's because you can make up different colours to decorate the chocolate moulds. By adding a drop of food colouring, you will be creating a colour palette any artist would envy!
With an endless selection of Easter moulds (whether eggs, bunnies, carrots etc) kids will in fact have their very own chocolate colouring book – how creative you want to take your kids imagination depends on time and resources. If time is of the essence, and you need to hurry the chocolate to set before proceeding to the next step, just pop the moulds into the freezer or fridge for a few minutes. To finish the design, you just fill the mould up to the brim with white or brown chocolate – place back into the fridge until hard.
Why go to all the trouble of making homemade Easter treats?
Kids' anticipation really begins when the time comes to separate the chocolate from the moulds, and whether the chocolate will stay in one piece. A light gentle tap of the plastic mould would often suffice, but there is always the odd chocolate that doesn't survive this process. We know this is what a child anticipates most, just quietly, so does the adult.
So, this Easter why not try making your own homemade chocolates. All you need is the following:
Ingredients
– White, milk and or / dark chocolate blocks (broken) or buds.
– Food colouring (if you want to get creative).
Tools
– Small paint brush and / or toothpicks.
– Plastic Easter mould/s.
– Teaspoon for stirring and scooping chocolate.
Chocolate Melting Options
– Microwave and small microwavable bowls.
– Flat electric hotplate with small ramekin dishes.
– A pot filled with simmering water (on the hob) with a ceramic bowl resting over the top (always remember to be safe with children around hot surfaces).
For Chocolate Setting
– Your *Liebherr fridge and / or freezer will do the trick. Use the freezer to assist with prompt setting between colour layers (if required). Use the fridge to set the chocolate when your moulds are full.
*Editor's note: Don't be disheartened if you are yet to experience the pleasure of owning a Liebherr refrigerator, you can substitute this chocolate setting step with your current fridge.
Let us know how you get on in the comments or send us a picture of your creations to share on social pages. Happy Easter!