Did you know that Liebherr offer an all fridge and all freezer option when it comes to fully integrated appliances? So, you can create the perfect concealed side by side? Or you could even add an integrated wine cabinet to create the perfect contemporary kitchen for entertaining guests!
Liebherr's fully integrated fridge and freezer offer the exact same benefits as a traditional freestanding side by side. Such as being able to store regularly accessed frozen and fresh goods at a suitable height, making it easy to access and friendlier on the back muscles due to a lot less bending down! However, unlike freestanding refrigeration, the fully integrated fridge and freezer side by side, is completely hidden from view! All except perhaps the door handles, if you do not install it with handless entry. And yes, that is a possibility!
Read on to find out our 5 favourite reasons to choose integrated perfection from Liebherr.
Features – when installed as a side by side
If you install Liebherr's all fridge and all freezer integrated appliances as a side by side, there are so many features to benefit from. We've popped together a list of the top five.
BioFresh – the just above 0°C drawer keeps your food fresher for longer. This means less trips to the grocery store.
SuperCool – reduces the fridge temperature to +2°C. So new food is cooled more rapidly which means food preservation is prolonged.
SuperFrost – reduces the freezer temperature to -32°C. Which means existing items are unlikely to suffer from excessive temperature rise while the door is left open for loading of new groceries.
Separate cooling systems – as the fridge and freezer are two separate appliances, it means they are operated by their own cooling circuit. So no odour or air can be exchanged between the fridge and freezer.
NoFrost – streams ice cold air around the food which freezes quickly, then excess humidity is taken out of the freezer. This means the appliance never frosts over, which means you will never manually defrost again
Integrated appliances combined with stainless steel appearance
What if you want the benefits of integrated installation but the stainless steel look to match the rest of your appliance décor? Yes Liebherr can help you achieve that, it's not just a pipe dream!
To turn the integrated appliances into a stainless steel masterpiece, optional extra stainless steel doors are available for purchase also. Meaning you can achieve the the sleek stainless steel look with seamless integration.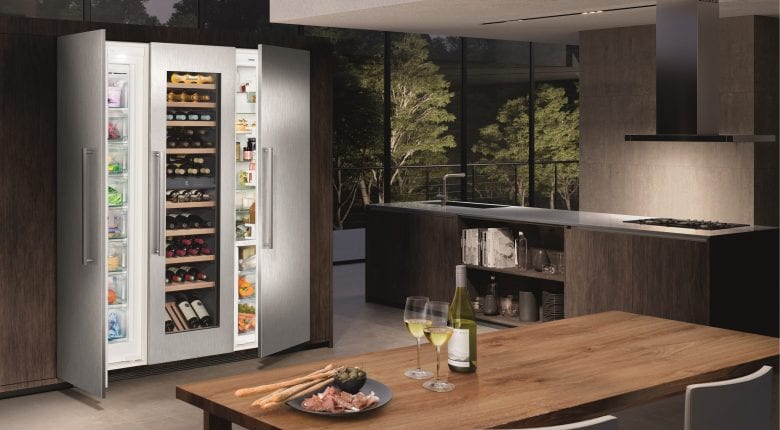 Liebherr All Fridge and All Freezer SIKB 3550 and SIGN 3576 pictured with EWTdf 3553 Built-In Wine Cabinet
View the full Liebherr range and locate a dealer visit our website.