Whether it's chocolate-covered marzipan, a birthday or wedding cake or a simple bar – this tempting sweet is particularly popular during the holiday season. But what goes into this delicious treat? Is this tasty sweet-tasting festive confection nutritious whatsoever? Here you can find out how to make a delicious creation yourself at home without adding any sugar, and we will give you some tips on storing it correctly.
There is a long history to this sweet treat, and the roots of its origin are much disputed. According to one legend, the confection was invented in 1407 during a famine in Lübeck. The city only had almonds, sugar and water. And so, out of necessity, these ingredients were used to make bread – and marzipan was born. The same story is also told about the town of Kaliningrad, where the famous Königsberg marzipan comes from today. However, it's more likely that the mixture of almonds, sugar and rose water was invented many years earlier in the East. This is where the ingredients have their origin.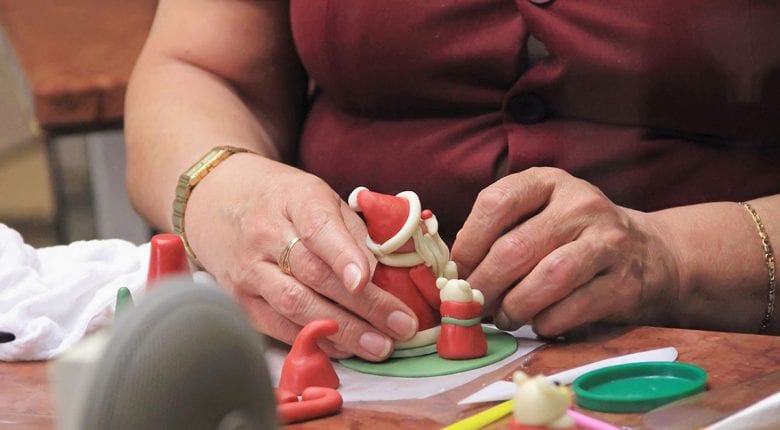 Production
Primarily it consists of two ingredients, almonds and sugar. But it is not that simple: The recipe for raw marzipan paste is subject to strict guidelines. The confectionery is produced in two different steps. Firstly, the basic building block, the raw paste, is produced. For this, the almond kernels are cleaned and then blanched so that the skin can be removed. Then the kernels are ground and sugar is added. According to food regulations, the sugar content of the raw mixture may not exceed 35%. The resulting mixture is then "roasted", which gives the marzipan its characteristic aroma. In the second step, sugar is added – often in the form of inverted sugar or sorbitol.
Less sugar – better quality!
The second stage of the production determines the quality of the marzipan. But pay attention! The more sugar is added to the raw marzipan mixture, the cheaper its production. A basic distinction is made between two types of confectioneries: fine marzipan and marzipan. Fine marzipan consists of 70-90% marzipan paste, whereas conventional marzipan falls below this percentage. However, it may not contain more than 50% sugar, otherwise, it can no longer be called marzipan and is simply a sugar confectionery. Our quick quality check for you: The darker the marzipan, the less sugar is added.
Some types of marzipan also contain small amounts of alcohol, as this strengthens the marzipan aroma and extends its shelf life. In order to cheapen the production, apricot or peach kernels are used instead of almond kernels and this product is known as persipan – although it is banned in some countries. This is a kind of marzipan substitute and therefore can be used in a similar way to marzipan.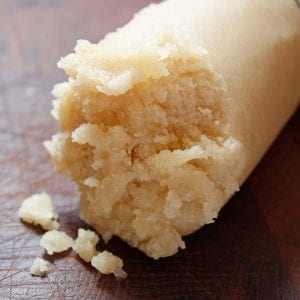 Calorie bomb or unfairly frowned upon?
At 460 calories per 100 grams, marzipan has a lot of calories (comparable to a bar of chocolate). However, the high-calorie content is due to the almonds it contains, which consist of 50% fat. But these fats are predominantly valuable unsaturated fatty acids. Almonds also contain high levels of B vitamins and proteins and minerals such as magnesium and potassium. The higher the sugar content of marzipan, the more unhealthy it becomes. Marzipan mixed with nougat or coated with chocolate can lead to weight gain if eaten in large quantities. Therefore, you should enjoy this delicacy in moderation. However, if you can't get enough of marzipan, you should definitely try the version with dates, without any added sugar. You will need:
200 grams of almonds
120 grams of dates
Some rosewater
Bitter almond essence or four bitter almonds
Soak the dates in hot water for a few minutes. Pour boiling water over the almonds, let them rest for about one minute and then remove the skin. Dry the almonds and mix in a mixer with the dates, some rose water and the bitter almond essence until you get the right consistency.
Storage and shelf life
High-quality marzipan is slightly moist and can therefore dry out very quickly. That is why it is important to pack this sweet delicacy in an airtight container. The product should also be protected from heat and light so that the aroma is preserved for as long as possible. For this reason, we recommend storing marzipan in your Liebherr refrigerator.
Nut-Free?
Looking for a nut-free alternative to Marzipan why not check out our Nut-Free Stollen recipe from Great British Bake Off start Rosie Brandreth-Poynter right here on FreshMAG!