There are few things more British than Fish and Chips, a quintessential pastime for most of us here in the UK, at one point in time most of us have been stood in the queue at our local "chippy" waiting to be handed a piping hot tray of Fish and Chips doused in vinegar and coated with a generous pinch of salt.
Just thinking about that tightly wrapped parcel is enough to get most of us salivating! But where did this classic staple of the UK takeaway scene originate from?

London or Lancashire – both lay claim.
The two components of the dish found their way to the British Isles separate fashions. Chips or fries as they are commonly known on the continent came to British shores from France and Belgium and soon became a popular choice for industrial Northern towns and cities.
Meanwhile further down south in East London, Jewish immigrants have been preparing fish by coating it with flour and frying it since the early 1800s.
Because of this, we have two regions laying claim to the creation of fish and chips! One in the North West as early as 1863, where local entrepreneur Jon Lees is said to have been serving the people of Mossley market in Lancashire and beyond from a wooden hut. Whilst many others claim the first fish and chip shop was opened by a young Jewish immigrant named Joseph Malin around 1860, who's shop proved so popular it remained open until the 1970s!
Whoever opened the first, fish and chips caught on very quickly. Shops started popping up all over the country and giving working-class folk a tasty respite from the bleak and often boring diet of those times.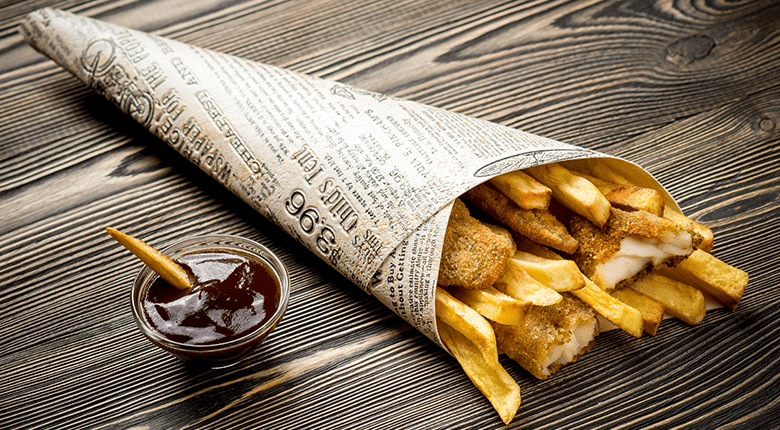 Newspaper wrapping!
Back then to keep costs down of this British delicacy would be wrapped in the newspaper. This went on until the 1980s when it was deemed unsafe for food. Nowadays you will often be served your fish and chips in a safer, greaseproof paper that has been recreated in the style of newspaper, providing that nostalgic presentation.
Fish and chips in 2020
In recent times fish and chips have been overtaken in popularity in the takeaway sector by newer food trends and cheaper options (supply of cod and haddock have hiked prices somewhat), but in the UK we still eat around 382 million portions of fish and chips every year.
Are they as unhealthy as their reputation suggests?
Whilst it won't be getting labelled as health food anytime soon, there are some benefits! Most of the fish and chip shops in the UK now use healthier oils like rapeseed and other vegetable-based frying oils. Plus fish is a great source of protein!
Something To Try At Home
Why not give this straightforward homemade fish and chips classic recipe a go and see if you can recreate the taste of your local fish and chip shop!
This recipe is courtesy of Angela Nilsen over at BBC Good Food
Ingredients: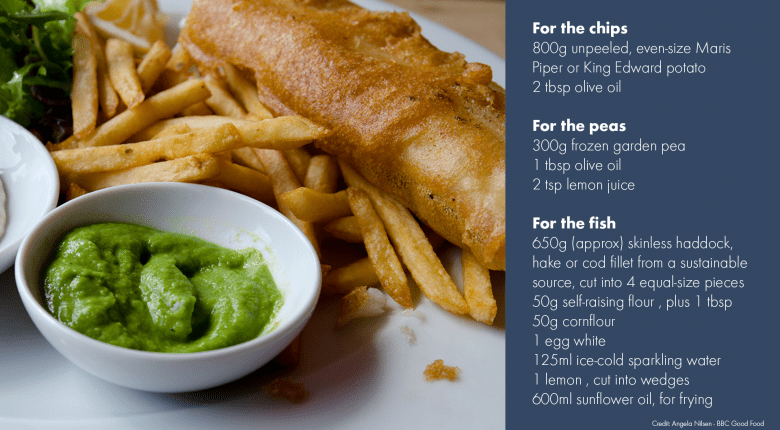 Method: