Roasted squash feels like the very essence of autumn – golden, sweet, comforting and nourishing. It's a feel-good ingredient. Pairing roasted squash with woody, fragrant sage is an autumnal classic; the two go so well together that one simply cannot tire of the pairing – it's magical. Roasted hazelnuts add golden smoky flavours here, and creamy goats' cheese adds a delicious tangy top note.
However, the pastry is the real star of the show! It's made with rye flour, parmesan and roasted hazelnuts. It's buttery, biscuity and nutty, and we deliberately roll it out a little thicker than normal to make sure each slice has a generous serving of this crisp and crumbly goodness.
And the wine pairing? One of Katy's absolute favourites, Chenin Blanc. Chenin is a non-aromatic white grape with high acidity. From cooler climates – such as Loire – it will have fresh leaner, zippier fresh apple notes, and in warmer climates – such as South Africa – it will offer more tropical aromas and golden flavours. It often undergoes a winemaking process called 'malolactic conversion' through which the harsher malic acid of grape must is converted into lactic acid. Lactic acid is softer and offers creamy, buttery flavours and a richer texture on the palate which pair very well with this robust and creamy autumnal tart.
Prep time: 30 mins
Cook time: 75 mins
Recipe sufficient for 6 servings, or a deep-fill 20 cm tart case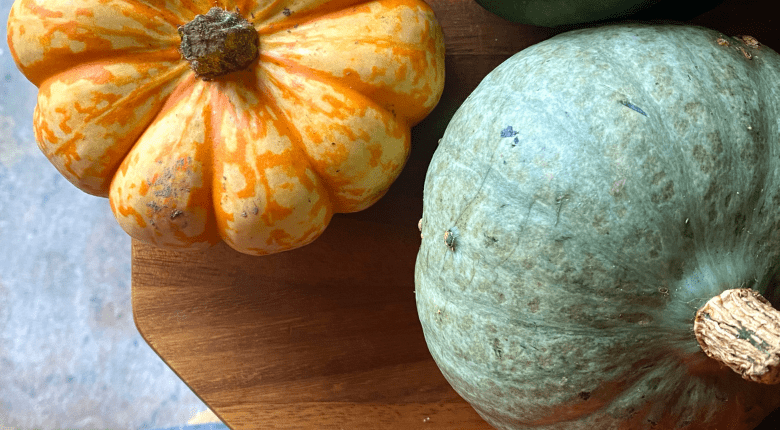 Ingredients for pastry:
125 g rye flour
125 g spelt flour
120g cold butter, diced
30 g parmesan, grated
20 g roasted hazelnuts
1 egg (yolk used in pastry, white used to eggwash the tart)
2 tbsp cold water
Ingredients for tart filling:
1 small pumpkin/butternut squash (approximately 400-500g once prepped)
2 tbsp olive oil
4 eggs
125 ml cream (or 65 ml creme fraiche, and 65 ml whole milk)
16-20 sage leaves
2 tsp flakey sea salt
¼ tsp black pepper
70 g goats' cheese or blue cheese
20 g hazelnuts
freshly grated nutmeg, optional
chilli flakes, optional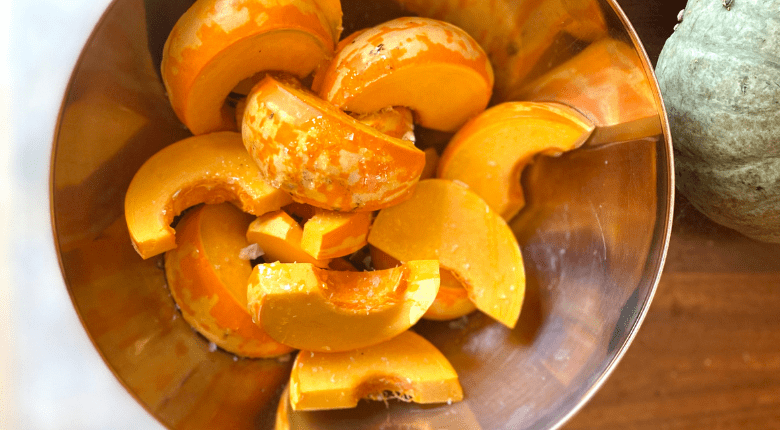 Method:
Start by roasting the squash for the filling. Preheat the oven to 190C. Slice your squash into evenish wedges, toss lightly with olive oil and 1 teaspoon of flakey sea salt, spread evenly on a lined baking sheet, and roast in the preheated oven for 20-25 minutes until soft and slightly charred in places. Note, if you need to roast the hazelnuts for the pastry, do so now. Roast for 5-7 minutes until golden.
Next, prepare the pastry. Chop the hazelnuts until a fine 'nibbed' texture is achieved. Sieve the flours into a large mixing bowl and add the nibbed hazelnuts, sea salt and grated parmesan. Rub in diced butter using your fingertips until the flour mix resembles coarse breadcrumbs. Now add the egg yolk and 2 tablespoons of cold water just to bring the pastry together. Try to handle things as little as possible to avoid the dough becoming tough. Keep the egg white to egg wash the tart case later.
Lightly flour your work surface and roll out the dough until roughly 1 cm thick, no thicker. Note: this will be crumbly pastry and drier than normal to work with… it's a bit of a playdough job to line the tart case… doable but not the neatest process to witness. Try and press the pastry into an even layer across the base and up the sides, and trim the top neatly. Pop this in the fridge for 45 mins, or the freezer for 10 minutes.
Turn the oven down to 180C. Line your chilled pastry case with a circle of parchment paper and fill with baking beans. Blind bake for 12 minutes, then remove the paper and baking beans, egg wash the tart case all over with the beaten egg white, and bake for a further 12-14 minutes until golden.
Meanwhile, prepare the filling. Finely chop the majority of the sage leaves and crumble or chop the goats' cheese. Whisk together the cream, 4 eggs, a generous seasoning of salt and pepper, and the chopped sage. Roughly chop the hazelnuts.
Set your tart case on a flat baking tray first, then layer it up with roasted pumpkin, crumbled goats' cheese, and the sage custard mix. Fill the case right to the top then garnish with the final bits of cheese, chopped hazelnuts, some extra sage leaves tossed lightly in olive oil, and either freshly grated nutmeg or some chilli flakes.

Carefully return the tart to the oven and bake for 20-22 until lightly golden on top, and only the faintest 'wobble' remains in the centre of the tart. Allow to cool for at least 10 minutes before slicing.
Enjoy with a seasonal salad, perhaps leeks & lentils vinaigrette as we've shown here, and a chilled glass of zippy, buttery Chenin Blanc.