Where should a refrigerator or freezer be positioned? What should you consider when choosing where to install an appliance and does this decision affect energy consumption? Our six-point overview outlines what you should consider when deciding where to put your refrigerator/freezer.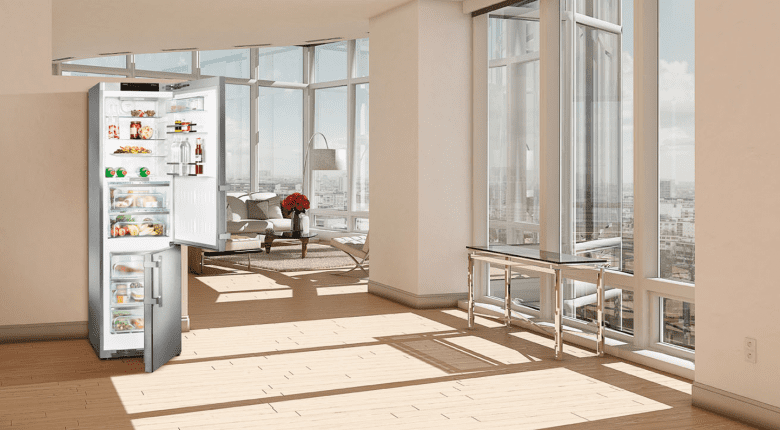 If you want a constant supply of chilled drinks, where should you site your appliance – in the coldest room or right next to the sauna? Our overview outlines what you should consider when deciding where to place your refrigerator/freezer in order to increase its service life and to ensure that it operates in an energy efficient and environmentally friendly manner.
The cooler the appliance's location, the lower its energy consumption. Ideally, appliances should not be positioned next to heating systems or in direct sunlight. Please note: increasing the room temperature by 1°C increases the energy consumption of freezers by about 3% and of refrigerators by about 6%. It's therefore well worth placing them in the coldest part of the house!
Ice in the freezer compartment increases the energy consumption, so regular defrosting is important. Liebherr NoFrost appliances actually prevent the formation of ice and so defrosting these freezers is unnecessary.
Ensure that ventilation grills are clean, dust free (they should be dusted at least twice a year) and unobstructed so that air can circulate easily. This prevents heat accumulation and hence higher energy consumption. Ensure that built-in appliances are correctly installed to ensure unimpeded air intake and ventilation.
Note that heat enters the appliance every time the door is opened, meaning that it has to be cooled again, thereby using more energy. Where possible, frequent opening of the door should be avoided.
Liebherr refrigeration and freezer appliances should be transported upright (as indicated by the three arrows on the packaging). The appliances can be switched on straight after delivery – they do not need any settling time.
Information about the climate class of each appliance can be found in our catalogues and on our website. But what does this mean? The climate class shows the ambient temperatures at which the appliance works most efficiently. Some appliances are designed for climate classes SN to T. That means that they are fully functional at ambient temperatures of between 10°C and 43°C – making them suitable for use in most countries. Liebherr takes great effort to guarantee this by testing the appliances in special climatic chambers at its development centre in Ochsenhausen. As the broadest range of temperature and humidity scenarios can be created in these climatic chambers, we can ensure that your appliance operates properly in its defined environment.
Info: the climate classes and what they mean:
SN = subnormal: Suitable for use in ambient temperatures of 10°C to 32°C
N = normal: Suitable for use in temperatures of 16°C to 32°C
ST = subtropical: Suitable for use in ambient temperatures of 16°C to 38°C
T = tropical: Suitable for use in temperatures of 16°C to 43°C
Do you have any questions or comments about where to position your refrigerator/freezer? Please feel free to use the comment function below or get in touch on Facebook and Twitter.