Lamb is very often associated with Spring feasting; roast lamb is ubiquitous around Easter, but perhaps it's time to try something new, and by new we mean old/er – enter mutton!
Embrace the Boldness: Slow-Roasted Spiced Mutton with Tangy Feta Yogurt and Zingy Tabbouleh
For reference, 'lamb' refers to meat that comes from a sheep that's less than 1 year old, 'hogget' is meat from an animal between 1 – 2 years, and 'mutton' comes from a sheep that's over 2 years old. As one may expert, mutton is darker and richer in flavour and requires even lower and slower cooking to tenderise the meat.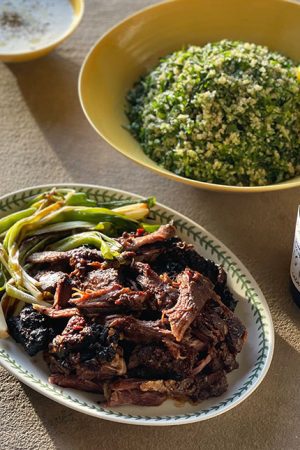 Mutton is much stronger in flavour than lamb, and can therefore handle being paired with more powerful flavours brilliantly. Here, we've rubbed it with heady Moroccan spices, rich golden honey and some heat and punch from red chillies and garlic.
Once slow-roasted, sticky and charred, these fantastically deep, sweet and complex flavours are cut through with a tangy blended feta yogurt, and served with a zingy herby tabbouleh that's bursting with parsley, mint, coriander and lemon.
And the wine pairing? We suggest a skin-contact wine that's clean, zippy and structured such as an orange wine from Italy – a Sicilian Catarratto would be a great choice. Orange wines are so-called because of their colour, and this is achieved by allowing the wine to macerate on the crushed white grape skins for a few days at the very start of the winemaking process. This also imparts tannins into the wine, as well as a faint, pleasant bitterness. The tannic structure and more complex flavour profile make an orange Cattarato a great match for charred, sweet-smoky-spicy mutton; and the wine's fresh citrus flavours help to cut through the rich meat too.
Prep time: 30 mins
Cooking time: 5 hours
This recipe serves 4-6.
Ingredients for mutton:
1.2 – 2 kg of blade of mutton
6 cloves garlic
2 red chillies
2 tbsp honey
2 tbsp olive oil
2 heaped tbsp ras-el-hanout
1 heaped tbsp za'atar
2 tsp sea salt
Ingredients for feta yogurt:
1 block feta
½ cup natural yogurt
½ lemon, juice only
Ingredients for tabouleh:
200 g quinoa
50 g flat leaf parsley
50 g coriander
50 g mint
2 tbsp olive oil
1 lemon, juice & zest
flakey sea salt
Method:
Remove the mutton from the fridge and allow it to come to room temperature. Preheat the oven to 140 degrees.
Trim away excess fat or tough skin. Place the joint 'fat-side-up' in a suitably sized/snug roasting tray and score the fat in a criss-cross fashion.
Mince the garlic and finely dice the chilli, then in a small mixing bowl whisk together the garlic, chilli, honey, olive oil, ras-el-hanout, za'atar and sea salt to make a thick slurry.
Pour and pat this roasting marinade all over the scored mutton, then place in the preheated oven for a total of 4-5 hours with the following adjustments along the way.⚫ Keep the mutton uncovered for the first 2 hours.⚫ After 2 hours add a splash of water to the roasting tray and cover with tin foil. Return to the oven for a further 2 hours.⚫ After 2 hours – now 4 hrs in total – remove the tin foil. Press the mutton with a fork to see how it's texture is getting on; depending on the age of the sheep it may still need another hour.⚫ Return the mutton, uncovered, for a final hour. If things are looking dry add a generous splash of water.

⚫ After 5 hours in total remove the mutton from the oven and allow it to rest under loosely covered tin foil.

Drain away any excess fat if you wish, then shred the mutton and toss it in its own dark roasting juices to coat and moisten. It can be served straight from the roasting tray if you wish – this one is all about flavour!
While the mutton is roasting you have time to make the tabouleh and feta yogurt.
For the tabouleh, bring the quinoa to a gentle simmer in a saucepan of salted water for 15-18 minutes, or until the grain uncoils slightly. Drain through a sieve, and allow the steam to billow off and the grains to dry out.

Finely chop the herbs – be sure to include the stalks of parsley and coriander – then toss with the cooled quinoa along with some olive oil, seasoning, lemon juice and zest. Serve at room temperature.
Finely chop the herbs – be sure to include the stalks of parsley and coriander – then toss with the cooled quinoa along with some olive oil, seasoning, lemon juice and zest. Serve at room temperature.
Roasted spring onions and simple steamed greens dressed lightly with olive oil make lovely accompaniments too.
Now why not try the Spring Menu dessert!
Crème brûlée rhubarb tart served with Quarts de Chaume dessert wine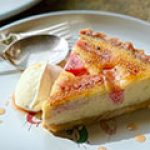 Or go back to the Spring Menu Starter
Goats' cheese cake and a pea & basil salad served with Pouilly-Fumé