Katy is an absolute fiend for Mexican flavours. She has travelled throughout much of Mexico and cooked in regions such as Puebla and Wahacca. While the winter months might deny us sunshine soaked tomatoes and creamy avocados we couldn't resist turning our hand to some Mexican flavours, but we've made use of some wintery vegetables such as kale, celery and carrots, as well as freezer and pantry ingredients such as frozen sweetcorn and tinned beans. The result was very pleasing indeed – a dreamy 'Veganuary' supper.
This soup is fabulous served with some corn chips, or even brown rice if you're looking to boost it out a little, and any leftover soup will freeze perfectly.
Prep time: 15 mins
Cook time: 55 mins
Recipe is sufficient for 4 servings.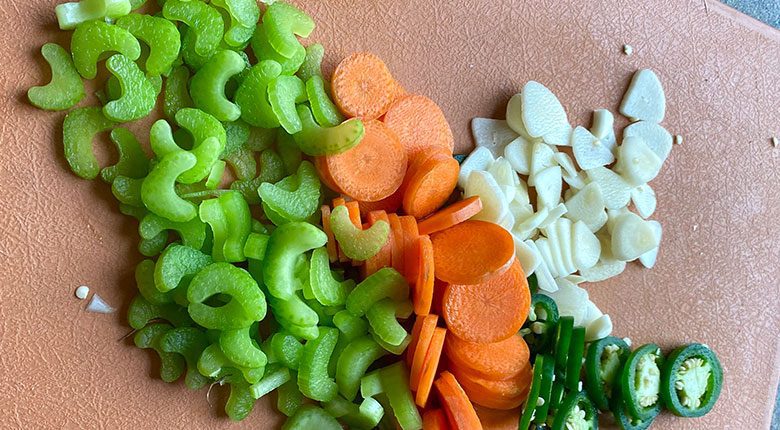 Ingredients:
4 tablespoons olive oil
1 large onion
1 carrot
2 stalks celery
1 handful fresh jalapenos
4 garlic cloves
3 tsp cumin seeds
1 tsp dried oregano
1 ancho chilli
1 tbsp tomato paste
2 tins black beans
2 ½ tsp flakey sea salt
1.25-litre ml water
½ lime
1 tsp tabasco
To Serve
250 g curly kale
1 tbsp olive oil
½ tsp flakey sea salt
1 small red onion
½ lime
1 tsp sugar
1 cup / 180 g frozen sweet corn
1 tbsp olive oil
1 tsp flakey sea salt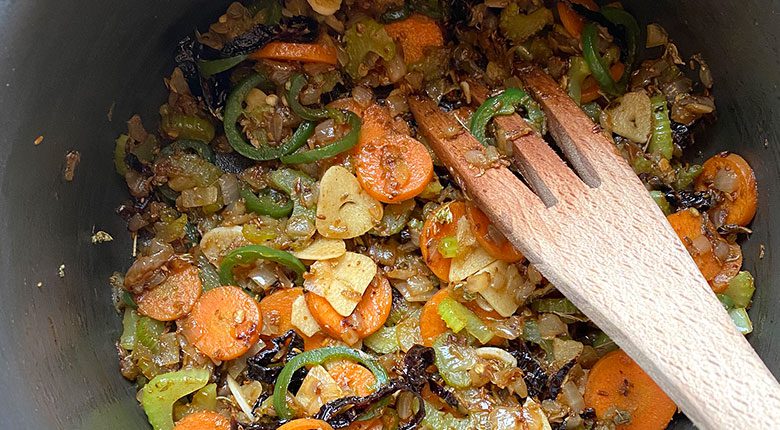 Method:
Start by rehydrating the ancho chilli in a cup of boiling water. Keep this to one side.
Dice the onion, finely slice the celery, carrot and garlic cloves, and chop the jalapeno.
Heat 2 tablespoons of olive oil in a large heavy-based saucepan over a medium heat. Fry the onions for 8-10 minutes stirring often.
After 8-10 when the onions are fully soft and translucent, or even a little golden, add 2 more tablespoons of olive oil, followed by the celery, carrots, jalapenos, garlic and 1 teaspoon of flaky sea salt. Continue frying for 6 minutes, stirring often.
Dry toast the cumin seeds in a small saucepan over a low heat just for 1-2 minutes or until fragrant. Grind in a pestle and mortar. Remove the ancho chilli from the hot water, cut it in half and remove the seeds, then coarsely chop. Keep the water to one side.
After 6 minutes add the cumin, oregano, ancho chilli and 1 tablespoon of tomato paste and stir. Allow these ingredients to mingle over a medium heat for 4 minutes.
After 4 minutes add the drained black beans, 1 ½ teaspoons of flakey sea salt, and 1.25 litres of water (including the chilli water from earlier). Pop on the lid and allow your soup to come to a gentle simmer over a low heat. Once simmering, set a timer for 35 mins, keep the lid on and the heat low, but stir half way through cooking.
While the soup is simmering you have time to prepare some of the toppings:
Preheat the oven to 140C. Strip the kale from its stalks then toss with 1 tablespoon of olive oil and a pinch of flakey sea salt. Spread this evenly over a roasting tray and crisp up in the oven for 6-10 minutes.
Blanch the corn in boiling water for 2 minutes, then drain and allow the steam to billow off well. Heat 1 tablespoon of olive oil in a small saucepan and fry the corn on a high heat for 8-10 minutes until golden and toasty; season with a pinch of flakey sea salt.
Finely dice the red onion, then muddle with 1 teaspoon of sugar and the juice of half a lime.
After 35 minutes turn off the heat and blend the soup until as smooth as possible. Stir through the juice of ½ lime and 1 teaspoon of tabasco then taste and adjust the seasoning if needs be.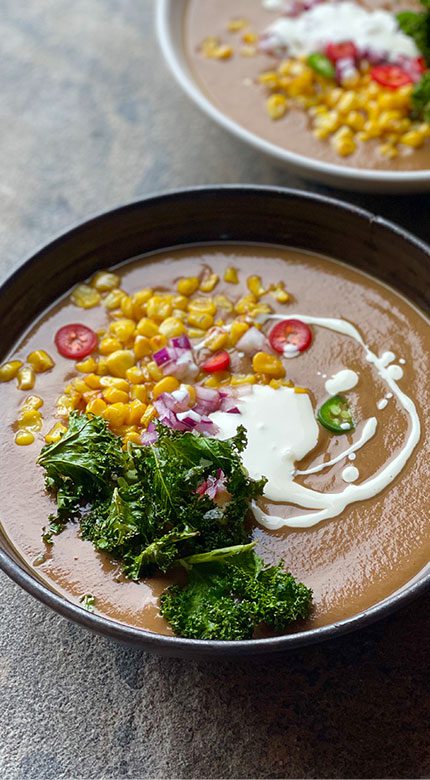 Serve your spicy black bean soup in warmed bowls topped with the charred corn, limey red onion, and crispy kale. Some jalapenos are a lovely topping too – fresh or jarred – as is a dollop of vegan sour cream. And if you can't get your hands on this try stirring the juice of ½ lemon through 6 tablespoons of vegan cream.
Enjoy!