From time to time you hear the lazy criticism that vegetarian food or vegan food is boring… have these people been living under a rock for the last five years? Vegetarian cooking is having its long-overdue moment in the sun, and with a growing tide of conscious consumerism, that moment is very much here to stay – excellent news! Here are our top 5 tips for exciting vegcentric cooking at home.

Eat with the seasons. For freshness and flavour!
Seasonal fruits and vegetables are packed with more flavour, more nutrients and offer better texture than those eaten out of season. The latter are often picked before they're fully ripe and flown thousands of miles across the globe while their nutritional profile dwindles… If veggies are going to be at the heart of your diet they need to be as nutritious and flavoursome as can be!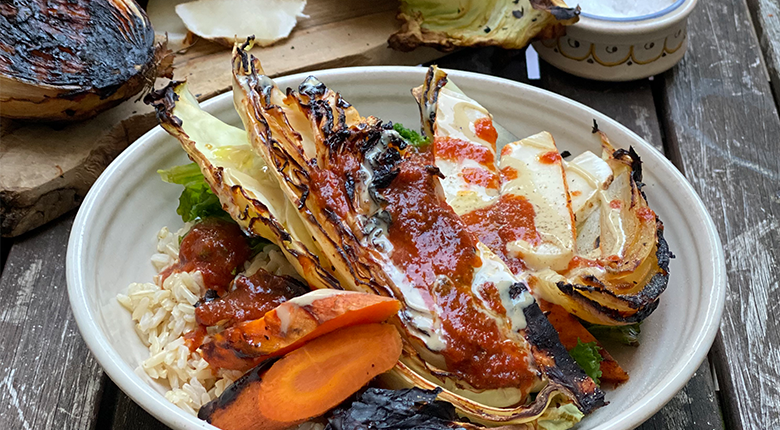 Treat your veg like meat
. Use marinades, dry-rubs and charring.
Forget steaming and boiling… unless it's a fresh Jersey Royal and in which case do little else! It's time we gave vegetables the same culinary attention as meat; as we always say, treat your hero veg as you would a chicken breast and they will always be (far more) delicious.
Here are some of our favourites: a sweet miso marinade on grilled aubergine (equal parts honey and miso, brushed over cut aubergine and popped under the grill…); smoky garlic mushrooms in a vegcentric Caesar salad (roasted in an umami rich marinade with tamari and brown sugar); and charred savoy cabbage atop a rich harissa tagine.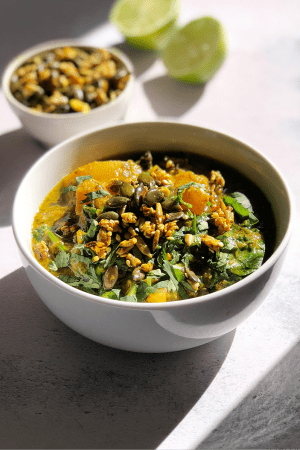 Befriend our 'flavour hacks'; they're vegan cooking's closest ally.
While vegcentric cooking can be the most delectable of diets, it won't do all the hard work for you. Meat cookery, by its very nature, is capable of building bold and complex flavours with little culinary effort. Steak in a pan? A whole chicken in the oven? The 'Maillard reaction' will do the flavour work for you as those proteins and sugars caramelise under heat.
Well, veg-led cookery takes a little thinking around the plate, but it's 100% doable and 110% delicious. Having a homemade stash of dukka, sweet & salty curried seeds, tangy fermented sauerkraut and sambal will enable you to create complex and exciting vegcentric quickly and easily.

Swerve the supermarket, at least when it comes to veg.
If veg is king, make sure it comes from a castle! And by castle, we mean a local veg box scheme or farmers' market. Supermarkets are handy for store cupboard staples certainly, but their veg is often far from home and wrapped in plastic.
The pounds we save eating less meat across the month we happily spend on organic vegetables, either from our local market on Sundays, or on our weekly Riverford delivery. Both are great options for fresh, seasonal vegetables whose inherent flavour will make all the difference to vegcentric meals at home.

Go against the grain

, for flavour and fibre.
There's a time and a place for silky white pasta but it's not every night of the week. There is a plethora of choice out there when it comes to pulses and grains each with wildly varying flavours and textures – subtly sweet? rich and nutty? robust and chewy? soft and comforting? Each grain will have its perfect use case and we advise trying as many as possible in your vegcentric cooking; variety is the spice of life after all, and the key to good gut health too, in this case!
We love whole grain rice or spelt in our root-a-touille, spelt macaroni in our one-pot minestrone, and split red lentils in our garlic & cavolo nero soup.
Follow these tips and your vegcentric cooking will be a total joy! Get in touch with any questions over on Instagram – @joeyandkatycook. Thanks for reading!