When most of us think 'barbecue', it's steaks and sausages that come to mind, but those much-loved glowing coals can be used to cook far more than just meat or fish. Fresh treats from the vegetable patch and the cheese counter can be creatively combined to taste fantastic straight off the barbecue, and we want to give you a glimpse into the world of the divine, non-meat barbecue dish – we're convinced that even the most avid meat lovers will be turning their heads!
From hot, spicy corn-on-the-cob to aromatic Mediterranean vegetables, vegetarian barbecuing is great fun and offers an amazing variety of tantalising dishes. But, before you 'throw another veggie on the barbie', the one thing you shouldn't do is cut your vegetables too thickly, because they usually take longer to cook than meat. Make sure you put them on the barbecue in plenty of time so that they will be ready at the same time as your meats (if you're not going completely veggie).
Vegetarian barbecuing recipe suggestions
Here are a couple of vegetarian recipe suggestions to inspire you, perhaps to try as an alternative to meat for your next barbecue or better cater to your veggie friends and family.
Mediterranean vegetables wrapped in aluminium foil
Ingredients (serves 4)
• 4 beef tomatoes
• 1 aubergine
• 1-2 courgettes
• Rosemary and basil
• 1 garlic clove
• Salt, pepper and olive oil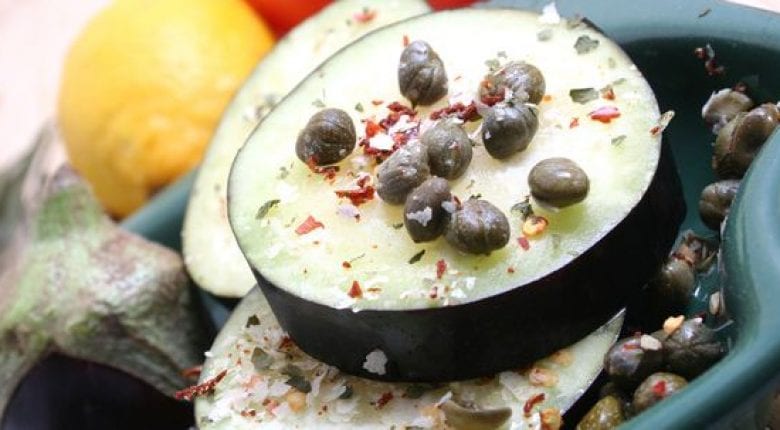 To prepare:
1. Wash the vegetables, halve the tomatoes, and slice the aubergine and courgette(s).
2. Season everything with salt and pepper.
3. Place the sliced vegetables in a sheet of aluminium foil, stacking them like a burger (tomato base, aubergine and courgette slices, tomato lid).
4. Drizzle over a tablespoon of olive oil and add the herbs.
5. Close the foil, place on the barbecue and cook for 15 to 20 minutes.
We recommend serving with French bread and herb butter, or with mozzarella and burrata
Barbecued courgette topped with ricotta and red pepper
Ingredients (8 courgette halves)
• 2 green courgettes (about 200 g each)
• 2 yellow courgettes (about 200 g each)
• Salt
• Freshly ground pepper
• 1 tbsp olive oil
• 1 large red pepper (250 g)
• 2 garlic cloves
• 1 white onion
• ½ bunch oregano
• 100 g ricotta
• 2 tsp ketchup
• 1 tbsp ajvar (red pepper relish)
• 1 tbsp milk (1.5% fat)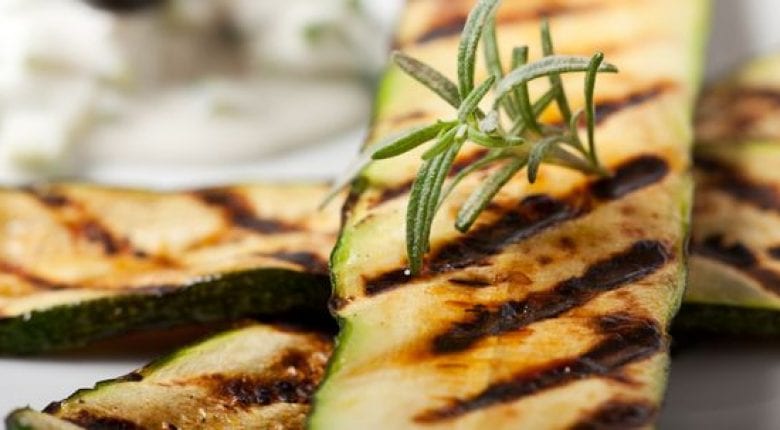 To prepare:
1. Wash, wipe dry and halve the yellow and green courgettes. Use a teaspoon to scrape out the seeds.
2. Season the halved courgettes with salt and pepper and place into a large aluminium tray with the cut surfaces facing upwards.
3. Brush with half of the olive oil and cook on the barbecue for about 8 minutes. Turn the courgettes, brush with the remaining oil and barbecue for another 3-4 minutes.
4. Meanwhile, halve, de-seed, wash and finely dice the red pepper, and place it in a bowl. Peel the garlic and press it through a garlic press, before mixing it in with the pepper.
5. Peel and finely chop the onion. Wash the oregano, shake it dry and remove the leaves. Put some aside and add the rest to the diced red pepper, together with the chopped onion.
6. Mix in the ricotta, ketchup, ajvar and milk, stirring until the mixture is creamy. Season with salt and pepper to add a little flavour.
7. Put the barbecued courgette halves onto a plate and cover with the ricotta and red pepper topping. Sprinkle on the remaining oregano and serve immediately.
We hope you're beginning to get the idea of just how versatile vegetarian barbecuing can be. Try these recipes out for yourself and surprise your guests with a completely different barbecue experience. And, if you don't want to leave out the meat altogether, incorporate these dishes as great sides.
What is your favourite barbecue food? Have you tried vegetarian barbecue recipes before? We'd love to hear from you! Get in touch with us on Facebook, Twitter, Instagram or Pinterest.