For our latest winter-themed recipe we've called in The Foraging Chef AKA Steve Thompson, who is Head Chef of The Plough in Shepreth just outside of Cambridge. There Steve conjures up a wonderfully wild menu often featuring ingredients he has foraged himself. With foraging becoming more and more popular here is your chance to make a foraged seasonal showstopper in the comfort of your own kitchen!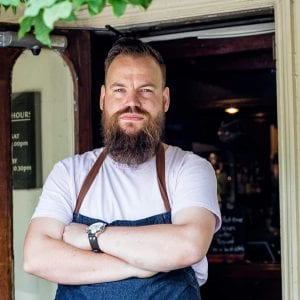 Venison & trooping funnel mushroom stew sourdough barley turnip & pine pappardelle hot chocolate oil
Cook time 2.5 hours
Equipment needed: Thick bottom large pan, Crock pot, Speed peeler, Sharp knife, Mixing bowl, Fine grater, Blender. Prep time is 24 hours, 35 minutes of which as hands-on.
Ingredients
Sourdough barley
120g pearl barley
1 tsp sourdough starter (doesn't need to be active)
60ml water
Turnip & pine pappardelle
300g peeled turnip
3 tsp pine needle powder (take pine needles & dry out then place through a coffee grinder)
3g maldon salt
Venison & trooping funnel stew
100ml rapeseed oil
1 small white onions fine sliced
2 garlic cloves finely grated
70g Miso paste
40g English mustard
100ml Guinness
100ml Apple juice
200ml water
Salt to taste
600g venison haunch diced
60g plain flour
Fermented pearl barley from above
300g trooping funnel mushrooms (Infundibulicybe geotropa) cleaned and quartered
Hot chocolate oil
30g cocoa powder
20g caster sugar
45g rapeseed oil
Pinch salt
Method
Firstly start off with the pearl barley, you'll need to do this 24 hours before you want to start cooking the stew. Place pearl barley, water & sourdough starter in a jar, mix together & leave somewhere warm for 24 hours, airing cupboard works great.
Straight after you've got the barley working & still the day before, prepare your turnips.
Take your turnip & using your speed peeler gently go round the turnip creating long ribbons, even & medium pressure will help you get long & wide strands like pappardelle.
Take your turnip pappardelle, add the pine powder & salt then leave to sit covered in the fridge until you're ready to serve.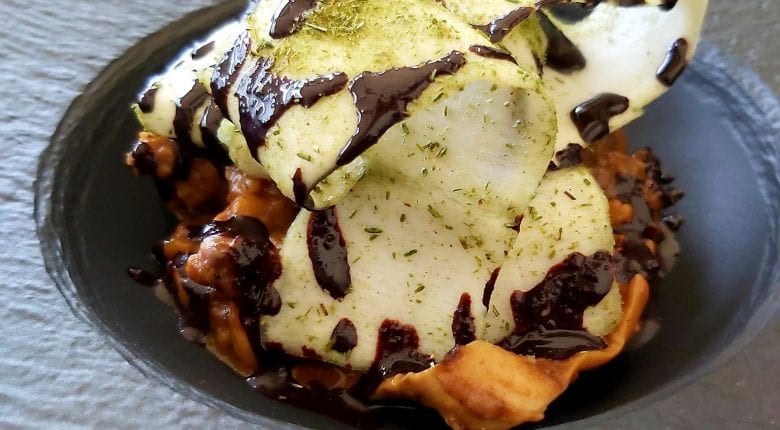 For the stew
Coat the diced venison in the flour, then getting your pan hot fry off till browned, do this in small batches, once 1 batch is done lift out into separate bowl while you finish the rest
Once all the venison is browned, using the same pan, turn the heat down to a low medium flame and get the onions and garlic in. Sweat them off gently until nice and caramelized when you should add the mustard and miso. Cook this out on the same heat until the mustard just starts to catch then bottom of the pan. Follow this with the venison, Guinness, apple juice, water & the fermented pearl barley. Bring this to the boil then put it in your crock pot & in the oven at 145°c for 2 Hours. After the 2 hours add your mushrooms raw & cook for a further 30 minutes.
Just before serving, make the hot chocolate oil, heat your oil to 80°c then add to the blender with cocoa, salt and sugar
For serving, find a nice bowl add a couple of large spoons of stew, top with the turnip gently layered on & drizzle with the hot chocolate oil and enjoy!
Discover more tasty recipes just like this at Steve's popular Facebook and Instagram pages!