It happens to the best of us – sometimes you just can't finish a bottle. Fear not! Your wine is not destined for the drain! Don't demote it to cooking wine just yet! Here are some tips and tricks and gadgets to preserve your wine in good form for future drinking. Does an open wine start to deteriorate? Sure, exposure to oxygen starts the clock, but you've got more time than you may think.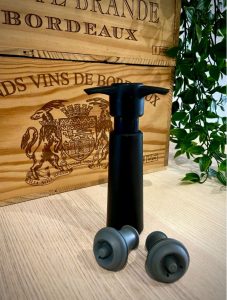 Your refrigerator is your friend and saviour. Don't leave the wine out on the countertop at room temp – storing it chilled will add literal days to its shelf life! This is for all wines – yes, red too! Your kitchen fridge is likely set too cold for proper serving temperatures, so you'll need some patience as the wine returns to temp when you're ready to drink it again, but it'll get there soon enough! And hey, you might enjoy that red even more with a little chill on it.
I worked at a high-volume wine bar for many years, and open bottles would not be dumped at the end of the night. We used a Vacu Vin Wine Saver (£12 Amazon.co.uk) and pumped the air out of those leftover open bottles. The vacuum seal will extend the shelf life, and when combined with refrigerating, you're looking at fresh wine nearly a week after opening. It's one of the most used tools in my home, and super affordable as compared to some other leading wine preservers.
There are some wines that should be drunk sooner than later – Sparkling wines need a proper sparking stopper to prevent the carbonation from escaping. You might not have the same explosive fizz when you return to it, but that's cool – there's still great wine there and a lot of flavour to be enjoyed.
Older wines like vintage ports and other aged beauties fall from grace much faster than a young fresh vintage, so be sure to open them in good company where you won't struggle to finish the bottle.
FYI – Vintage ports have the year the grapes were grown on the label and spend most of their lives hiding from oxygen in the bottle, as such, they're quite special, but quite fragile. Other ports like tawny – aged in barrels for 5,10, or 20+ years – and non-vintage ruby or white ports last a very long time after opening, but still best to keep them chilled, and pumped if possible.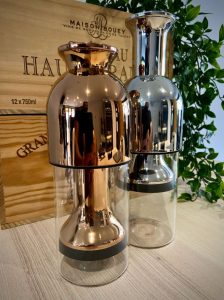 Try an Eto Wine Decanter (£129 etowine.com). I'll admit, I don't decant often, mainly because I hate cleaning the awkwardly shaped delicate crystal, but that all changed when I found Eto on Kickstarter. Eto (meaning 'again' in Welsh) has a unique design that is both decanter and preserver – it's a gorgeous piece for your home wine bar – and it's easy to clean too! Blind taste tests with top industry pros found no perceptible differences between a fresh wine and one decanted into Eto for a week! My wife drinks almost exclusively red, and sometimes I simply must open a white wine – Eto is a great solution for us.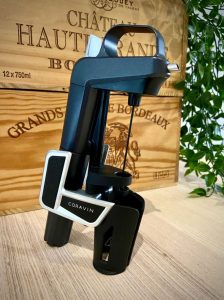 I also keep a Coravin (£129.99 – £549.99 coravin.co.uk) on hand. A Coravin is an ingenious little device that allows you to pour a wine without pulling the cork! It's crazy innovative – by inserting the coravin needle through the cork (best used with natural corks), you can remove wine, and replace it with an inert gas called Argon. No oxygen, no oxidation! Coravined wines can be revisited many times over, lasting weeks or even months before perceptible changes to the wine. This is a great way to try a glass of something special and save the rest for another day!
A lot of wine gets wasted prematurely. If a wine was left on my countertop overnight with just the cork replaced, I'd still be game to try it the following day. If it's refrigerated, I'd happily return to it up to 5 days on. If it's refrigerated and Vacu Vin'd – I bet most wines would be good to go a week later. With an Eto – you've got weeks. With a Coravin – you've got months! …not that an unfinished wine would ever make it that far out in my house, but it's nice to know you've got options! The best way to ensure a wine is enjoyed at its full potential is sharing it with good people. Cheers!
Good Wine x Good People is thrilled to offer freshMAG readers receive 5% off your first order with code FRESHMAG5. Free UK-Wide Delivery on Orders Over £100*
Dan Belmont, AWE (American Wine Expert, WSET L3) is Liebherr's UK Wine Ambassador and the proprietor of goodwinexgoodpeople.com. He is a New York native, former education manager for Murray's Cheese in NYC (the largest artisan cheese retails in the United States), and former education manager for Beadles of Borough, based in the heart of London's Borough Market.
At GWxGP, Dan is constantly experimenting with new ways to share his love of wine. The Personal Somm Questionnaire is our flagship product – a UK first, (often imitated but never duplicated), it quickly collects all the info Dan needs to confidently introduce you to wines that you'll love. No artificial intelligence or algorithms, just real people who love wine.

Prefer to choose your own adventure? You can now shop all 350+ wines by-the-bottle with search, sort and filter functionality to discover your new favourite wine from one of the most exciting retail portfolios in the UK today!
*(T&C's Apply)