We are delighted to be featured in the Best of KBIS 2016 People's Choice Awards. Until February 3, please follow this link to vote for our new undercounter pull-out refrigerator UPR 503.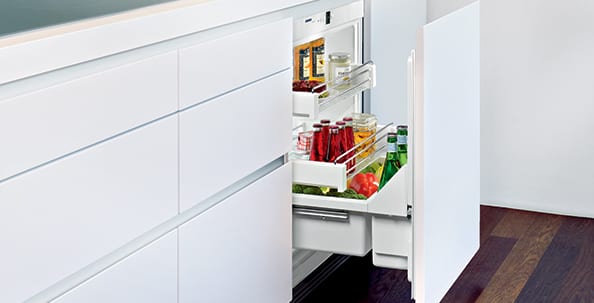 The Best of KBIS People's Choice Award
It's your chance to have your say in Best of KBIS 2016! Vote once for your favorite KITCHEN product and once for your favorite BATH product! Winners will be selected, based on most votes, from each of the two categories. Voting runs January 27th to February 3rd.
The new UPR 503 undercounter pull-out refrigerator ensures that fresh food is always within reach. Combining high energy efficiency with optimal storage space, the UPR 503 can be adjusted in height for perfect alignment with your kitchen design. The UPR 503 offers maximum ease-of-use thanks to its SoftTelescopic system of self-retracting and fully-extendable tiered storage compartments. This is the perfect space-saving addition for any kitchen or living area.
Thanks to the UPR 503's SoftTelescopic system, the fully extendable drawers self-retract, closing the door softly and quietly. Food is stored safely and securely by stainless steel railings and partitions, adding more custom storage options for better organization. Visibility of food is crisp and clear thanks to energy efficient and innovative LED lights, which make grabbing your next ingredients fast and easy. "Undercounter refrigerator drawers are a growing trend for 2016. We are excited to be a part of it thanks to our UPR 503 unit," said Josef Steigmiller, VP of the Americas Refrigerators and Freezers Division of Liebherr-America Inc. "These kind of refrigerators provide designers with alternative design options for smaller kitchens or other living spaces. Offering the same or better storage options than that of a full-size refrigerator – all for added convenience on hand. Like all true Liebherr refrigerators, the UPR 503 combines design with functionality. No high-end kitchen should go without."