Brussels sprouts are available year-round, but during the festive season they experience a spike in popularity – or disdain. These notorious vegetables love the colder winter weather, even needing a little frost to develop their full flavour. Read on to find out why sprouts are good for you, plus get a few tips about cooking them.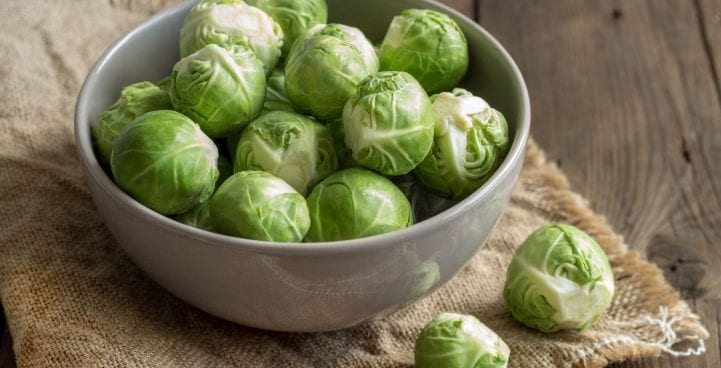 Cultivation of Brussels sprouts, native to the Mediterranean, began near what is today Belgium's capital in the 13th century. French immigrants brought it to the United States, where it first appeared in Louisiana. Today, the biggest producer of Brussels sprouts in the US is California, where harvest season lasts from June to January. The majority of the production in the US is for the frozen food market.
There's something of a mixed reaction to Brussels sprouts. Some people absolutely adore them, others avoid them at all costs! Whichever camp you're in, you'll probably be aware of this winter vegetable. If you're a fan, they make great side dishes and salads. When purchased from shops, the greenish-white sprouts have usually already been removed from their stalk. Iindividual sprouts tend to range from about 10 to 50 mm in diameter.
A few Brussels sprouts tips:
• Do not buy sprouts if their outer leaves have already turned yellow.
• Gently steam sprouts in a little water without a lid. Do not stir them.
• A little nutmeg works well as seasoning.
Storage
Sprouts will remain fresh for up to 11 days in a refrigerator and for up to 20 days in a Liebherr BioFresh compartment.
If you store freshly picked Brussels sprouts on their stalk (after removing the plant's leaves and head) they will not turn brown after a fortnight; they will stay fresh and retain their consistency, sugar levels and vitamin content for much longer.
Sprouts freeze well.
Food Facts
Brussels sprouts offer a high level of plant protein (including amino acids). They contain vitamins A, B, C and K, potassium, calcium, iron, magnesium, sodium and phosphorous.
With all these nutrients on board, it's not surprising that sprouts are often said to have 'tonic' properties, i.e. they are believed to invigorate and strengthen, helping to alleviate debilities and tension.