You won't be surprised to hear that pears are one of the best-selling fruits. Read on to discover the names of a few of our favorite types, how nutritious they are, and why you sometimes find them in bottles.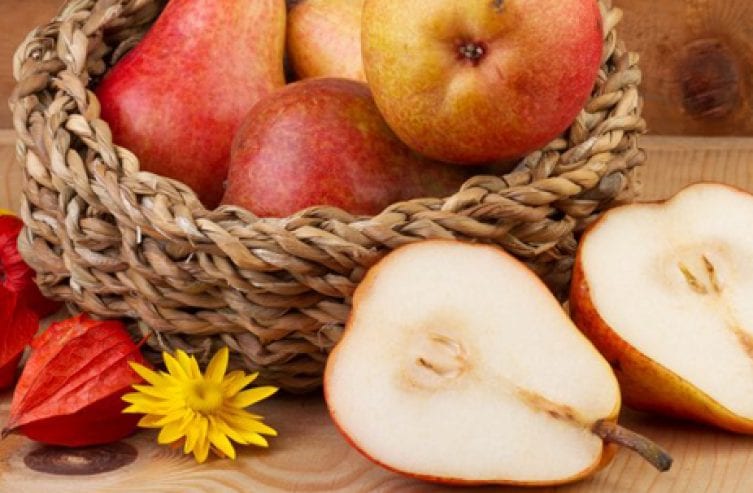 We make a distinction between summer, autumn and winter pears. A further distinction is made between dessert pears, which are perfect for eating just as they are, and cooking/cider pears. Pear varieties are known by a myriad of intriguing names. In the United States, the Anjou pear was recommended for cultivation by the American Pomological Society in 1852. The Abate Fetel is the most popular type of dessert pear in several other European countries.
Pears have a great deal to offer in terms of culinary versatility and enjoy great popularity; but, it's not only for their sweetness, juiciness and healthiness as a fruit that they are loved… pears also taste amazing when used to flavour a fruit brandy, schnapps or liqueur. Such heart-warming pear beverages are made using Williams Christ pears, and some clever old distillers even manage to get a fully-grown pear inside the bottle to infuse their product with 'peariness'. If you're wondering how they manage to do this, we can reveal the answer: when the pears still hanging from the tree, and still extremely small, bottles are placed over them and attached to the branch. The pears then, more-or-less, grow to full size already in the bottle. When the pears are harvested, the bottles are 'harvested' with them, briefly rinsed and then filled with schnapps, pear perfectly in place!
What is your favorite variety of pear? How do you like to eat pears – on their own, in a sweet dessert, or as a savory dish? Please write to us and let us know! Use the comment function below this post or start/join in discussions with us on Facebook.
Storage
Poached pears (often pealed, cored and sliced) can be bottled to preserve them for later enjoyment.
If you want to enjoy your fresh pears for as long as possible, you will need to store them in a cool place. In a refrigerator they will stay fresh for up to 26 days and in a Liebherr BioFresh compartment they can be stored for up to 55 days
Food Facts
People enjoy eating pears in many ways: with muesli, in a fruit salad, or as a topping for various cakes or tortes, just to name a few.
Perhaps you have heard of one of the most famous pear desserts, named after the Helene pear: Poires Belle Helene? It's a classic French recipe for poached pears with chocolate sauce and vanilla ice cream, and it can be as sophisticated as you want to make it. But don't be tempted to think of pears only in terms of sweet dishes; they also work wonderfully with savories such as strong cheese and salads.
Admittedly, there are fruits that have fewer calories than pears but, with barely 0.5 g fat per 3.5 oz, you really can't go wrong with them! What's more, pears contain their fair share of vitamins and minerals with plenty of fiber to boot; they are also easy to digest and very gentle on the stomach because they have low acidity (they are less acidic than apples, for example). So, you can enjoy eating pears with a totally clear conscience, knowing you're doing yourself some good!