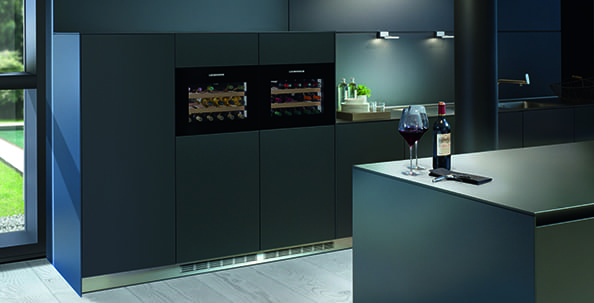 Wine & Lifestyle: Sophisticated Entertainment.
Whether you are a wine connoisseur or just enjoy a good bottle every now and then. A Liebherr wine storage cabinet is a great addition to your home. State of the art precision electronics ensure that temperature and humidity stay constant. LED lightning lets you showcase your fine collection without any negative effect through heat. An active charcoal filter eliminates outside odors that could have an adverse effect. Our range offers the perfect storage conditions.
Later this year, we will introduce the all-new HWg 1803 with convenient and elegant TipOpen technology. At KBIS 2016 in Las Vegas, you can see it right now – come say Hello at BOOTH N463!
But now it's time to open a bottle and share it with good friends or someone special! Our dedicated Wine & Lifestyle playlist on Spotify is ready to set the mood. Join us tomorrow for a final look at what we are showing at KBIS 2016, and a fresh playlist, too!
Do you enjoy our selection or have any other suggestions or questions? Please use the comment section below or join us on Social Media.