The evolved outdoor kitchen offers a new self-sufficient, functional scene for gourmet cooking and casual entertaining with friends and family. Liebherr's RO 510 is the ultimate barbecue and entertainment accessory,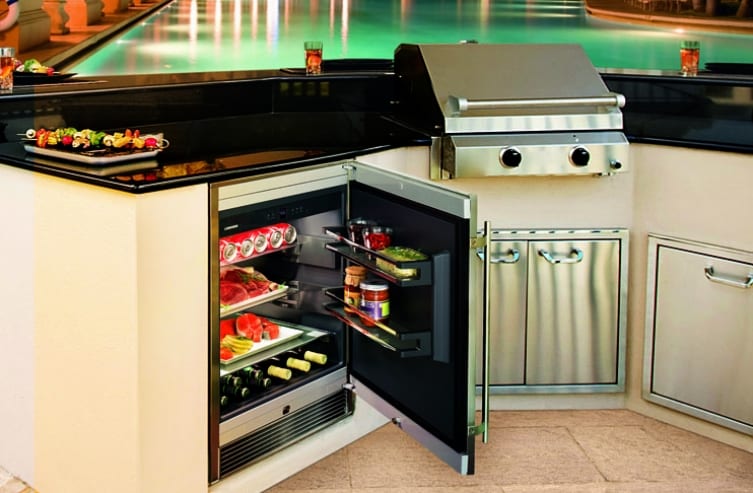 Are you looking to turn your outdoor kitchen on the deck or patio into the ultimate place for entertaining? The compact outdoor undercounter cooler RO 510 offers the best place for beer, wine and soft drinks, as well as barbecue supplies and condiments.
A Comfortable And Modern Aesthetic
Realize a comfortable and modern aesthetic in your outdoor entertaining space with the seamless Liebherr RO 510 outdoor beverage/wine cooler, which enables convenience while still achieving a much sought after laid-back ambiance. Perfect for chilling beer, wine, soft drinks, food for grilling, and condiments, this compact unit allows you to have everything you need, handily located under your countertop. It also doubles as a useful, outdoor food prep station. With the sleek RO 510 achieving that casual entertainment experience within, your ultimate outdoor kitchen is effortless because a Liebherr makes your life easy, without compromising elegance and design.
Three glass storage shelves with stainless steel trim provide plenty of plate and container storage. A versatile split shelf makes it easy to store larger items. Bottles fit effortlessly in specially designed grooves on the appliance floor, and the two door racks (one adjustable) feature elegant retainers.
The appliance temperature can be set from 36°F (2°C) to 68°F (20°C). Perfect for keeping meats and vegetables conveniently near the grill or chilling your drinks while you enjoy the outdoors, spending time with family and friends.
Designed to weather the outdoor elements, weather resistant stainless steel on the exterior protects it against the elements and corrosion. It operates perfectly within ambient temperatures from 50°F (10°C) to 109°F (43°). The cabinet includes a lock for added protection of stored items.