Liebherr Appliances will introduce enhanced features, new materials and design elements to its collection of freestanding, integrated, and wine refrigerators. The updated products will be on display at the 2018 Kitchen & Bath Industry Show – KBIS – in Orlando, Florida from January 9th – 11th at Booth W2171.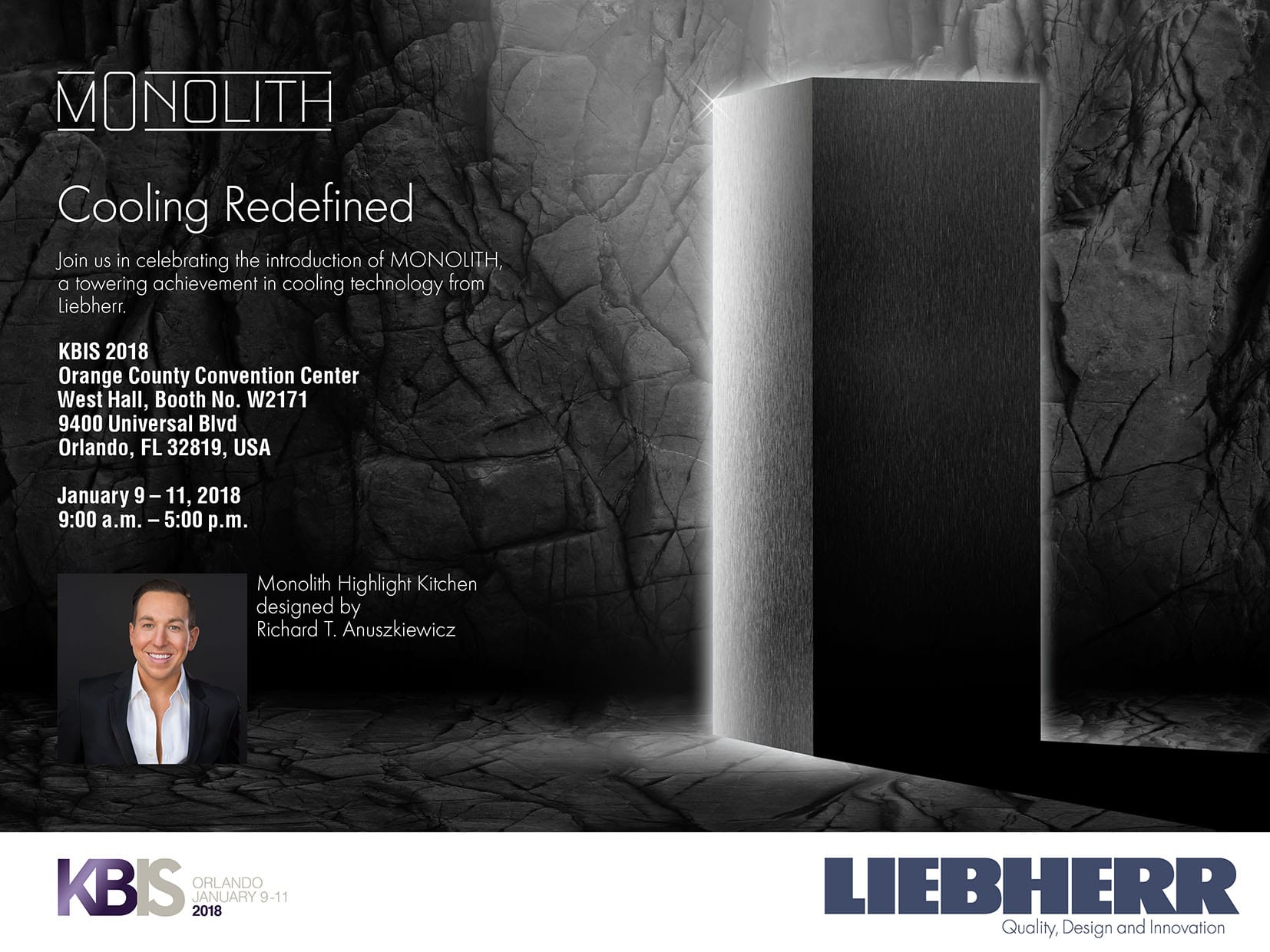 Many of Liebherr's freestanding and integrated refrigerators are now designed with a sleek stainless steel back wall, new door bins, drawers, and glass shelf trims. Additional features include: new ice bucket and divider for ice maker, removable door gaskets, updated control panel graphics, and magnetic fastened ventilation grill.
Under-counter beverage centers and wine cabinets are ADA compliant and feature new square handles for an updated modern aesthetic. Liebherr's new stainless steel adjustable toe kicks seamlessly integrate with standard North American kitchen cabinetry. In addition, the products will feature new control panel print and a modernized wooden shelf design and labeling clip.
"We're excited to return to KBIS as an exhibitor and debut our new products and features," says Josef Steigmiller, Divisional Director of the Refrigerators and Freezers Division of Liebherr USA, Co. "The Liebherr team always looks forward to this opportunity to network within the industry and showcase our passion for performance and technology through our new cutting-edge products."
Liebherr will also use KBIS as an opportunity to unveil its groundbreaking Monolith – a refrigerator built for the future with whisper quiet operation and advanced technology. Monolith maximizes every square inch of refrigerator space and is a testament to Liebherr's ingenious design and product development. The new refrigerator is equipped with Liebherr's Smart Device Box that can be controlled via smartphone or tablet and an optional FridgeCam that takes pictures of the interior contents every time the door closes. The owner can activate the refrigerator's SuperCool and SuperFrost technologies that help preserve the cold chain by temporarily drastically lowering the temperature within the refrigerator or freezer compartments. Monolith also includes Liebherr's BioFresh Plus technology that add another dimension of climate control to the BioFresh system by allowing you to set temperatures inside the third drawer to as low as 28 degrees Fahrenheit. When food is stored in these drawers, the precision technology kicks in to ensure the temperature is consistently maintained, which has proven to extend the freshness and flavors of exotic fruits and delicate seafood.
Monolith will be showcased in the stunning Monolith Inception Kitchen, a vision by 2017 Modenus Top 10 Design Influencer and Washingtonian Style Setter Richard T. Anuszkiewicz (ANNA-SKEV-ICH), Creative Director of Richar Living Lifestyle Brand and the Executive Director of Alt Breeding Schwarz Architects Casework Division.
Richard is a 2010 graduate of Virginia Tech's NKBA accredited Residential Design program and since being apart of the inaugural NKBA Top 30 Under 30 program, Richard quickly became recognized as a luxury kitchen design authority.
Richard launched the renowned #FASHIONFORWARD Tour in 2014 presenting nationally at premier industry events including Dwell on Design Los Angeles, Design Chicago, KBIS Las Vegas and Orlando. In 2016, Richard was a part of the DXV by American Standard Design Panel, commissioned to design a kitchen for their national advertisement campaign.
Richard has been highlighted in numerous high-profile publications, such as Vanity Fair, Architectural Digest, Traditional Home, House Beautiful, The Washington Post, The Editor At Large, Robb Report, HGTV and more. He enjoys staying up to date with trends and technologies and most recently he was abroad at Salone del Mobile in Milan and The London Design Festival.