Coq au vin is genuine comfort food! The chicken, slowly simmered in a smooth red wine sauce, always goes down well, almost everyone likes it and, other than maybe a few buttery noodles or a piece of fresh baguette, this simple and popular dish is ready to serve – no other side dishes are needed.
Coq au vin needs a simple, uncomplicated wine
The right wine to accompany this should also possess a similarly uncomplicated and inviting charm, a nice fruit and a rounded, accessible texture. No great depth of aroma is required here, nor anything too "earnest" in terms of structure. To accompany the coq au vin "comfort food", all you need is an appropriate "comfort wine". A young Pinot Noir with its fruity notes might be considered, for instance, just as much as a Dolcetto d'Alba from Piedmont.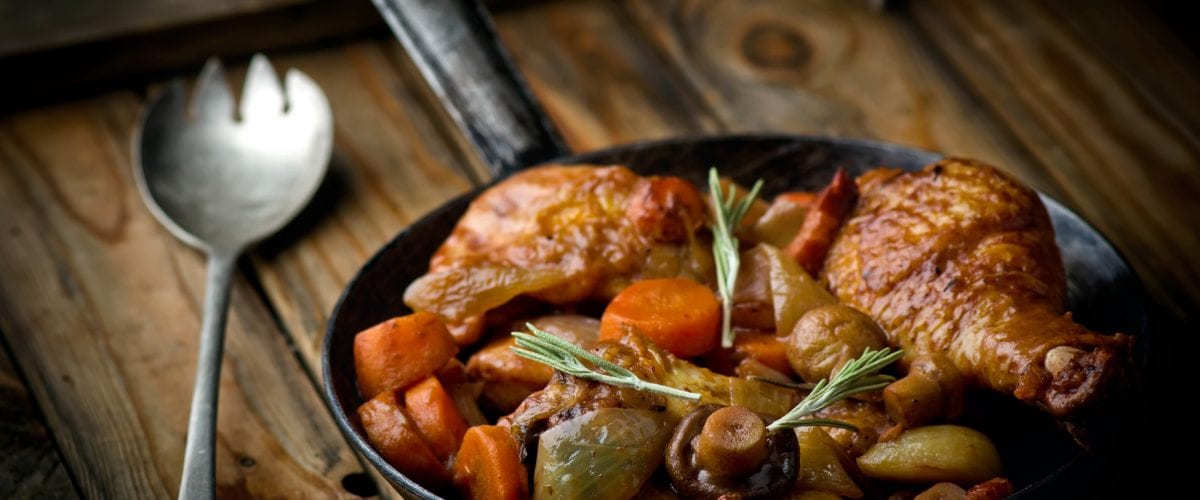 My recommendation is a red wine from Beaujolais
In the end, however, in my view there's nothing better to complement coq au vin than a beautiful red from Beaujolais, a region which, due simply to its geographical proximity to Bresse – the renowned home of particularly good poultry in France – is regarded as the source of "chicken wine" par excellence. In these wines, the Gamay grape variety lends the aroma an alluring berry and cherry fruit as well as a harmonious rounding to the subtly juicy composition. And they will not break the bank, which means that, in this case, you can certainly allow yourself a little culinary luxury. Take two bottles, use one to prepare the sauce, and enjoy the second with the finished meal – the perfect indulgence could not be simpler!