Discover our tips for refreshment
Summer is a wonderful thing: the days are longer, the sun shines, and a good mood is automatic. "Freezing" is unheard-of during this season. However, if the heat gets out of hand, we simply long for something to cool us down. These tips provide refreshment on hot summer days and will help you to keep a cool head.
Cooling and refreshment can be very easily integrated into everyday life. We influence our well-being enormously by our choice of food and drinks, particularly on hot days. Since heat puts a burden on our circulation, our body is grateful for every other kind of relief.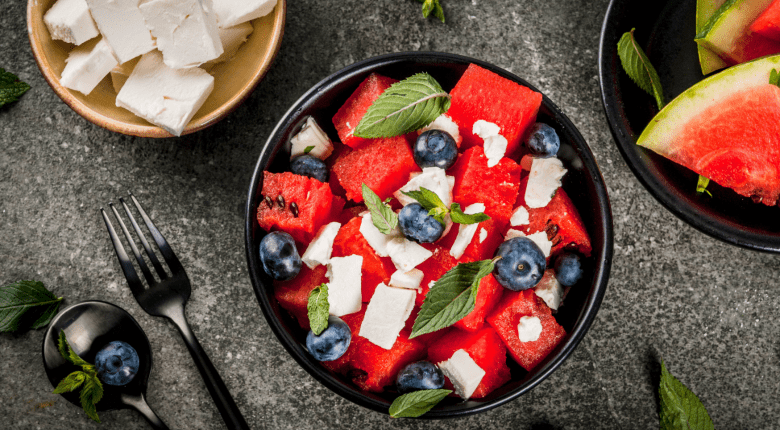 Tip 1: Choose light and refreshing foods
Heavy, greasy food is not a good choice on hot days. The reason for this is that laborious digestion puts an additional strain on our circulation and can make us feel tired and listless after a meal.
Therefore, our first tip is: reach for easily digestible foods with high water content on hot days. This prevents our organism from being overburdened with too much digestion work and provides it with essential liquid. Watery fruit and vegetables are excellent choices. According to Ayurvedic theory, these even have a cooling effect. Iceberg lettuce or watermelon, for example, consists of over 90% water. The salad can be easily jazzed up with tomatoes or cucumber. You can find further inspiration in our salad recipe collection.
Some combinations of foods are particularly refreshing on hot days. Watermelon, for example, goes very well with feta cheese. Because of their high water content, dairy products are generally very suitable for light refreshment. For example, yoghurt is ideal in combination with watery fruits, giving you a perfect freshness boost. The classic combination of tomatoes and mozzarella is equally popular, spiced up with fresh basil. Beetroot hummus with crudités, for example, can provide more variety.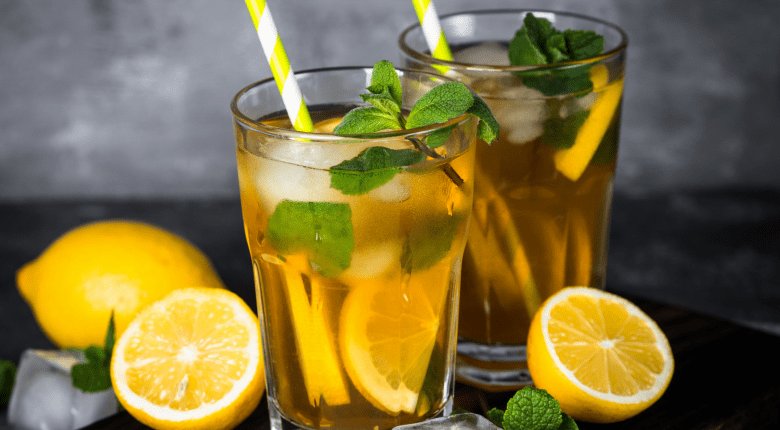 Peppermint lovers, in particular, can breathe a sigh of relief on hot days. These refreshing leaves give us a cooling feeling. Peppermint tea is therefore a popular summer drink in Arab countries. Our tip: try the sweet and cooling combination of strawberries with fresh mint leaves. This special taste experience is suitable between meals or in a fresh summer dessert.
Of course, simply ice-cold foods such as home-made ice-cream, frozen fruit or home-made iced lemon tea also do us good. Your Liebherr appliances help you to cool these delicacies to refreshing temperatures. You can find inspiration for special moments of enjoyment in this article.
Tip 2: It's better to avoid spicy food and alcohol
It's not a coincidence that the word "hot" can mean not only warm but also spicy. Spicy food has a warming effect. This is caused by substances such as capsicum in chilli or other substances occurring in black pepper, for example. The consumption of spicy foods brings the body into a considerable sweat.
A cold, well-earned beer for refreshment? As attractive as this idea sounds, alcohol and heat are a very unfavourable combination. This causes our body to lose additional liquid, and the vasodilative effect also encourages circulation problems. Alcohol-free alternatives are therefore clearly a better choice for cooling.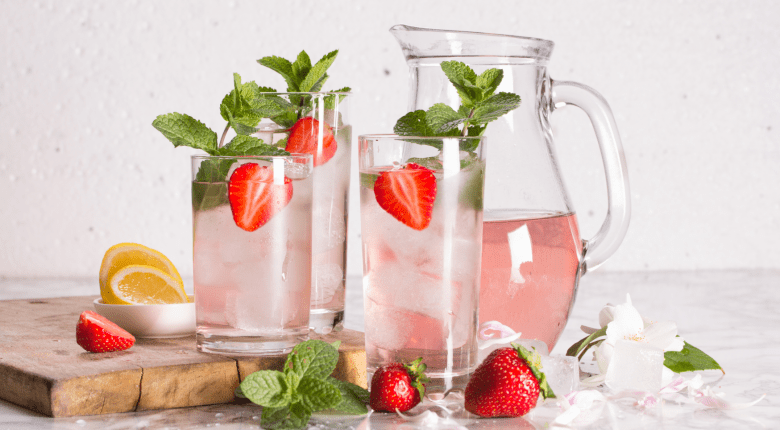 Tip 3: Clever drinking
Drinking sufficient quantities is immensely important on hot days. We compensate our liquid deficit at the latest when we feel so thirsty that we could imagine drinking a whole lake. But we shouldn't let it get to that stage at all. Thirst is already a sign of deficiency, and this becomes evident very early on when we experience difficulties in our concentration and performance. The reason is that water deficiency leads to a decrease in the blood flow to our brain, muscles and other organs.
We recommend at least 1.5 to 2 litres per day. On hot days or during sport, the body quickly needs twice that amount. Thirst-quenchers should therefore ideally always be at hand. As well as mineral water, unsweetened fruit or herbal teas make great choices. The above-mentioned peppermint tea is a good idea, for example. For a sweet and thirst-quenching alternative, you can mix your own fruit juice spritzer, with pure water making up ¾ of the amount.
The temperature of the beverage is also decisive for its refreshing effect. Paradoxically, even if we crave ice-cold drinks, luke-warm drinks are better for us. They enter the blood more quickly and are better able to compensate for the loss of liquid than the ice-cold versions. In addition, the warmer beverage is gentler on the stomach and circulation.
Tip 4: Cool your foods well
The fridge: always important, and particularly so in summer. Bacteria happily proliferate at warm temperatures and in high humidity, causing our foods to spoil much more quickly. Serious infections such as salmonella can also be caused by inadequate cooling. A cooling bag is therefore recommended, particularly for the transportation of animal-based foods. When shopping or going for a picnic in the park, a good cooling bag with cold storage accumulators gives you security. Find your Liebherr cooling bag for optimal cooling here:
Read about the best places in your fridge to store your foods here: Good kitchen hygiene is also very important. Find out more about that in this article: In addition, it is better to avoid raw animal products such as those in tiramisu or zabaglione entirely on hot days.
Tip 5: Body spray: cooling from the outside
Would you ideally like to sit in the freezer yourself? Cooling body sprays can give you almost the same feeling, even if you are far from the nearest swimming pool or sea. You can make these very easily yourself on the basis of boiled water or mineral water. You can find spray bottles in drug stores or at the chemists.
Ethereal oils provide your body spray with a fresh scent. Grapefruit, cypress or lavender oil are suitable, for example. Use about three drops of oil in 250 ml of water. Important: body spray containing ethereal oils can irritate the eyes and is therefore not suitable for the face. For extra freshness, put the spray in the freezer compartment briefly before spraying, and always shake the mixture well before spraying. The spray keeps approx. one month.
Peppermint tea can also be used to conjure up a very easy cooling mint spray: infuse two to three teabags and a handful of fresh mint with 250 ml of boiling water, steep for ten minutes and leave to cool down completely. Then pour the mixture into your spray bottle to give you a quick feeling of refreshment suitable for all occasions. For even more refreshment, simply store the spray in your BioFresh safe, and for additional skincare, you can even add a small splash of olive oil. Have fun experimenting!