We know beer is big news in the UK. But with over 28 million barrels sold around the country every year we are here to remind you all about British craft beer, the full-bodied chocolatey IPAs, frothy pale ales and smooth as silk stouts are up for the sipping.
The nights are long and dark and so fill your Liebherr fridge with some of the best British craft beers. Heck, hop-heads, Christmas is on the way, stock it up to the brim! To help you, we've selected some of this fine land's most interesting microbreweries and filling stations – those tinkers you need to put on your radar this winter – and the brews to buy from each.
When you get your hops home know that your Liebherr fridge will have the space, adjustable shelving support and cooling tech to keep it brewery-fresh. Featured in some of the latest Fully-Integrated Liebherr appliances, the LED LightTower illuminates the interior evenly making it easier to see the creative labels of all your favourite craft beers. And the BottleTimer is available via a smart device so no drinks will be forgotten while cooling in the freezer – burst bottles are a thing of the past. That's the tech bit over with.
Now for all you beer lovers, what a time it is to be alive!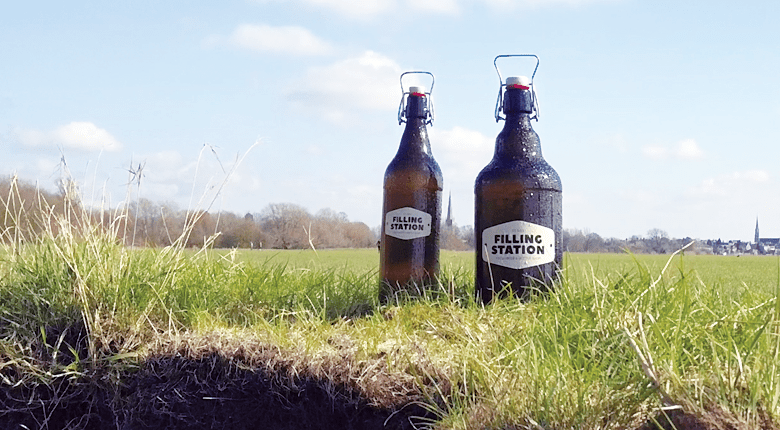 The Filling Station. St Ives, Cambridgeshire
This independent craft beer taproom and bottle shop in St Ives, Cambridgeshire offers a vast selection of 200 different beers (lagers, ales, IPAs) sourced from small local breweries right through to more recognisable labels. They have an ever-changing 10 draught beer line tap wall, most recently it featured their own label Car Trap Pale Ale as well as ciders, draught and a pineapple and lemongrass sour. There's a drive-thru hatch for customers to fill up a Growler (one or two-litre bottle) in a hurry or order their cans or bottles online at home.
Hackney Church Brew Co. East London
It wouldn't be a real list about British craft beer without this hip team, led by Head Brewer Ryan who takes a Michelin star chef approach to making beer: chemistry and alchemy are everything. It's tucked along a strip of arches in Hackney, stacked next to three other breweries: Pressure Drop X Verdant, Deviant & Dandy and Brew Club. And styles range from kettle to keg. Buy their brews including Static Shock Sour, Heaven Help Me and 1792 Imperial Stout on-site or online. All ingredients are fresh, locally sourced and they have an in-house grain mill.
Cloud Water Co, Manchester + London
This light warehouse feels more like an art exhibition space than a taproom. But it serves up top quality ethically-conscious beer made using up-to-the-minute brewing science techniques and ingredients from UK suppliers. If you are local pop down to their annual not-for-profit festival called 'Friends & Family & Beer' in February. Expect citrusy pale ales, juicy IPAs and bold and precise modern beers with on-trend ingredients like pineapple, yuzu and green tea.

Four Candles, Broadstairs, Kent
This family affair has become quite the tourist spot for those who can find it. Expect a warm welcome from owners Mike and Janice before they point out some caveats: no lagers, no spirits, no piped music, no Sky TV and no wi-fi found here. What you will get is freshly brewed real ales and ciders from the smallest brewpub in Britain (the taproom in the cellar is 3m x 3m) served with a range of Canterbury cheeses and local pork pies. It's cosy, but this couple pride themselves on their beer and always being able to pack one more in. Or just takeaway!
Hop Shop Aberdeen
They had us at "Craft calendar," a hand-picked selection of 24 beers for 24 days as a way to see out 2021 in style and available on their website. When we say this is a filling station it really is: Hop Shop Aberdeen is found at Westhill Service Station, a family-run get-up that's been running since 1968. With 300 craft beers on offer, stock ranges from locals Brewdog & Fierce to global brews including Beavertown and Schofferhofer. And you get free UK deliveries on all orders over £65. But it's worth checking out this quirky hidden gem IRL.
Breworks at The Black Swan, North Yorkshire
At first glance, this is a charming 300-year-old pub and hotel with a popular restaurant in the quaint village of Pickering on the North Yorkshire Moors. Scratch the surface and you'll find an onsite microbrewery with both traditional and very modern beers bubbling away. Breworks is a tiny brewhouse that comes from the team behind Istanbul's Bosphorus Brewing Co. and you can expect a deliciously random mix of global beers as bonkers as the set-up itself. Fill your fridge with bottles of Breworks Nuts & Bolts Blonde and Istanbul Pale Ale among others.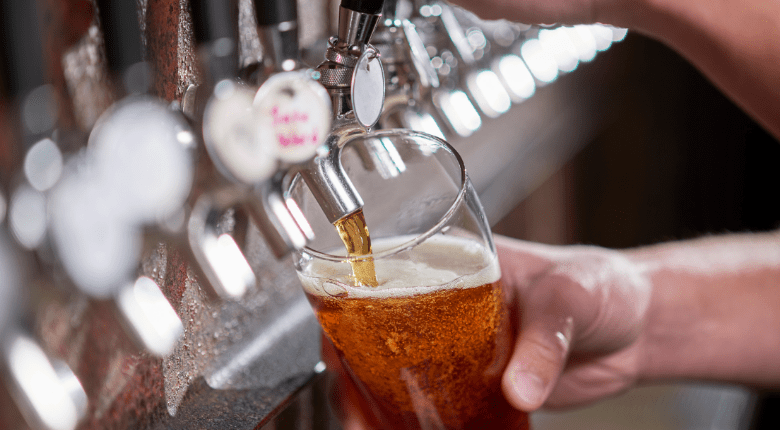 Three Legs Brewery Co. Brede, East Sussex
From their colourful mosaic illustrated labels to welcoming inclusive vibes and diversity of vegan-friendly British craft beers, Three Legs is as fresh and exciting as new breweries get in the UK. Ironically this brewery and taproom, established in 2015, was born out of an idea founders Sam and Ben had on a winemaking course at uni. They now make 3300 litres of craft beer every week using only local ingredients. Try oatmeal IPAs and heavy on the hops pale ales in the buzz taproom, or move from a distance quickly – their beer online shop often sells out.