Nestled in the very heart of Europe and bordering Germany and Switzerland, the Alsace wine region of France offers such a diversity of grape varieties, wine styles and vineyard soils that it is easily the most intriguing wine region on the continent. Connoisseurs, in particular, are drawn to this alluring wine nirvana and espouse immense affection for it.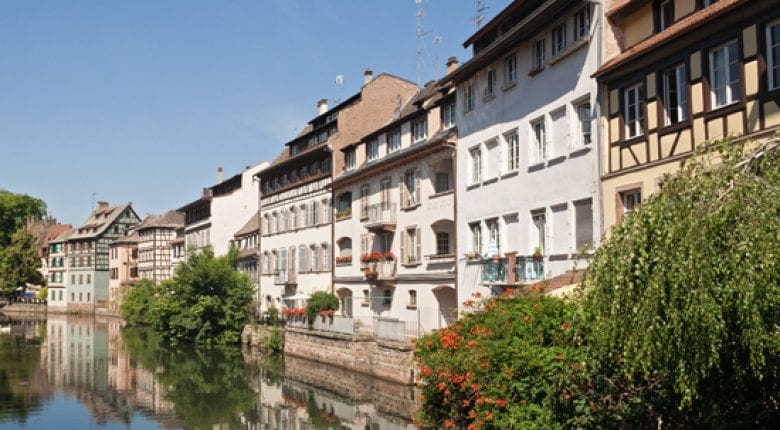 Alsace is a rich cultural region that lies on the western periphery of the Upper Rhine Valley; it is home to the charmingly beautiful historic cities of Colmar, Mulhouse and Strasbourg, and boasts a wine history dating back to Roman times. This breathtaking and remarkable landscape is the interface for French and German viticulture: grape varieties such as Riesling, Pinot Gris and Gewürztraminer are infused with life as French winemaking finesse and Alemannic epicurean enjoyment intertwine in a glorious union. The region is blessed with a surprisingly mild, wine-friendly climate thanks to the warm Mediterranean air that is funnelled into the Rhine Valley through the Belfort Gap in Southern Alsace, and to the Vosges Mountains that provide protection from both rain and chilly winds. Colmar – an enchanting, cobblestoned, medieval jewel right at the epicentre of the wine region – is the second driest town in France with an annual rainfall of only 500 mm!

Alsatian soil types spell quality and variety
The countless geological fractures and tectonic shifts that occurred during the formation of the Upper Rhine Valley have led to the creation of a mosaic of soil types in the region, and some 15,500 hectares of fine cultivation land that is quite literally winemaker heaven. With such a rich palette of soils on offer, the wine produced in each picturesque village has its own unique character and taste profile, and the 51 Grand Cru classified vineyards, which top the region's wine hierarchy, produce individual wines that are distinctively shaped by their local terroir. As in neighbouring Germany, Riesling is the most important grape variety, followed by Pinot Blanc – this variety is frequently used in the Crémants (dry sparkling whites made like Champagne), which are a specialty of the region. Alsace is also world renowned for its aromatic Gewürztraminer wines and its full-bodied-yet-dry Pinot Gris wines. Other notable white wine specialties include fresh, light Sylvaner and fragrant Muscat.
Not-to-forget Alsace red wines et al
About 10 per cent of Alsatian vineyards are planted with Pinot Noir vines that produce delightful fruity variants of Pinot Noir red wine. And, in addition to the classic dry whites and Crémant sparkling wines, there are also exceptional sweeter vintages that are both sought-after and rare. Alsace's Vendage Tardive (VT) wines are late-harvested wines that require a certain minimum ripeness level to be met or exceeded. They have a higher than usual concentration of natural sugars and offer a silky-sweet fruitiness, which makes them a delicious accompaniment to the region's traditional foie gras and to spicy cheeses. Meanwhile, Sélection de Grains Noble (SNG) wines – extremely rare, classic dessert wines – are made with even riper grapes, with producers ensuring that their SNGs are sweeter than their VTs!
Alsace: How to experience Alsatian wine and gastronomy
If you want to immerse yourself in the wines (and cuisine) of this region, there's no better way than to head for the Alsace Wine Route (Route des Vins d'Alsace). Beginning at Strasbourg in the north and running southwards to Thann, this 170km wine route meanders through countless picturesque villages and small wine towns. En route you will pass many of the famous Grand Cru vineyards and a host of smaller wineries that open their cellar doors and invite you to taste and enjoy. Charming wine bars and delightful country inns also line the route and are ample-enough reason alone to explore the Route des Vins d'Alsace. From a gastronomic point of view, the French Upper Rhine is especially famed for its gourmet restaurants and for its everyday delicacies: legendary sauerkraut, hearty Munster cheese, and slow-cooked Baeckeoffe stew – down-to-earth, regional, Alemanic culinary excellence, right in the heart Europe.
Do you have any questions about this post? Please feel free to join in discussions with us on Facebook and Twitter.
A selection of recommended wineries:
Hugel, 68340 Riquewihr, www.hugel.com
Trimbach, 68150 Ribeauville, www.trimbach.fr
Muré, 68250 Rouffach, www.mure.com
Josmeyer, 68920 Wintzenheim, www.josmeyer.com
Léon Beyer, 68420 Eguisheim, www.leonbeyer.fr
Schlumberger, 68500 Guebwiller, www.domaines-schlumberger.com
Weinbach, 68240 Kientzheim, www.domaineweinbach.com
Kreydenweiss, 67140 Andlau, www.kreydenweiss.com