Plums and damsons are drupes or stone fruits and both are purplish-blue in colour; one tends to be more round, and the other more oval but, on the whole, they are very similar. So how exactly can you tell the difference between them, and which of the two fruits is best suited to baking?
Damsons and plums: different appearance, different texture
What makes a damson different from a plum, and vice versa? Let's start with the basics: first and foremost, plums tend to be predominantly round, whereas damsons are characterised by an oblong-oval shape. But an even more obvious differentiating feature is that plums have a pronounced, grooved longitudinal seam, whereas the same seam on damsons is far more difficult to see.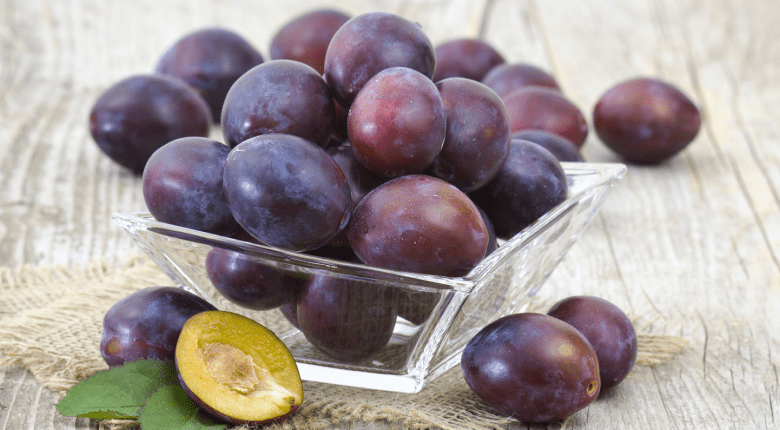 Another distinguishing feature is that, unlike sweet, juicy plums, the stones in damsons can be easily removed from their firmer and drier flesh. Damsons contain less water than plums, making them the far more popular for use in baking and cooking, as a great deal less work is involved in de-stoning them. Damsons also make a great cake topping as their low water content means that they retain their elongated shape when baked and do not disintegrate. On the other hand, plums, with their soft fruity pulp, are perfect for making plum jams or a delicious plum crumble. See our Damson cake recipe further below…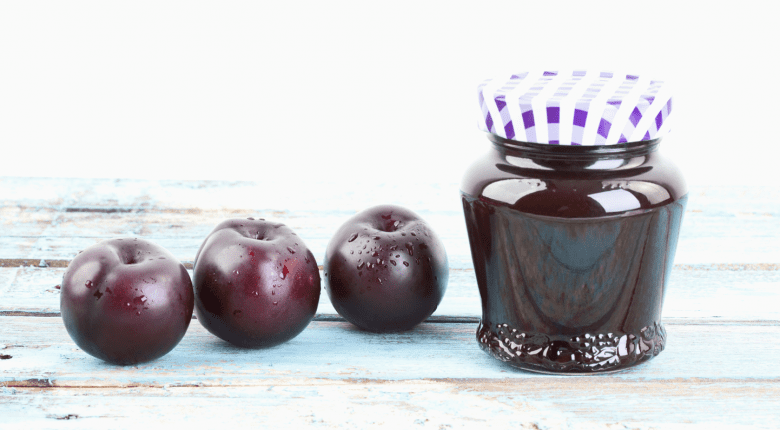 Do plums and damsons taste very different?
As a general rule, plums taste very juicy and sweet; they are frequently eaten fresh or used in crumbles. Meanwhile, damsons tend to have more of a sweet-sour, somewhat astringent flavour; they are usually cooked and taste great in jams and desserts. The fruit pulp in plums has a soft, loose consistency, whereas in damsons the pulp is harder and drier, making it easier to remove the stone.
But please note, although we've pointed out some definite distinctions between plums and damsons, things are not always that clear-cut. There are many hybrid fruits around – crossbred varieties that are created from both types – and things can get very confusing!
To ensure that you get to savour these tasty drupes for as long as possible, always store plums and damsons in the fridge. They will keep fresh for up to 10 days in a traditional refrigerator compartment and for up to 20 days in a Liebherr BioFresh compartment. If you want to keep on enjoying these fruits long after they've gone out of season why not make them into a delicious jam?

Damson cake ingredients
For the yeast dough:
350 g flour
1/2 cube (21 g) fresh yeast or 1 small packet of dried yeast
125 ml lukewarm milk
1 pinch salt
50 g sugar
50 g butter
1 egg
Grated zest of a lemon
For the topping:
2 kg damsons (ideally late damsons)
50 g sugar
1 small packet of vanilla sugar
1 tsp cinnamon
2-3 tbsp breadcrumbs
Damson cake recipe guide
Sieve the flour into a large bowl. Create a well in the centre of the flour and stir in the yeast, a little sugar and a little lukewarm milk to form a starter dough. Dust with a pinch of flour, cover with a cloth, and leave to stand in a warm place for about 20 minutes.
Add the remaining lukewarm milk and sugar, together with the salt, softened butter, lemon zest and egg, to the starter dough. Use a strong wooden spoon, electric hand mixer or food processor to knead the mixture into a smooth dough (kneading until the mixture comes away from the edges of the bowl).
Recover the bowl with a cloth and leave the dough to rise until it has doubled in size.
Then, firmly knead the dough again and, using a rolling pin, roll it out on a floured surface to the size of the baking tray. Line your baking tray with baking paper and place the rolled dough onto it. Evenly sprinkle 2-3 tablespoons of breadcrumbs onto the dough.
Wash the damsons, remove the stones, and use a knife to slice each one into halves or wedges. Lay the damsons on top of the dough, closely overlapping them like roof tiles. Mix the sugar, vanilla sugar and cinnamon in a small bowl, and evenly sprinkle nearly half of this mixture onto the damson-topped cake.
Place the damson cake into the centre of a pre-heated oven and bake at 200°C for 35 minutes. Remove the cake from the oven, sprinkle with the remaining cinnamon/sugar mixture, and leave to cool. Cut up the damson cake whilst still on the tray and serve with whipped cream. Enjoy!
Whilst you're here why not also check out our Lamb ragout with plums recipe? Let us know if you try it!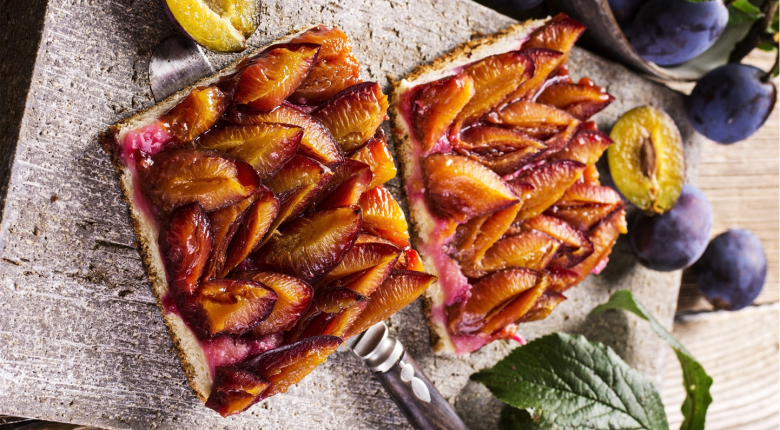 Which do you prefer – damsons or plums? Can you tell them apart? Please share your favourite recipe with or start/join in discussions with us on Facebook, Twitter or Instagram. We're also on Pinterest!
Enjoyed this article? Now read the big FreshMAG guide to Strawberries! From how to grow them in your garden, where to pick them locally and of course we explore the health benefits, nutrition facts and share our favourite recipe! Read the guide here!