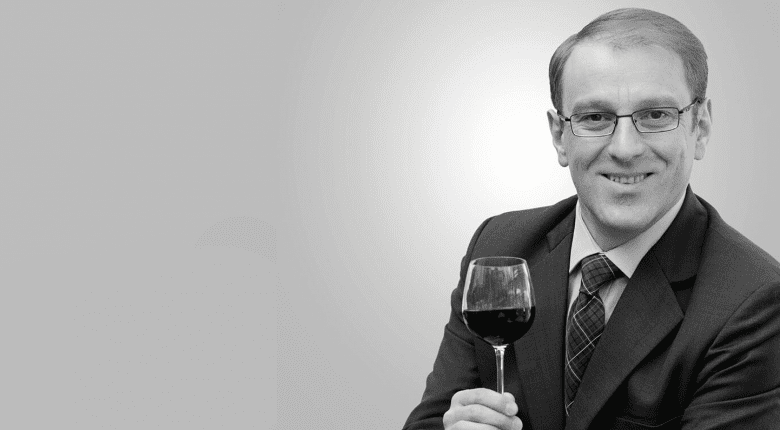 The production of a truly great wine depends on many things: the quality of the grapes and soil, how the wine is processed and how the wine is stored. Wine can only develop to full maturity if all the right conditions are met. Constant temperatures and the correct humidity are also extremely important if wines are to be enjoyed to their utmost and Liebherr's expert knowledge of the factors that influence fine wines allows us to develop and manufacture some of the very best wine refrigerators. This being the case, we want to share all our know-how and our passion for enjoying fine wines with you.
And, who better to do this than, our wine expert and Master Sommelier, Frank Kämmer?
Frank Kämmer began his career by training as a restaurateur at Lothar Eiermann's "Friedrichsruhe" hotel. His path through the catering industry has been lined with numerous competition successes, as well as national and international honorary titles. In 1996, Kämmer achieved the highest international title in his profession: Master Sommelier.
For many years, Kämmer worked as a wine waiter at the Délice restaurant in Stuttgart and became known as one of Europe's leading sommeliers. Today, he mainly works as a consultant in the food and wine industry, with clients that include internationally renowned vineyards, importers and distributors. He has published several books about wines and spirits and is a regular contributor for several specialist publications (including the 'Gault Millau' wine guide' and the German culinary magazine, 'Feinschmecker'). He was the first German to be accepted into the UK founded Circle of Wine Writers and enjoys an international reputation as a trainer in the sommelier and restaurant sector.
Qualifications
• 2014 Formateur Officiel des Vins de Bourgogne, BIVB, Beaune
• 2014 Certified Sake Sommelier, Sake Sommelier Association, London
• 2004 Certification in Essentials of Hospitality Management, Cornell University, USA
• 1997 Fachkaufmann Marketing (Marketing Specialist), IHK, Mainz
• 1996 Master Sommelier Diploma, Court of Master Sommeliers, London
• 1994 Advanced Sommelier Diploma, Court of Master Sommeliers, London
• 1990 Higher Certificate, Wine & Spirit Education Trust, London
• 1987 Restaurantfachmann (Restaurateur), IHK, Heilbronn
Awards
• 1994/95 Trophée Ruinart Germany: Germany's Best Sommelier
• 1994/95 Trophée Ruinart Europe: Europe's Second Best Sommelier
• 1994/95 Grand Prix Sopexa: Germany's Best Sommelier for French Wines
• 1994 Acceptance as a member of the Association des Maitres-Conseils en Gastronomie Française
• 1994 Nicolaus Cusanus Wine Culture Award
• 1994 Bacchus Award from the Austria Wine Institute
• 1995 Destillata-Trophy for Outstanding Distillery
• 1996 Pro-Riesling Sponsorship Award
• 2001 'Sommelier 2001' from the Bertelsmann Restaurant & Hotel Guide
• 2005 Authorised sommelier of the German Sommelier Union
Frank Kämmer posts regular blogs on all things wine-related including wine production, wine storage and much more. And, of course, our very own Master Sommelier will also be happy to answer your wine-related questions via the blog's comment function, so please feel free to comment below or on any of our articles!