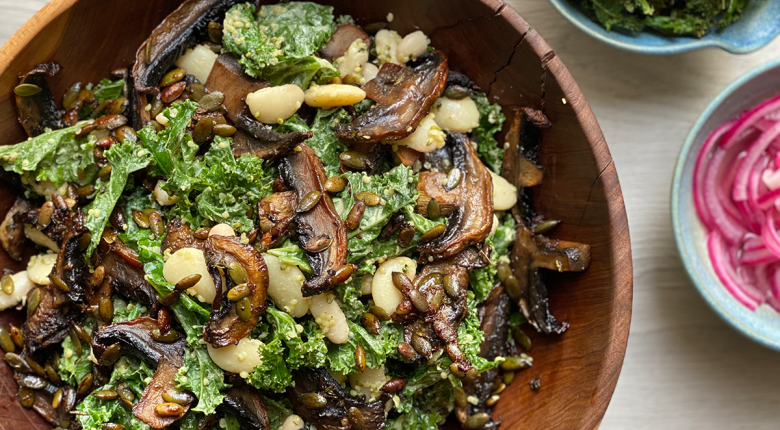 Here's our take on a vegan Caesar salad with a seasonal winter twist. Robust and nourishing kale is used in place of summer's romaine lettuce; it's massaged with olive oil and lemon to soften the leaves and make all that fibre easier to enjoy and digest.
We've roasted portobello mushrooms in tamari, garlic & brown sugar which sits in for both the bacon and the chicken… the mushroom's naturally meaty texture takes on a complex, salty, umami flavour profile when roasted – they're utterly delicious and definitely the star of
the show here! Roasted pumpkin seeds add nuttiness and great crunch too, and a little crispy kale adds an additional layer of flavour complexity and crispy texture.
Be warned the dressing is bold. Super bold! White beans have a wonderful creamy texture yet aren't packed with flavour so a big dressing is called for here, and this one delivers with heaps of salty, tangy capers, pungent garlic, cheesy nutritional yeast, creamy tahini and
acidic lemon. It's an absolute corker and brings everything together perfectly.
Prep time: 20 minutes
Cooking time: 15 minutes
Total time: 35 minutes
This recipe serves 4.
Ingredients:
200g kale leaves, stripped from tough central stalks
1 tbsp olive oil
½ lemon, juice only
4 tbsp hemp seeds
1 tin butter beans, drained and rinsed
1 tin cannellini beans, drained and rinsed
For the roasted tamari mushrooms:
4 portobello mushrooms
4 tbsp pumpkin seeds
1 large clove garlic, finely minced
4 tbsp tamari
1 tsp brown sugar
2 tbsp olive oil
10 sprigs thyme, leaves stripped
For the crispy kale:
50g kale
1 tsp olive oil
pinch sea salt
For the dressing:
2 tbsp tahini
2 tbsp nutritional yeast
2 tbsp drained cannellini beans
2 tbsp baby capers
1 tsp dijon
1 lemon, juice only
1 clove garlic, minced
¼ cup water (60 g/ml)
1 tsp flake sea salt
Pink pickled onions, optional:
1 red onion
50 g (¼ cup) sugar
125 ml (½ cup) white wine vinegar
125 ml (½ cup) water
1 tsp salt
Method:


Roast the mushrooms: pre-heat the oven to 220 degrees fan, or 240 conventional, and have an oven rack near the top.
Mince, crush or finely grate 1 clove of garlic, and combine this with the tamari, brown sugar, olive oil and thyme leaves. Whisk together to make a marinade. Slice the portobello
mushrooms into 1 cm thick strips, then toss these in the marinade along with the pumpkin seeds. Mix well to coat things evenly.
Tip the mushrooms onto a lined roasting tray and spread evenly. Roast at the top of the preheated oven for 14-16 minutes until the mushrooms look dry and the seeds are crispy.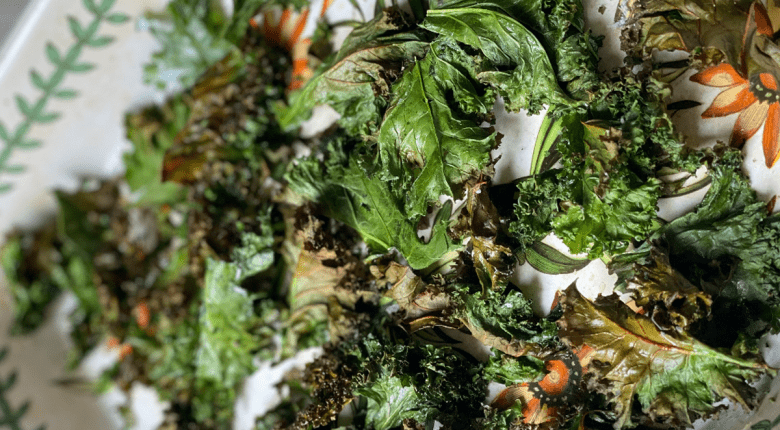 Roast the kale: meanwhile, tear 50 g of kale into smaller, bitesize pieces and toss with 1tbsp of olive oil and a tiny pinch of sea salt. Spread this evenly across a second roasting tray
and add to the oven for 6 mins to roast until dry and crispy. Keep and eye on this kale to ensure it doesn't burn!
Pickle onions: if you are preparing some pink pickled onions simply combine the sugar,
vinegar, water and salt in a small saucepan and bring to a simmer. Once simmering, turn off
the heat and toss the finely sliced onions into the pickle liquor. They will soften in the
residual heat.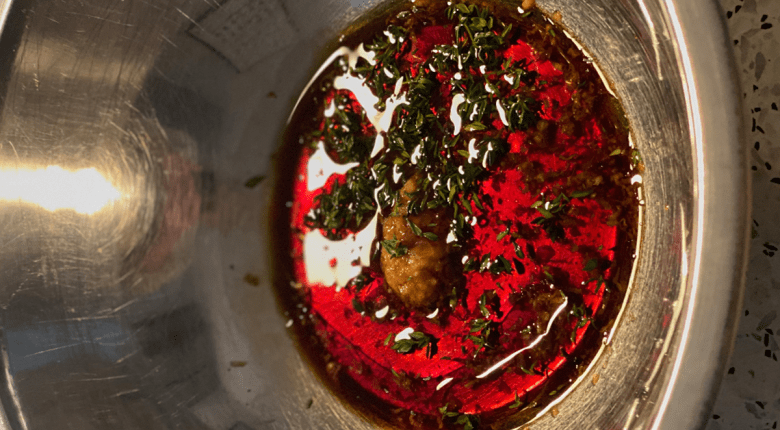 Make the dressing: simply mince or crush the garlic, and combine everything in a small
blender or Nutribullet. Whizz until smooth and creamy.
Assemble the salad: strip the kale from it's tough central stalks and rip the leaves into smaller, bitesize pieces; massage with 1 tablespoon of olive oil and the juice of half a lemon,
just for 1 minute, to encourage the kale to soften. Add the drained beans, hemp seeds and most of the dressing (reserve a little for the top once plated) and toss well.
Transfer the dressed salad to your serving bowl, adding a scattering of roasted mushrooms and pumpkin seeds every so often, but reserve some of these hero elements for the top.
Garnish your Caesar salad with the final roasted mushrooms and crispy seeds, a crispy sprinkle of roasted kale, some hemp seeds, a drizzle of olive oil, and the last few spoonfuls
of your creamy dressing.