Keeping up with interior design trends can be exhausting and expensive. Who has the time or limitless budget to revamp a living room or rip out the kitchen on a whim? Not many people.
But if you'd like to personalise your kitchen and make a design statement, we have the solution: MyStyle the custom fridge and fridge-freezer range from Liebherr. What style, who's style, you ask? All yours!
Liebherr's MyStyle feature allows you to customise your fridge with a colour, pattern, print or photograph of your choice and tailor the exterior to your own tastes and needs. All you do first is select from three appliances – the fridge-freezer, tall fridge or under-counter fridge – then choose a 'skin' and start getting creative. You are in control of your fridge's destiny.

Start by taking small steps by all means. It's possible to customise internal features (wooden or bottle shelves and different coloured LED lights on selected models) or choose a ready-made surface design. For example, a mini-fridge (AKA the compact one) offers three surface designs: the standard stainless steel, but also black steel and glass black and (if you're a tidy soul) a glass door.
But why not really go for it and have some fun? Simply upload a photo, pattern or a colour you like (you can even enter the hex code to find the exact tone) and wait for the magic to happen. It's as simple as updating the wallpaper on your smartphone.
"As we continually see changes in preferences in interior design, fashion and culture we felt the time was right to give customers the power to express their brand and creativity through their refrigerator," says Tim Hutchinson, Divisional Manager, Liebherr GB, adding it world for brands as well as in homes. "MyStyle can literally make your appliance the focal point of a business, drawing the attention of passers-by in the street and your customers who come into your premises. If you want subtle colour, personal messaging or a huge wow factor the MyStyle concept is for you."
Want a pattern on the side panels and a photograph on the front? That's no problem with a MyStyle custom fridge. The image sizes required for the different panels do vary though. A free image resizer tool such as canva.com or befunky.com might be useful. The point is each configuration, be it your dog's face or a warm sunset hue, is produced according to your specific requirements.
All these choices can be overwhelming. To offer inspiration here are five top 2021 interior design trends to get you started. We really won't judge if you do just go with your dog's face.


Colour Burst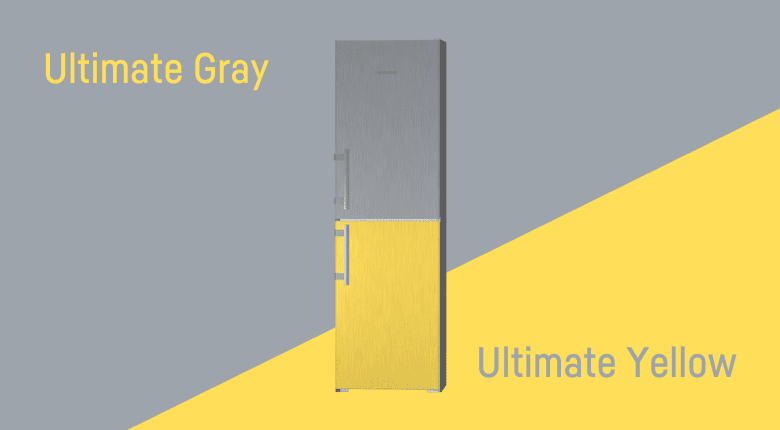 Colour has the power to boost your wellbeing or send you into fits of wild regret every time you see that 'Pistachio Whip' tone on the wall and hate it. With a fridge, things are more low maintenance. Embrace that trending colour and switch it up again easily.

This year's on-trend palette includes restorative neutrals such as 'Oak Apple' and 'Mushroom' as well as 'Olive green' and warming reds such as 'Baked Cherry' that will make your kitchen feel cosy or party-ready depending on the day. Pantone named two colours as their shades of 2021: 'Illuminating', a zingy yellow, and 'Ultimate Yellow', a pale grey "Ultimate Gray". Whatever next.
Talking of warming tones, a little reminder that all of the Liebherr fridge freezers have NoFrost function which means defrosting is a thing of the past. They have DuoCooling which means no transfer of odours between the fridge and freezer. Your fridge will look and smell fresh.

Take a maximalist approach for a custom fridge freezer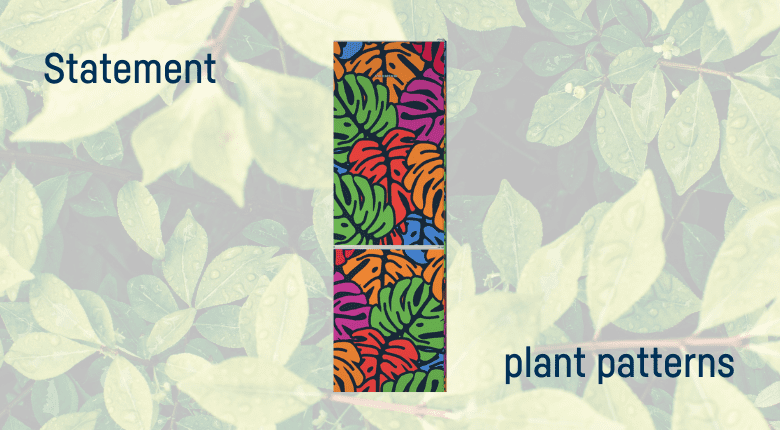 For decades it's been about minimalist looks (read: classic white fridges). But maximalism is now having a major moment. It's the perfect excuse to throw the prints, patterns and colours at your fridge: dots, stripes, flamingos, Portuguese tiles or leopard print. This trend is said to channel the free-spirited essence of the celebrated Bloomsbury artists (including Virginia Woolf, John Maynard Keynes and E. M. Forster) and their creative flair
. Bravely mix things up and add your own artistic touch.
Remember your fridge is a blank canvas. There are 17 appliances to choose from as a base point for MyStyle from the Starter to the Digital Freshness Professional model, which connects to the Liebherr SmartDevice. This means you can control your appliance from your smartphone wherever you are. You might be out at the shops (or upstairs) and activate the SuperCool function to chill a bottle of wine ahead of your first sip. Handy!
Embrace distant shores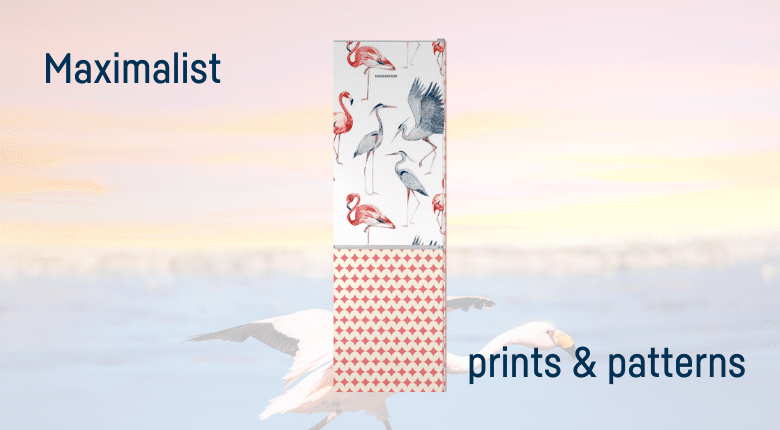 Adorning your custom fridge with a tropical scene or oversized Mexican plant life will offer you escapism on a daily basis. As we long for exotic getaways, interiors inspired by distant shores and tropical colours offer a sense of calm and fun.
Bring in the laid-back lifestyle of Hawaii, the sweeping African plains, a buzzy rainforest scene or Californian ocean views. It could be a cityscape: London, Tokyo or Dubai. The world is oyster, and you can fill your fridge with oysters too or tropical fruits or french cheeses.
Quite a few of the models have BioFresh which is Liebherr's signature feature that keeps fruit and vegetables fresher for considerably longer. BioFresh also preserves meat and dairy – it can add 90 days to some types of cheese!
A sophisticated take on cottagecore.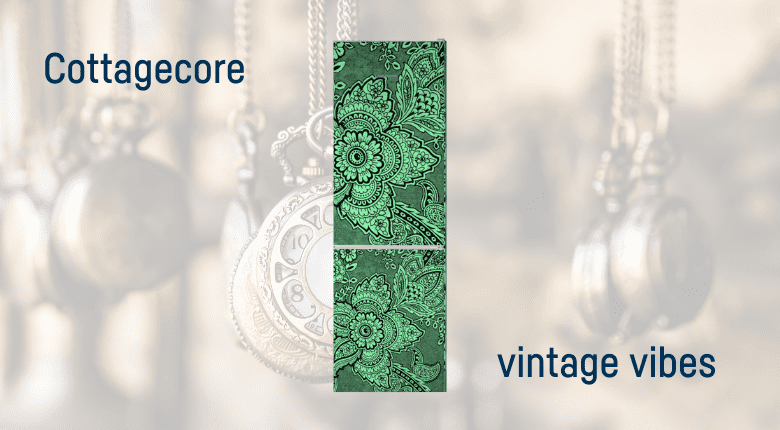 A real crowd-pleaser of a trend, appealing to anyone who loves their modern home comforts but wants to inject some character details into their kitchen. The vibe is vintage and rustic with feelings of nostalgia and touches of British quirk.
You could have fun with wood effects (and add those wooden shelves) to give the impression of texture and grain; try gingham prints; vintage motifs and pastel colours. It doesn't have to be anything wild or bold to make an impact. Your fridge will look as pretty as a picture.
Don't forget you can upgrade certain features or add extra shelving to your fridge. Another nice feature is choosing what side the door hinge is on so it opens perfectly for your kitchen.

Ocean calm custom fridge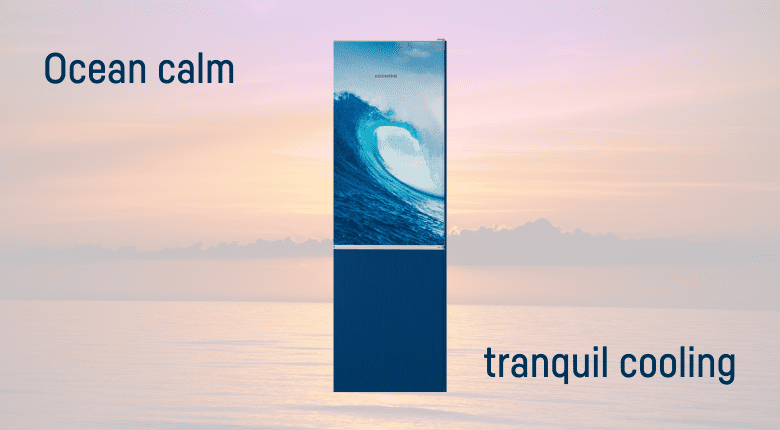 Capturing the essence of relaxing poolside and beach getaways will create a calm and contemporary look. Varying from deep inky tones through to soft aquas, blue is the perfect colour for creating a tranquil vibe. Even better, add photographs you've snapped of your favourite ocean views and holiday memories. You can also add your favourite mottos or motivational quotes to a new refrigerator in no time.
We're not quite finished adding things yet. VarioBoxes, removable boxes which fit onto the refrigerator door are an easy addition and best suited to condiments that are not susceptible to temperature change with regular door opening and closing. Embrace this ocean trend and treat your family to fish and chips with a big dollop of ketchup.
So how will you design your MyStyle appliance? Will you go big and bold and subtle and understated? Head to the configurator now and get your creative juices flowing, the design possibilities are endless and you do get stuck Liebherr offer free of charge design consultation service where you can get design assistance for your custom fridge from a Liebherr member of staff to help you bring your design. When your appliance is ready to ship from our German-based factory, the delivery to your home or place of business is free of charge!


Want to make your business stand out? Are you looking to catch a customers eye with a unique and creative way to showcase your brand or business? Why not go for a compact, but bursting with cooling expertise, custom cooling appliance? Enquire on our website for assistance and advice on how we can bring your brand or business to life on a MyStyle.