The Power of Acidity: Elevating Dish Seasoning with Salt and Acid
Acidity is key to seasoning a dish well every bit as much as salt, though all too often it can be forgotten. The right balance of salt and acidity is what makes a dish really sing! The acidity works to brighten all the other flavours and bring them into sharper focus.
Next time a dish feels like it's lacking a little something you can't quite put your finger on, try adding a squeeze of fresh lemon. Better yet, if you've whipped up a jar of homemade pickles, use some of these! Even a spoonful of the pickling liquor will help season a dish and make it the tastiest version of itself.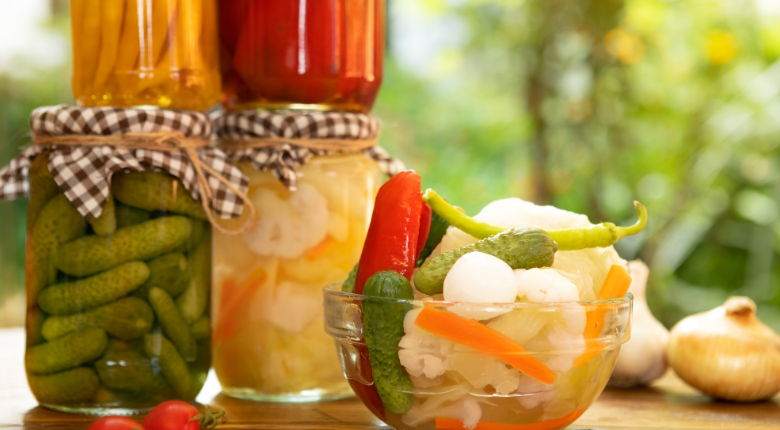 Here's a universal pickling liquor which works perfectly with so many different veggies. The straightforward process is always the same: it's a simple matter of finely slicing the vegetables and popping these in a clean jar, then pouring over the hot pickling liquor. The veggies will soften slightly as the liquor cools but retain the perfect bite.
Here's a recipe for pickled chillies; these are fantastic as a final flavour flourish on top of egg-fried rice and roasted cauliflower with Mexican herbs & spices.
Prep time: 2 minutes
Cooking time: 2 minutes
This recipe makes 1 small jar
Ingredients
12 chillies, a combination of red and green
50 g (¼ cup) sugar
125 ml (½ cup) white wine vinegar
125 ml (½ cup) of water
1 tsp salt
Method
Start by sterilizing your jam jar: preheat the oven to 140 degrees; wash the jam jar and rinse well; pop it in the preheated oven for 10 minutes then allow the jar to cool before using.
Finely slice the chillies into rings and pop these into the jar – don't fear the seeds as the acidity and sweetness of the pickling liquor will mellow some of their fire!
Combine the sugar, vinegar, water and salt in a small saucepan and bring to a simmer. (If you are using other spices add these now too).
Once the pickling liquor is simmering, turn off the heat and pour this into the jar to cover the chillies.
Allow the chillies to cool fully before using.
And why not get creative? You can infuse the pickling liquor with different herbs or spices if you wish, or try pickling different vegetables. Here are three more fantastic pickles and how to use them. Each recipe suggestion follows the method detailed above.
Cucumber & dill pickle – to pile into deli-style sandwiches, or serve with smoked salmon. Finely slice the cucumber and add a few tablespoons of chopped dill to the liquor at the end.
Fennel & pink peppercorn pickle – to serve with any smoked fish pate, cheeses and charcuterie. Finely slice the bulb and fronds and pop these in the jar; add a teaspoon of pink peppercorns to the saucepan at the beginning of the process to infuse into the pickling liquor as it warms up.
Pink pickled onions – perfect for burgers, hot dogs, tacos and bowls of chilli. This pickle is best kept plain as it's a classic. Finely slice the red onions into thin half moons and pop in a jar, then pour over the hot pickling liquid. For this pickled we recommend using red wine vinegar