The excellent reputation enjoyed by Liebherr for its appliances is not least due to their quality – and this applies worldwide. And Liebherr-Hausgeräte (household appliances) works very hard to ensure that this remains the case. Find out about how we test the quality of our appliances to maintain standards.
Quality, Design and Innovation
For more than 60 years, the name Liebherr-Hausgeräte has stood for high quality and innovative fridges and freezers. Our focus, from the production concept to development and production through to marketing, is on offering innovative top-quality products. A great deal of know-how, development work and love of detail is invested in every single Liebherr appliance. Before an appliance goes into series production engineers complete months of research and development to ensure that a high quality product is created which meets all the requirements of private or professional use.
As a leading manufacturer we set the highest possible standards for our appliances and components, always with our customers in mind. At our production locations, we are working constantly on the further development and optimisation of all appliance components and materials. We conduct careful checks at the development stage to ensure that all refrigeration, mechanical and electronic components function dependably and over the long-term, and we also make sure that optimal operability and operational reliability of appliances is guaranteed. This is because all products must meet the highest quality standards. And this applies both to use in private households as well as commercial use. In our development laboratories all fridge components must pass extensive endurance tests. For example, in the quality test, door hinges must complete at least 100,000 opening cycles – equivalent to usage of over 15 years. A visual inspection of processing quality also occurs. This helps us to ensure the optimal compatibility of all components with one another – and to ensure maximum functionality and efficiency.
Liebherr appliances are now subjected to special tests in state-of-the-art sound measuring rooms to locate the sources of noise and then to take appropriate measures for their reduction. You can read about this in more detail in our article on why Liebherr fridges are particularly quiet.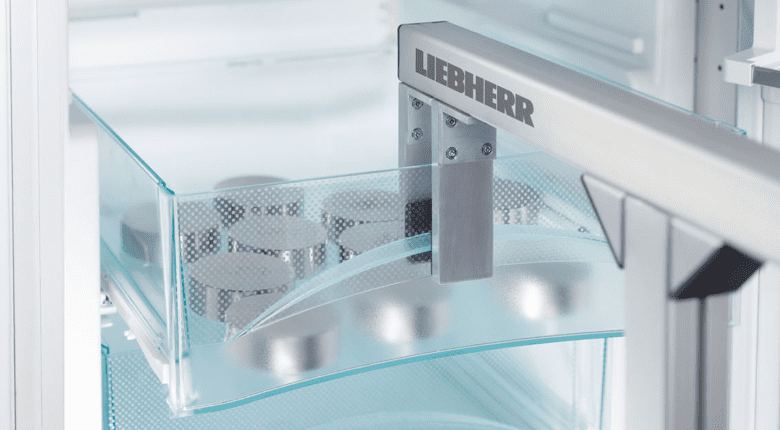 Long-term quality for commercial appliances
Our professional appliances and components undergo constant quality monitoring throughout the entire production process. In order to guarantee these high standards of quality, we subject all components to extreme loads in extensive and practical testing. In doing so, we ensure that only the highest quality appliances, which fully meet the particular requirements for commercial use, leave our production locations. Liebherr appliances are specifically designed for intensive professional use and are therefore very robust: The highest quality materials and careful processing down to the very last detail guarantees the special quality of our appliances. Quality is monitored on an ongoing basis in extensive testing and inspection procedures. The optimal compatibility of all electronic and refrigeration components is ensured to guarantee maximum functionality and efficiency – along with an attractive design. Our appliances are used in bakeries, hotels, the catering industry and in laboratories and hospitals.
How quality is tested at Liebherr: 3 examples
Quality assurance of telescopic rails
Smooth-running telescopic rails, on which the drawers are mounted, provide significant additional convenience in fridges and freezers. In order that they also function to an optimal level, they go through an extensive series of testing to eliminate any potential malfunctions. This involves subjecting the telescopic rails to more than the usual load in order to ensure a long service life.
Quality assurance of GlassLine safety glass
The high quality GlassLine storage shelves, as well as the inner door storage racks in Liebherr fridges, are shatter-proof, scratch-proof and easy to clean. To guarantee safety in everyday application, the safety glass is repeatedly subjected to extreme loads in our test centre. This helps to generate trust and ensures safety.
SoftSystem soft stop mechanism
Thanks to the integrated SoftSystem, the doors on Liebherr appliances with this feature close automatically from an opening angle of approximately 30°. This guarantees soft closing even when the inner door is fully loaded. The fridge door is opened in households on multiple occasions each day and is subjected to high loads. With this in mind we simulate more than 100,000 door openings in our testing laboratories in order to ensure the long service life of all components.
Our highly-qualified and well-trained employees are also central to our quality assurance. Thanks to their dedication and commitment, they set high standards and guarantee the outstanding Liebherr quality. There's a good reason why customers around the world are impressed by the durability of our fridges and freezers both in the household and for professional use.
If you enjoyed this article, why not share it via Facebook or Twitter? We'd love to hear about your experiences with Liebherr's appliances, whether you are a domestic user or professional.