China has become far more than just a huge potential import market for Western wines: nowadays, it is one of the world's biggest wine producers.
Back in 1954, Mao Zedong himself endorsed wine culture, saying: "We should vigorously develop the production of grapes and wine so that our people drink more wine". Sixty years on, it seems that the Chairman's wish has come true and to an extent that he would have barely thought possible! China has grown to become one of the world's largest wine-growing areas and, with a total production volume of 10.8 million hectolitres in 2017, China was the sixth largest wine producer in the world, with only Italy, France, Spain, USA and Argentina ahead of it.
The Chinese love affair with red wine
It's quite remarkable that about 80% of the wine consumed in China is red; in fact, in 2013, China actually overtook both France and Italy to become the world's largest red wine market! To meet this red demand, the Chinese mostly cultivate the well-known Bordeaux grape varieties Cabernet Sauvignon and Merlot, as well as a lesser-known Bordeaux variety known as Cabernet Gernischt.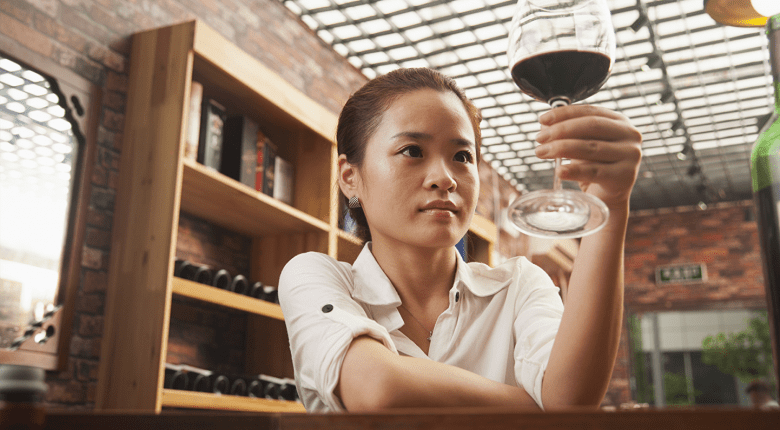 The early days of winegrowing in China
Although the beginnings of modern Chinese viticulture date back to the 19th century when the first vineyard was founded in the Shandong province, wine led a rather marginal existence for many decades, as it tasted rather strange to the unaccustomed Chinese palate. It has only been during the last decade, as China's general economic development has progressed and with input and advice from Western growers, that viticulture has exploded. In particular, younger generation Chinese from the burgeoning urban middle classes in the East Coast mega-cities have awakened to the popular Western lifestyle culture of wine drinking. What's more, figures from Vinexpo predict that wine sales in China will grow to such an extent that, by 2020. it will become the world's second largest wine market after the US!

Wineries in the style of European castles
But, it's not only the volume and the quality of their wine that the Chinese are rightly proud of: Chinese vintners are equally enamoured with the opulence and splendour of their industry. Many wineries have been designed in the style of European castles – a most intriguing addition to the Chinese landscape! These chateaus are a 'Disneyland for wine aficionados' and are built on a scale that's almost unimaginable in Europe. For example, near the central Chinese metropolis of Xi'an – the excavation location of the Terracotta Army – Chateau Changyu Rena, a massive winery the size of the famous Neuschwanstein Castle in Bavaria, opened in recent years. Not only is wine on trend in China, but also wine tourism! With wine tourism developing rapidly, it is expected that, in the near future, somewhere in the region of one million wine enthusiasts will visit the 35-metre walled Chateau Changyu Rena annually.
We hope you enjoyed this article. If you did please let us know what you thought and share the article on Facebook or Twitter.