Whilst Liebherr is an unmistakably German brand, our cooling and freezing ranges welcome food and drink from every corner of the globe. The past 15 – 20 years have witnessed a wonderful proliferation of restaurants, takeaways, street markets and groceries from all over the world in the UK, whilst traditional English food is sometimes forgotten.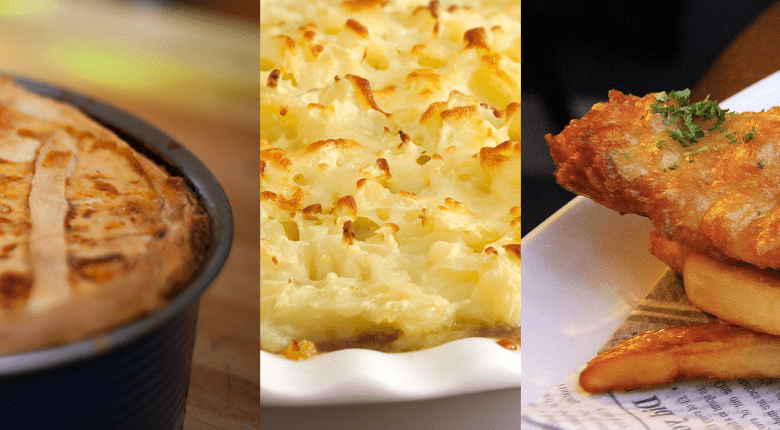 Here, then, is Part 1 of a brief guide and history to some of the best traditional English food to lead you back to some firm favourites, or perhaps even introduce you to some new ones! Part 2 will be what we all look forward to the most at any dinner table…
"To eat well in England you should eat breakfast three times a day." – W. Somerset Maugham, writer
Breakfast
Full English Breakfast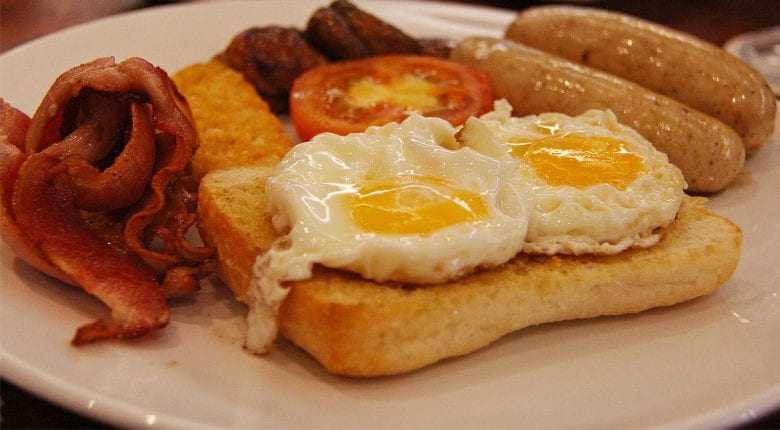 What is it? Egg, sausage, bacon, baked beans, tomatoes, mushrooms and toast.
Colloquially referred to as a "fry up", for many Brits, and fellow holidaymakers visiting from overseas, no holiday experience in England is complete without a "Full English" to begin the day with. And, would you believe it, there's even an English Breakfast Society dedicated to the calorific dish!
The roots of a Full English Breakfast can be traced right back to the 1300s, and evolved into its current form in Edwardian England, having picked up momentum in the Victorian period where it had become a tradition.
Whilst the contents of the meal can vary, it usually consists of one or more of the following: egg, sausage, bacon, baked beans, tomatoes, mushrooms and toast. It is often accompanied with a sizeable dollop of brown and/or tomato sauce to further bump up the calorie count and, of course, English breakfast tea or freshly squeezed orange juice to wash it down. Some believe the meal is incomplete without black pudding and a hash brown.
And remember, an ingredient like bacon can last for up to 2 days in the refrigerator but storage time can be increased significantly in a Liebherr BioFresh compartment, lasting up to 13 days!
Mains
Roast Beef with Yorkshire Puddings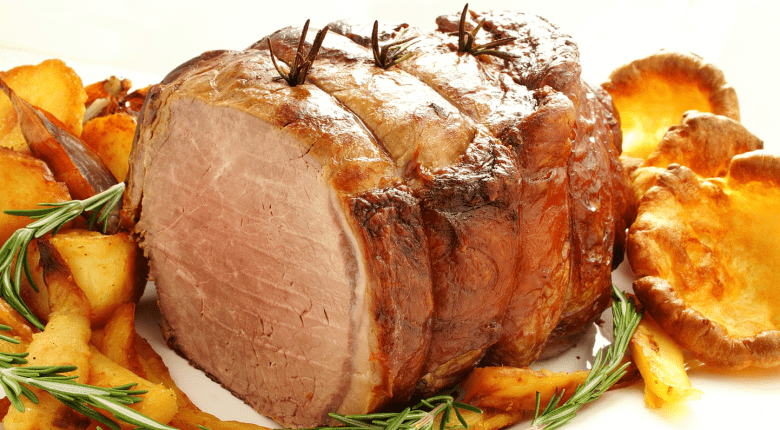 What is it? Roast beef with Yorkshire puddings, roast potatoes, vegetables and gravy.
By 1850 the term 'rosbif' came to refer to the English, as referenced by the writer Thackeray, whilst The Kinks liked it so much they gave it an equal prominence alongside football in the lyrics of their hit single 'Autumn Almanac'. Roast Beef with Yorkshire Puddings is therefore firmly lodged in English culture as the go-to for a traditional main meal, especially on a Sunday lunchtime. Sometimes accompanied by horseradish sauce. The meat is now interchangeable with pork, chicken and roast lamb according to preference.
Fish and Chips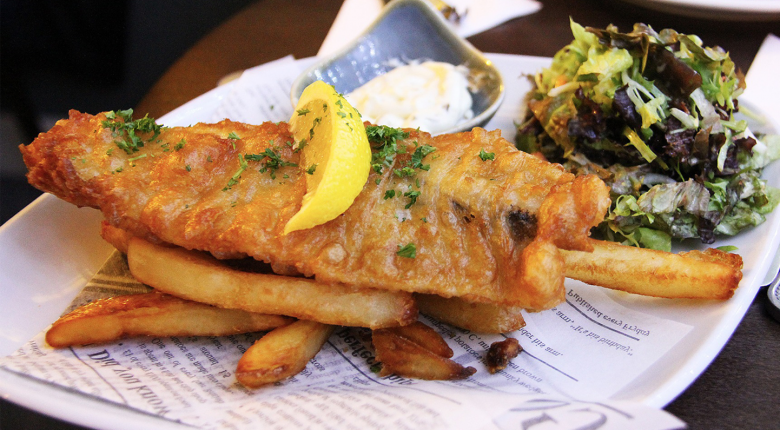 What is it? Battered fish (usually cod but also haddock, skate, or plaice) and deep fried thick cut chips served in paper.
It might shatter a few traditionalists' hearts, but the origins of fish and chips can actually be traced overseas. Chips came from either Belgium or France, whilst fried fish was introduced into Great Britain by Jewish refugees from Spain and Portugal. Who should we doff our flat caps to for bringing the two together for what has become a treasured part of seaside life? Well, that is actually a source of much healthy debate, as it seems it was either a gentleman by the name of John Lees in Lancashire who sold the takeaway from a wooden hut back in 1863, or Joseph Malin in East London at around the same time, if not a little earlier. However it started, fish and chips remains popular and is a relatively inexpensive treat that will be enjoyed for many years to come.
Steak and Kidney Pie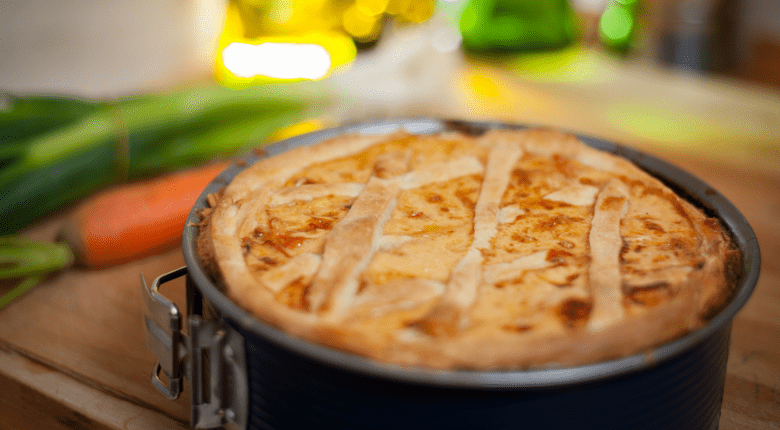 What is it? Meat and gravy in a pastry shell usually served with potatoes or chips.
Once again, the origins of a traditional English dish can be traced to distant shores. This time, the pie began its early life in ancient Egypt, whilst one of enclosed pastry with a filling is an ancient Roman invention. Northern Europe, however, is where the pie as we know it today was created. Steak and Kidney Pie is actually something of an offshoot of Steak and Kidney Pudding which become popular in the early 1800s but was time-intensive to prepare compared to a simple meat pie. A traditional English pub offering, a well-known brand has sold it in supermarkets since the 1970s, offering a taste of yore in a tin.
"Never eat two in one sitting. You may not be able to stand when done; pasties are that filling." – Pasties, from Schloegel's Pamphlet
Cornish Pasty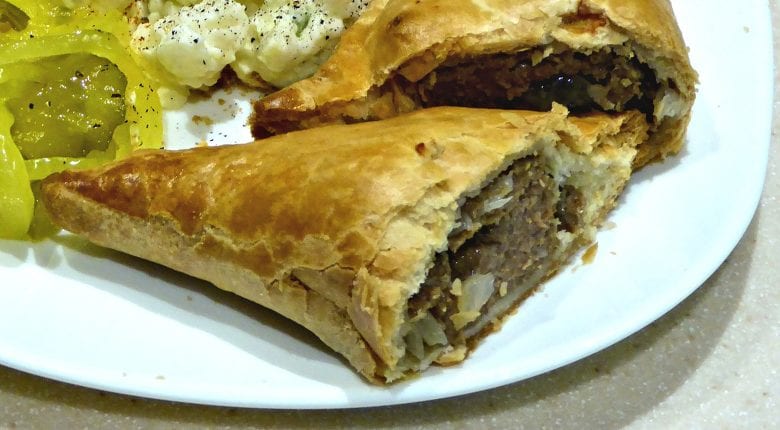 What is it? See below.
A number of foods in the United Kingdom have "Protected Geographical Status" to protect the reputation and cultivation of genuine local produce. The Cornish pasty is one of them, having the "Protected Geographical Indication" bestowed upon it. The genuine Cornish pasty must contain a minimum of 12.5% meat and 25% vegetables.
Many-a-Cornishman may dispute this, but the pasty may actually have been born in neighbouring Devon in the early 1500s! Wherever it was invented, we think it's best to leave it to the Cornish Pasty Association to inform you on exactly what goes into a genuine Cornish pasty:
"A genuine Cornish pasty must contain:
Roughly diced or minced beef; sliced or diced potato; swede (turnip); onion; seasoning to taste (mainly salt and pepper).
The ingredients must be uncooked when the pasty is assembled. The pastry must be savoury and can be shortcrust, puff or rough puff and must hold all ingredients through cooking and handling without cracking or breaking. The pasty must be crimped into a D shape, with the crimp towards one side and glazed with egg, milk or a mixture of both."
Cottage Pie & Shepherd's Pie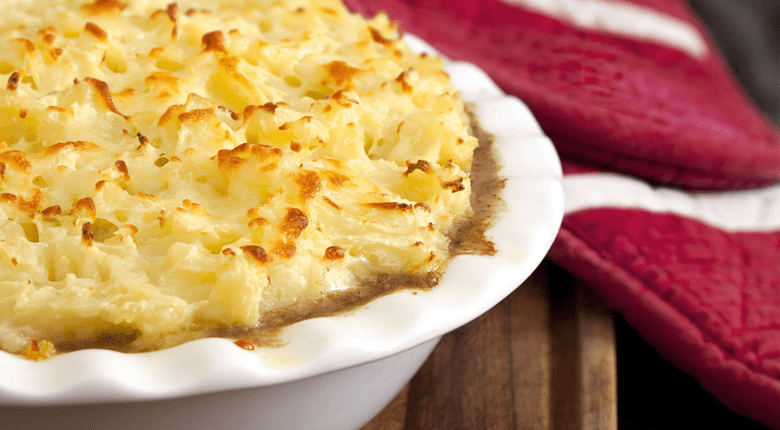 What is it? Minced meat, vegetables (usually carrots and peas) and potatoes.
Many people use the name "Cottage Pie" and "Shepherd's Pie" interchangeably, but there is a simple difference: Shepherd's Pie contains lamb whilst the "Cottage" version is made with beef. Cottage Pie got its name when potatoes were introduced to the UK because they were an affordable food for peasants who often resided in cottages. A wholesome meal, either version is a lovely winter warmer and works well as a meal to be cooked in copious amounts and then frozen to be used at a later date.
Whilst we mention freezing, be sure to take a look at our freezer ranges if we've whetted your appetite to cook and freeze some English classics to enjoy at a later date.
Honourable mentions:
*Descriptions are based on one or more recipes and may omit ingredients found in other versions
Bangers and Mash – Sausages and mashed potatoes.
Bedfordshire Clanger – Suet crust dumpling with a savoury filling at one end and a sweet filling in the other.
Beef Wellington – Fillet steak cooked in a pastry crust.
Cobbler (Savoury) – Savoury filling covered with a scone mixture and baked.
Game Pie – Savoury combinations of rabbit, venison, pigeon, pheasant and other game baked in puff pastry.
Jellied Eels – Chopped eels boiled in a spiced stock that is allowed to cool and set, forming a jelly.
Lancashire Hotpot – Meat stew with carrots, potatoes, onions topped with sliced potatoes.
Pease Pudding – Usually boiled legumes, typically split yellow or Carlin peas, with water, salt, and spices, and often cooked with a bacon or ham joint.
Ploughman's Lunch – Ingredients vary but usually a casual meal of buttered bread, cheddar cheese, sliced apple and pickles.
Potted Shrimps – Shrimps served in melted butter and seasoned.
Rag Pudding – Minced meat and onions wrapped in a suet pastry, which is then boiled or steamed in a cheesecloth.
Scouse – A type of lamb, mutton or beef stew often served with pickled beetroot or cabbage and bread.
Star Gazy Pie – Fish pie with sardines poking out of the piecrust, "looking up" at the stars.
Toad in the Hole – Sausages cooked in batter and served with vegetables.
What is your favourite English dish? Have we missed anything here that should definitely have been included? Please feel free to comment below and tell us what you would have added to the list! Feel free to start a conversation on our Facebook page too!