Scotland is famed for many things: the Highlands, Robert the Bruce, Rabbie Burns, Hogmanay, haggis and inclement weather, to name just a few. There's far more to traditional Scottish food than haggis, though, with a varied wealth of produce native to Alba, some of which have seen recipes evolve over time and some that have largely remained as they were. Here, then, is a reminder of some dishes you may not have had for a while, forgotten all about, and even a few you may never have tried or even heard of…
Breakfast
Porridge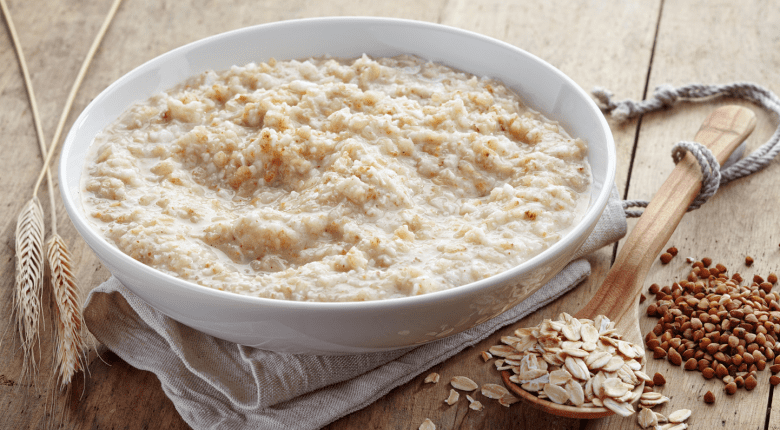 Made from one of the few grains that grow well in the region, Scottish 'pinhead' oats, traditional porridge is made with salt and not sugar, water and not milk. A mainstay of the Scottish breakfast table since medieval times, if you really want to stick to tradition, eat this healthy breakfast in a wooden bowl whilst standing up. The slow-release carbs will help to keep you standing until lunchtime and are good for your heart and your hunger.
A full Scottish
A full Scottish breakfast is similar to its English counterpart except that it comes with Lorne sausage and tattie scones. Haggis is sometimes included, as is white pudding (similar to black pudding but with the blood substituted for fat).
Starter
Cock-A-Leekie Soup
A traditional Scottish soup dish consisting of leeks and chicken, peppered chicken stock and often thickened with rice or barley. The original recipe added prunes during cooking and other ingredients can include bacon and beef as well as various amounts of chicken – or none at all (instead, just chicken stock).
Cock-A-Leekie soup probably originated in France as a chicken and onion soup and evolved into something resembling today's recipes in the 16th century.
Cullen Skink Soup
A thick Scottish soup from the town of Cullen in the Moray area consisting of smoked haddock, potatoes and onions. Also known as Smoked Haddock Chowder elsewhere in the UK.
Leek and Tattie Soup
Traditional leek and potato soup, Scottish style. A simple soup made with a variety of complementary ingredients such as ham or chicken stock to add further body and flavour, it is traditionally served on Burns night.
Scotch Broth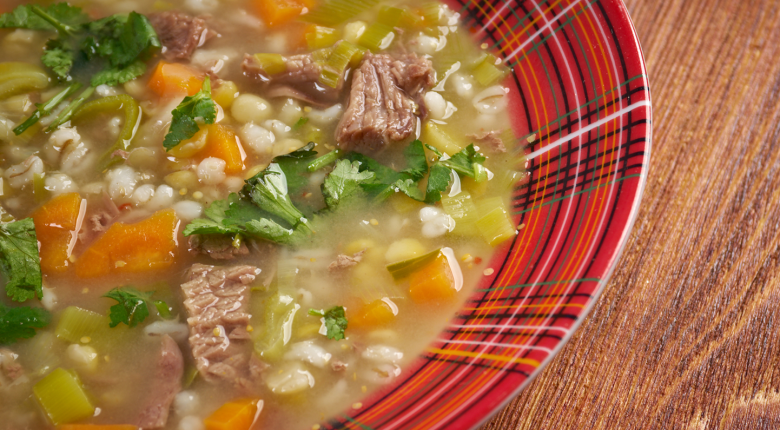 A rich stock made from boiling mutton/lamb, beef and marrow-bone. A range of diced vegetables is then added along with barley to thicken it up. Scotch broth should be served piping hot as a thick soup. The perfect autumn and winter warmer.
Main Meal
Aberdeen Angus Beef
Did you know (you almost certainly didn't) that there's an Aberdeen-Angus Cattle Society? The very existence of such an institution, founded in 1879, indicates the importance the livestock has in Scotland. The Aberdeen Angus breed (or simply 'Angus' as it is known internationally) was developed in the early part of the 19th Century and has a good ratio of lean meat against waste, like bone and fat. The meat also has good marbling, making for tender beef. Beef will last for around 24 hours in a standard refrigerator but this time is extended to up to 1 week when correctly stored in airtight packaging or container, within a Liebherr BioFresh compartment.
Arbroath Smokie
Whole wood-smoked haddock with the backbone still intact. The Arbroath Smokie is said to have originated in the small fishing village of Auchmithie, three miles northeast of Arbroath where 'Smokies' are still produced in small family smokehouses. It was awarded Protected Geographical Indication (PGI) status by the European Commission in 2004.
Haggis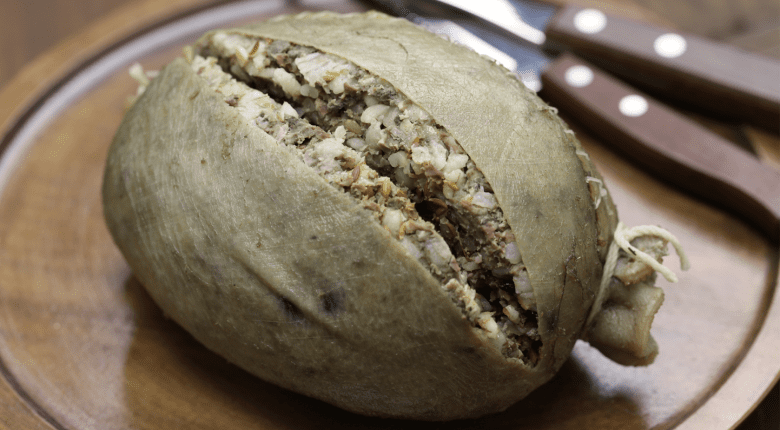 The national dish of Scotland is a "pudding" made from a sheep's stomach and filled with diced sheep's liver, lungs and heart, oatmeal, onion, suet and seasoning. Usually served with 'neeps' and 'tatties' (turnips and potatoes).
Haggis is arguably the most famous Scottish dish, both for its seemingly unappealing ingredients list, and – to a lesser extent – for the legend of the Wild Haggis, a 'creature' that lives in the Scottish Highlands.
According to Britannica, haggis was actually particularly popular in England, as English writer Gervase Markham (c. 1568–1637) testified in The English Huswife (1615). Its origin, however, is still more ancient, for Marcus Apicius, Aristophanes, and even Homer allude to dishes of similar composition. The derivation of the term 'haggis', first attested in the 15th century, is unknown.
Kedgeree
A dish consisting of cooked, flaked fish (traditionally smoked haddock), boiled rice, parsley, hard-boiled eggs, curry powder, butter or cream, and occasionally sultanas. How did curry powder make its way into a Scottish dish that is centuries old? Well, it is thought that the dish came together whilst a Scottish regiment was serving in India and brought it back with them during Victorian times as a breakfast option.
Langoustines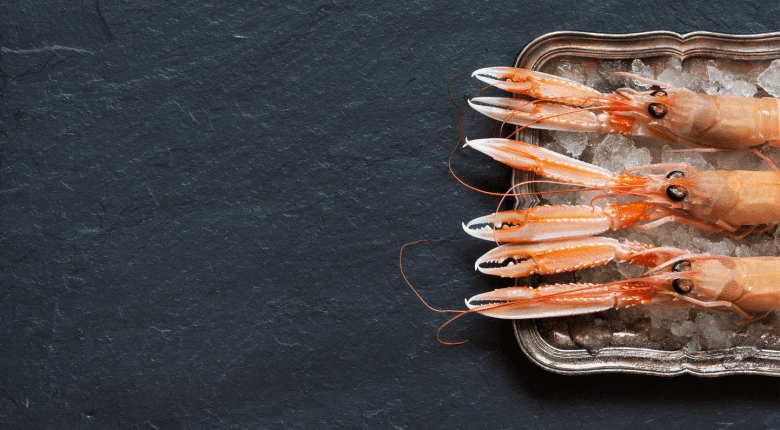 Also known as Norway lobsters or Dublin Bay prawns, langoustines are pale orange-pink crustaceans; think lobsters but significantly smaller. In the past, they have been covered in breadcrumbs and presented as scampi but in recent years they have gained a popularity in their own right.
Over two-thirds of the world's langoustines are caught in Scotland where they are found in Lochs and have become a thriving export.
Neeps and Tatties
Although typically served with haggis, neeps and tatties (turnips and potatoes) are featured in many Scottish dishes and so are worth a mention in their own right. Along with haggis, they are traditionally served at Burns Night.
Scotch Pies
A Scotch pie is a small, double-crust meat pie filled with minced mutton or other meat. The traditional filling of mutton is often highly spiced with pepper and other ingredients and is placed inside a shell of hot water crust pastry.
Scottish Salmon
Scottish farmed salmon, the country's largest export, has held the French Government's top quality award, Label Rouge, for over 25 years. It was the first non-French food to receive this accolade and has also been awarded Protected Geographical Indication (PGI) status by the European Commission. Salmon will last for up to a day in the fridge and you can double that when storing it in a Liebherr BioFresh compartment.
Did you know?
40 bottles of Scotch whisky are shipped overseas every second
More Scotch whisky is sold in 1 month in France than cognac in a year
Scottish lobsters are on the menu in over 20 Michelin-starred restaurants in Tokyo alone
In 1970 there were just 11 breweries in Scotland; there are now over 100 craft brewers in Scotland producing a wide variety of specialist beers
Desserts & Snacks
Arran Cheddar
This cheese is made, funnily enough, on the Isle of Arran and has a sweet and buttery taste.
Bannocks (or Oatcakes)
A savoury biscuit made from barley and oat flour which is traditionally cooked on a griddle and often accompanied with cheese.
Battered Mars bar
This one needs no further description. It is believed to have come about in the mid-90s at the Haven Chip Bar (now the 'Carron') in Stonehaven, near Aberdeen. A couple of local lads challenged a fish and chip shop to produce this unhealthiest of snacks and the rest, as they say…
Mars have distanced themselves from the snack and the local council of the chippie that claims to have invented it asked the owners to remove the sign promoting this 'provenance' tale. To date, they have refused and, more than twenty years later, the snack lives on across Scotland and the UK.
Black Bun
So-called due to its dark colour, Black Bun is a fruitcake made with raisins, currants, mixed peel, almonds, brown sugar and ginger.
Caboc
Scotland's oldest cheese, dating back to the 15th century in the Western Highlands, comes in the shape of logs rolled in oatmeal.
Cranachan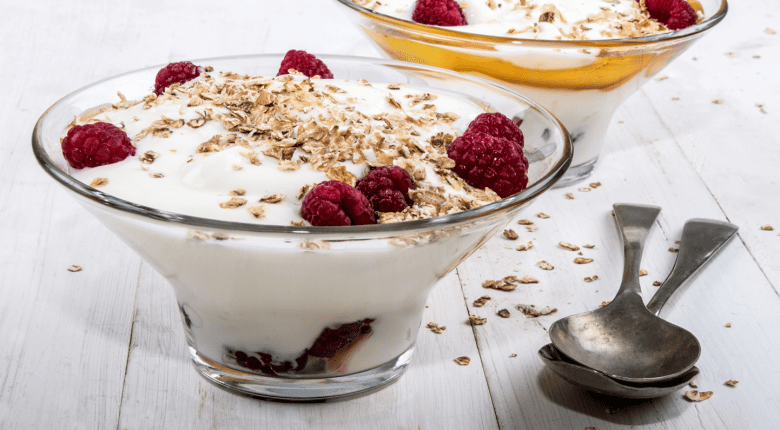 A traditional Scottish dessert of cream and fresh raspberries topped with pinhead oats and Scottish Whisky. There are many versions, with recipes of yesteryear omitting the whiskey and swapping cream for crowdie cheese (see below) for example.
Crowdie
A white cheese that is made from the whey of slightly soured milk which is seasoned with salt and pepper and then rolled in oats prior to serving.
Ginger Cake
The cake is made from stemmed ginger, mixed peel, sultanas, oatmeal, eggs and golden or treacle syrup. Served with warm custard or cream.
Scottish tablet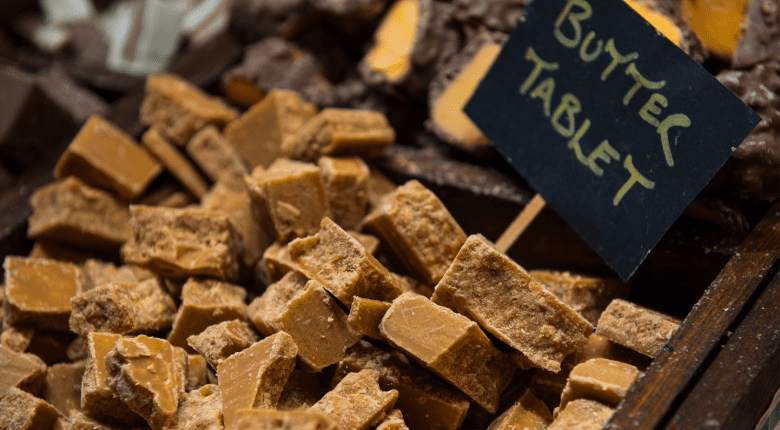 No, it's not an aye-Pad (sorry). A Scottish tablet is usually made from sugar, condensed milk, and butter, which is boiled to a soft-ball stage and allowed to crystallise, resulting in a medium-hard confection. It is often flavoured with vanilla or whisky and can contain nut pieces.
Shortbread
A traditional much-loved Scottish biscuit made with significant volumes of butter and sugar producing a chunky and filling biscuit which is particularly sweet.
Teacakes
What it is not is a small-fruited bun usually toasted and buttered for afternoon tea. Traditional Scottish teacakes originate from the famous Tunnocks family bakery and have a biscuit base covered with a large ball of chocolate covered marshmallow.
We hope you enjoyed this overview of some traditional Scottish food. Here is a great list of Scottish recipes that you might find interesting. Do let us know if you try any of them out and if you have your own Scottish culinary discoveries and recipes, feel to use the comment section below or get in touch with us on Facebook and Twitter.