Build your own fridge: DIYers and those looking for a unique hobby will love Liebherr's latest innovation – the CBS 1417AS refrigerator assembly set! Each set contains all the bits and pieces to make the refrigerator of your dreams, and with a sheer endless supply of add-on accessories, your CBS 1417AS will be as unique as you are!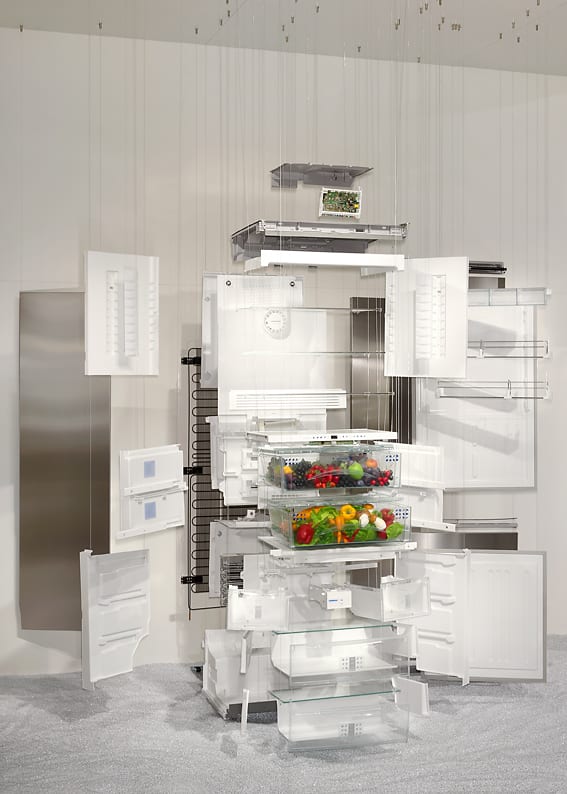 A Fridge As Unique As You
Presented in Ochsenhausen, Germany at an event on April 1st, 2017, the Liebherr CS 1417AS is the world's first DIY premium refrigerator. The CBS 1417AS kit comes with everything you need to get started: The stainless steel exterior that is assembled in a few clicks, easy to install DuoCooling compressors, a freezer compartment with 3 trays, BioFresh safes and the all the necessary bits and pieces to build your fridge yourself.
So Much Fun
You've ordered the fridge that fits your life from an authorized dealer, a professional installer set it up at your house and without you doing anything, very soon you have ultimate food preservation in your home. Where is the fun in that? The CBS 1417AS assembly kit is perfect for those who want their appliance purchase to be a little bit more adventurous.
The CBS 1417AS is the first fridge that is truly yours, as YOU put it together. While Liebherrr engineers have ensured Quality, Design and Innovation goes into every kit that leaves our factory, you make the fridge! With the handy 5,000 page assembly guide, you'll be done in no time! It only takes optimism, a bit of entrepreneurial spirit and, well, luck…
Pre-Orders Open Today
Over 8675309 pieces are in every assembly kit and you'll need some tools you've never even heard of. FUN! We are opening the AS series to third party developers, so very soon you'll be able to buy even more parts. A simple numbering and coloring code guide you every step of the way. It's really not as daunting and complicated as it looks when you first open the giant box that the delivery guy left on your doorstep! Hey, if we've been able to make premium refrigerators for over 60 years then so can you!
But is it for you? Do you have to be a DIY superstar to get started? The answer is: No, you don't! Well, you should know a little bit about precision engineering and electricity and such. You will LOVE the CBS 1417AS YOU have made!
We are opening pre-orders today, with a special introductory price of $1,417 for the CBS 1417AS. Just click on this link and use code gu11iBl3
All order placed today will receive the free and exclusive Liebherr PDA-2017 Allen Key as token of our appreciation!
If you prefer the classic way of just getting a refrigerator that has already been put together in a factory- fine: Be boring ! Check our the full range of refrigerators we offer at home.liebherr.com.