Looking for a new wine cabinet? Liebherr is proud to introduce new fully integrated dual temperature zone wine cabinets for every kitchen!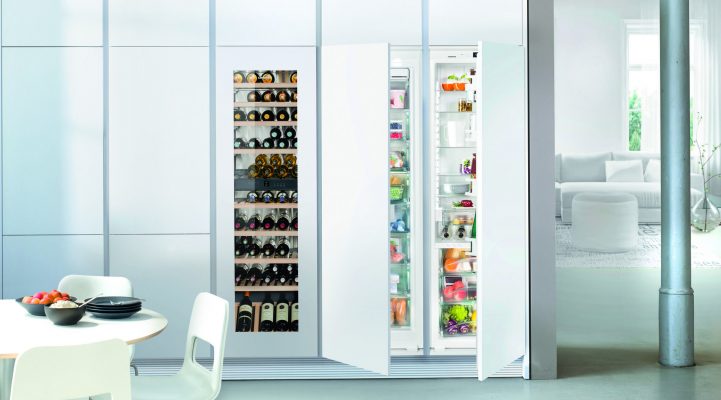 Liebherr's new HW 8000 offers space for up to 80 bottles. Combine it with the HRB 1120 refrigerator and HF 861 freezer to create a stunning look!
Meet Our New Fully Integrated Wine Cabinets
The new wine cabinets of the HW series cater to a variety of design and storage requirements – from compact models offering space for 30 Bordeaux style bottles to full size with room for up to 83 bottles. You can choose from three niche sizes, 35″ (88 cm), 48″ (122 cm) and 70″ (178 cm).
These models are intended for pantry style installation. You can choose between models with elegant black or chic white TipOpen glass doors, offering space for 33, 51 or 83 bottles of Bordeaux, or customer panel ready models, offering space for 30, 48 or 80 bottles of Bordeaux. For the custom panel ready models, an optional stainless steel panel is offered as an accessory.
Soothing For Your Wines
Liebherr's wine cabinets are soothing for your wines while being virtually silent, thanks to vibration absorbing compressors and noise reducing components. Precision controls maintain the temperature you've set. Always enjoy your wines at their optimal quality, knowing that Liebherr's engineers have designed your new wine cabinets with optimal storage for your wines in mind!
Protection from UV Light
Ultraviolet light can have disastrous consequences for your wines. Red wines are usually already kept in dark bottles to minimize the risk, but at Liebherr we don't want to leave anything to chance. An insulated glass door and use of LED lights work together to protect your collection from UV light. LED does not contain ultraviolet light and it doesn't warm up. Your wine cabinet maintains optimal temperature even if you decide to keep the interior light on all day for stunning presentation of your bottles.
Wine Storage: A Question Of Optimal Air Quality
Air quality inside a wine cabinet plays an important part. Only optimal conditions ensure your wine will maintain its quality. This is why we pay special attention to the level of humidity and fresh air.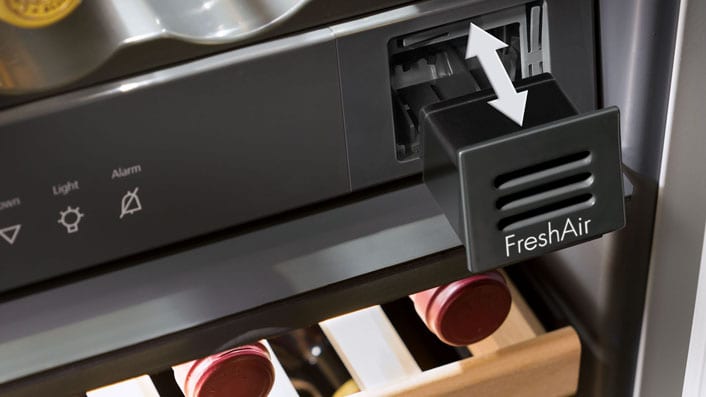 Active Charcoal Filter
All wine cabinets of this line are equipped with an active charcoal filter. It prevents unintentional odor transfer between the environment and your wines, minimizing the risk of spoiling your collection!
Humidty
The right humidity is an important aspect for long term wine storage. If the humidity is below 50%, cork starts to shrink and the wine becomes progressively sweeter and eventually spoils. In a Liebherr wine cabinet, all individual components work together to create a level humidity similar to a wine cellar!
TipOpen – Easy Access To Your Wines
When lightly tapped, the TipOpen glass door partially opens, facilitating further opening. If the door is not opened further within three seconds, the door will self-close.
Discover the new wine cabinet models and our complete range on our website now!