A special coating greatly reduces smudges and scratches on the beautiful stainless steel of your Liebherr refrigerator with SmartSteel. Find out more!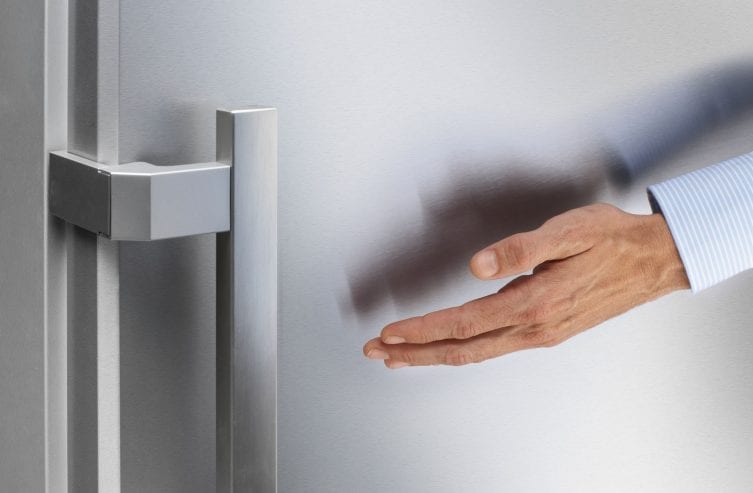 Liebherr refrigerators are eye-catching with their timeless design and you shouldn't blame anyone for wanting to touch them. Unsightly smudges, stains and frequent cleaning go hand in hand with stainless steel products in the mind of many consumers, but at Liebherr we have a solution. Enter SmartSteel!
Protection From Scratches And Smudges
Stainless steel doors with SmartSteel have a special coating. The coating greatly reduces the visibility of any smudges and is scratch resistant. Not only does it give the appliance an overall cleaner look in day to day operation, it also makes cleaning it much easier. SmartSteel gives you convenience and usability. You won't get the impulse to clean the door every time someone gets near the refrigerator.
How To Clean Your Liebherr SmartSteel Appliance
SmartSteel surfaces have to be cleaned gently. In case of light smudges or stains simply use a clean, dry, soft (microfiber) cloth. You may use water with a little dish soap for heavier dirt. Under no circumstances should you use a stainless steel cleaner. They can irreversibly destroy the special SmartSteel coating. Any resulting damage cannot be reversed and the only way to "fix" it is an out of warranty door replacement.
Oops, I Used A Stainless Steel Cleaner Anyway. What Next?
Unless you've used a very aggressive cleaner, the coating is unlikely to be destroyed by a one time accidental use. Any damage will only be cosmetic in nature and won't impair the functionality of the fridge or freezer in any way. A small fridge magnet may be a perfect way to hide it. Note that the coating will not be destroyed by a one time accidental use, but only over time when repeatedly using stainless steel cleaners. With SmartSteel, the good thing is that you can save money & energy, as all you need is a cloth and maybe a little water and dish soap to clean your refrigerator.
Some freestanding Liebherr refrigerators may come with a special stainless steel cleaner included in the accessories kit. It is intended for cleaning the sides of the refrigerator. Do not use it to clean the SmartSteel doors.