Van blikjes tot tweeliterflessen, van mandarijntjes tot meloenen en van een waterijsje tot ijstaart; geen product of verpakking is hetzelfde. Toch wil je alles zo handig en overzichtelijk mogelijk in je koelkast kunnen bewaren. De koelkasten van Liebherr bieden maximale ruimte en flexibiliteit dankzij functies als VarioSpace, VarioBox en VarioSafe. In dit artikel leg ik je uit wat deze functies betekenen en hoe je ze kunt gebruiken om je koelkast zo handig mogelijk in te delen.
VarioSpace
Alle vriesladen en de daaronder geplaatste glasplateaus kunnen eenvoudig worden verwijderd. Zo ontstaat VarioSpace: een extra grote binnenruimte. Door een extra grote ruimte te creëren kan je grote verpakkingen, een ijstaart of de kalkoen voor kerstmis eenvoudig bewaren.
VarioBox
In de VarioBoxen kunnen levensmiddelen serveerklaar worden gekoeld. De transparante box met deksel kun je snel en makkelijk uitnemen. Zo voorkom je onnodig naar de koelkast lopen en kun je eenvoudig meerdere potjes, sauzen en specerijen in een keer op tafel zetten. De VarioBoxen kun je, net als de deurvakken, op verschillende hoogtes in de deur plaatsen.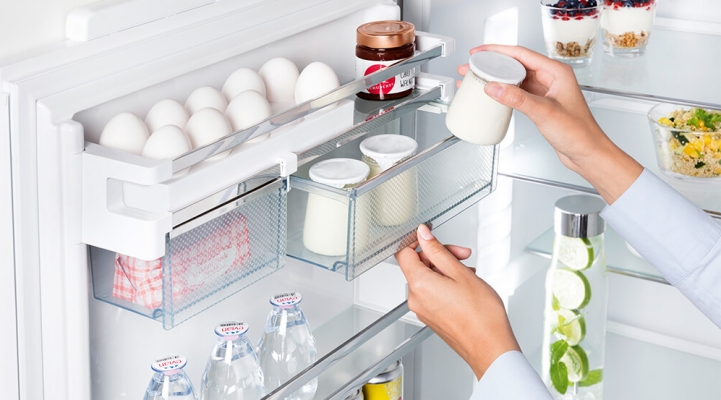 VarioSafe
In de VarioSafe kun je perfect kleine levensmiddelen, verpakkingen, potjes en tubes bewaren. Dankzij een goede verstelbaarheid kun je de VarioSafe net als de glasplateaus, op verschillende hoogtes plaatsen. De VarioSafe lade kun je bovendien op twee standen instellen zodat ook hogere verpakkingen en potjes in de lade passen.
FlexSystem
Met het FlexSystem kun je de BioFresh- of BioCool-laden van je koelkast handig indelen. Hiermee zorg je voor meer overzicht en een opgeruimde lade. Je kunt bijvoorbeeld groenten en fruit gescheiden bewaren, of sorteren op aankoopdatum. Het FlexSystem zit standaard in de Premium inbouwkoelkasten en -combinaties met BioFresh. Voor de andere modellen met BioFresh en BioCool kan het als accessoire besteld worden.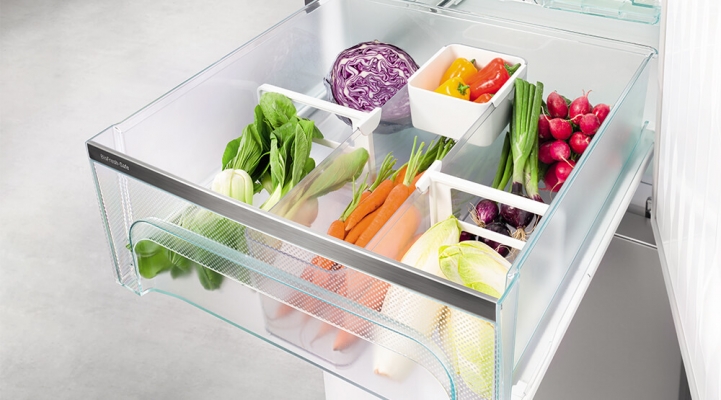 Nog meer flexibiliteit nodig? Liebherr koelkasten bieden ook deze handige functies:
Een verstelbare binnenkuip
Tijdens de productie van de binnenkuip wordt om de paar centimeter een verstelmogelijkheid voor de glasplateaus gemaakt. Zo kun je op vrijwel iedere hoogte in de koelkast een draagplateau van veiligheidsglas plaatsen. De glasplaten zijn bovendien heel makkelijk te verstellen!
Een deelbaar glasplateau
Een van de glazen draagplateaus bestaat uit twee delen die je op elkaar kunt leggen. Op deze manier kun je makkelijk hoge verpakkingen of flessen bewaren.
Een geïntegreerd variabel flessenplateau
Bij de Premium BioFresh modellen kun je kiezen of je het flessenplateau wel of niet gebruikt. In de bovenrand van het BioFresh-systeem liggen een flessenplateau en een glasplaat. Leg je de glasplaat bovenop, dan heb je een vlakke bodem voor pannen en schalen. Leg je het flessenplateau bovenop, dan kun je vijf 1,5 liter flessen neerleggen zonder dat ze gaan rollen.
Verstelbare deurvakken
Bij de meeste modellen kun je deurvakken op verschillende hoogtes in de deur plaatsen. Handig, als je bijvoorbeeld extra plaats voor hoge flessen nodig hebt.
Wat zijn jouw tips om de koelkast zo handig mogelijk in te delen? Schrijf ons! Laat een reactie achter onder dit bericht of discussieer met ons op Facebook.
*Genoemde kenmerken zijn niet standaard op ieder model.