French cuisine is world-renowned for its delicacies. And this wonderful appetiser board hits a new high with its creative combinations.

Charcuterie boards are enjoying somewhat of a resurgence in popularity, but what are they about? Read on to learn exactly what a charcuterie board is and just how versatile these plates can be. We'll say this much, after reading this article you'll want to get cracking with your own creations.
Charcuterie – which delicacies does this word define? In French, "la charcuterie" refers to the products prepared by a pork butcher although this definition has been used more generally to include presentation of various cold cuts. When you start looking for inspiration for your own charcuterie, you will soon see that sad-looking slices of sausage and cheese lying next to one another on a bleak wooden board just won't cut it. Instead you will soon realise that charcuterie can be considered an art form in its own right. Fruit wedges and vegetable sticks add colour to the platters, and crackers and nuts can pile up next to various dips. The whole thing looks so delicious, it's almost a shame to tuck in and destroy the beauty of the plate!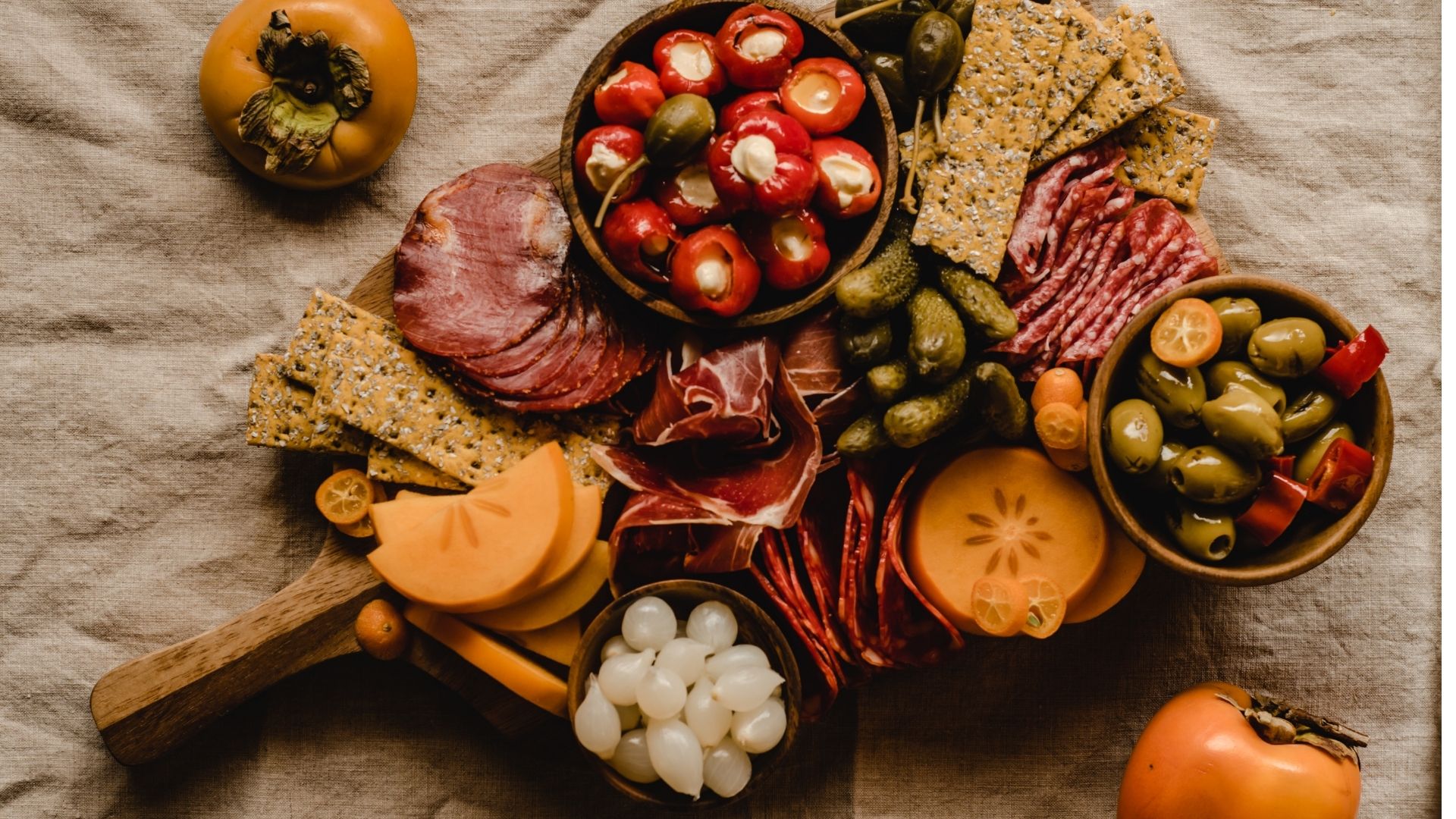 Mediterranean flair at home
Because of the French origin of the word, most charcuterie boards also tend to focus on Mediterranean flavours. Camembert, Parmesan and cheeses refined with chilli or herbs are particularly good choices here. Parma ham, salami and cabanossi can further complement the platter. Try serving the meats and cheeses with baguette, crostini or grissini. Add a little freshness with some grapes, or serve some olives, stuffed peppers, or even spicy peppers. Complementary dips are an absolute must, of course: how about a tomato chutney or a courgette relish, for example? Nuts or pistachios are another great addition to the board.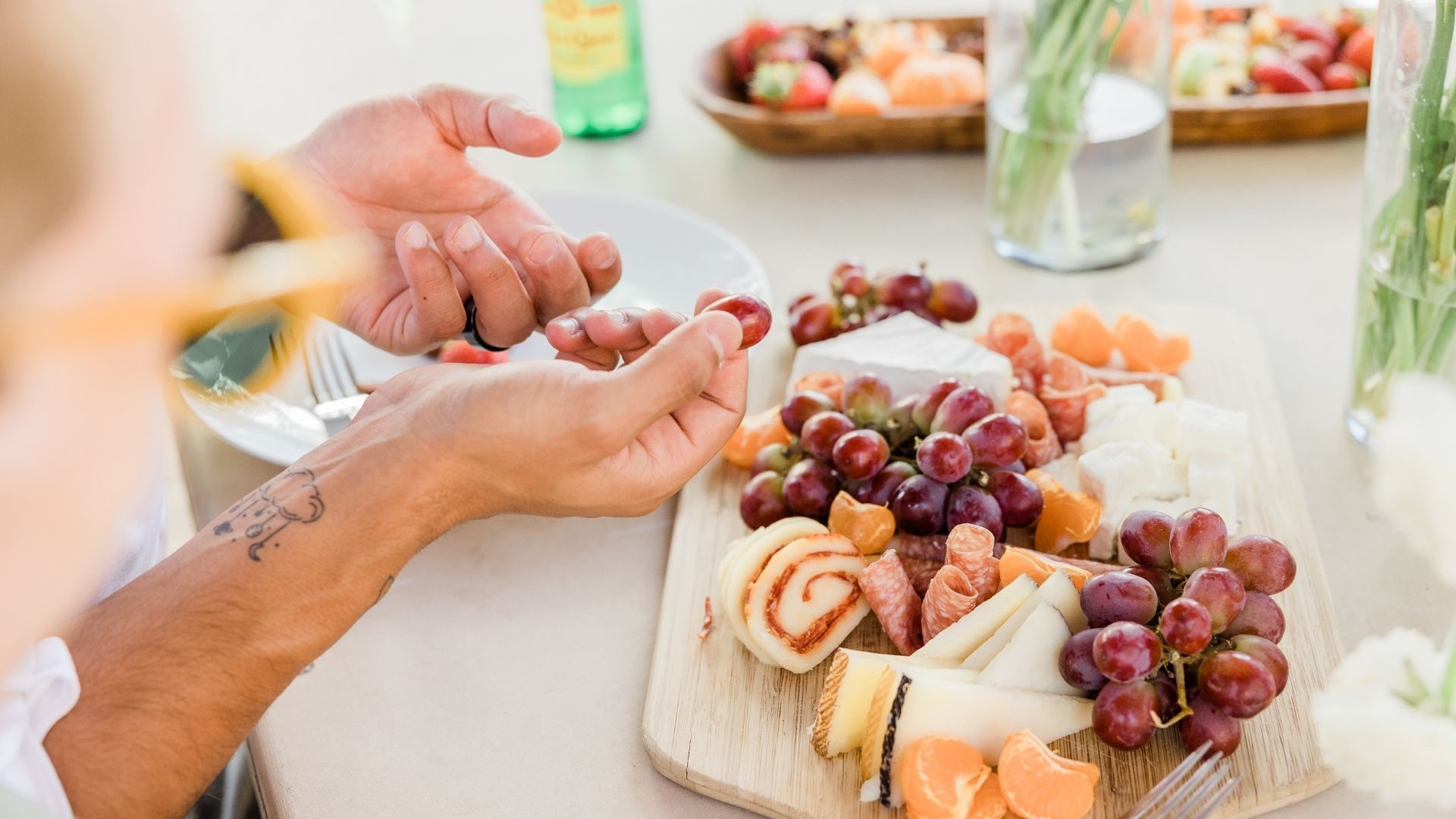 Or would you rather go for regional delicacies?
Why source delicacies from far and wide when you have delicious items right on your doorstep? Get involved with some regional specialities. A potato-and-mustard dip with parsley, a radish salsa, a carrot pâté or a classic herb butter offer extremely tasty and varied options. These are exquisite served with rye bread and lye rolls. Crisp apples and juicy pears can bring sweet and juicy notes to the flavoursome world of the charcuterie board. A beetroot and apple chutney wonderfully complements a variety of different cheeses -–how about a slice of Gouda, Emmental or goat's cheese? Walnuts and crackers offer other regional alternatives.
If you want to get a little more experimental, you can make kale crisps. To do this, simply cut kale leaves into bite-sized pieces and wash thoroughly. Then marinate with canola oil, salt and any spices you fancy. Spread the kale leaves evenly over the baking sheet. Bake at 100 °C (top/bottom heat) for about 30–35 minutes, turning the leaves during the baking time and letting the moisture escape from the oven.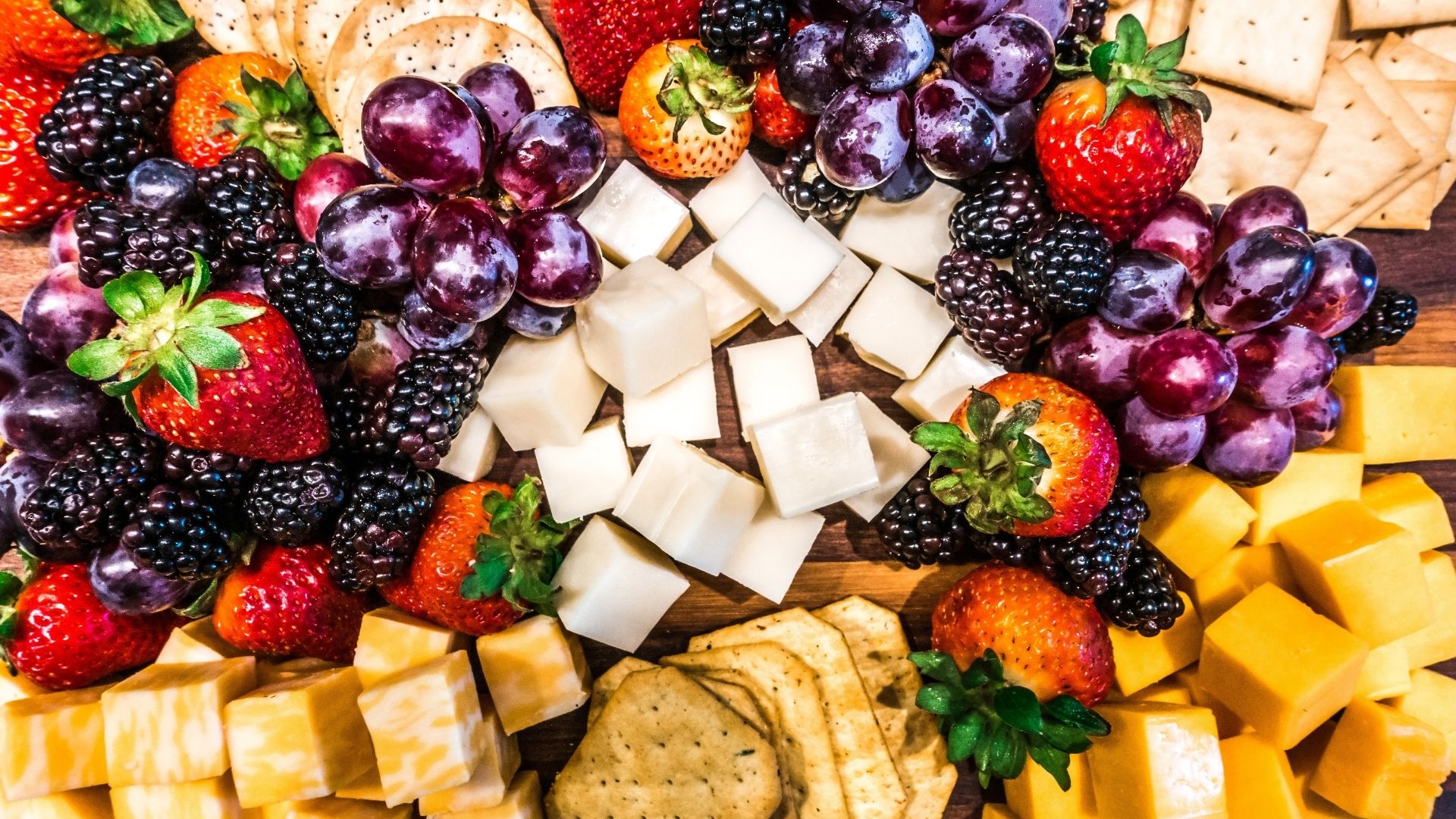 Vegan variations of charcuterie
Even though the original charcuterie boards are brimming with meats and animal products, there are also many vegan options for this delicious appetiser. Hummus, lentil spreads or dips made from white beans or peas can be prepared in a variety of ways using herbs and spices. They are divine teamed with pepper, cucumber, and carrot sticks. Vegetables in oil and mushrooms can also be served. How about smoked tofu skewers with cherry tomatoes? Nuts and salted pretzels add a enjoyable crunch to the board. Here's a little tip: Why not coat half of the salted pretzels with dark chocolate – the combination of sweet and salty is exciting and just downright delicious! Dates can also be served just as they are or filled with peanut butter and covered in dark chocolate: a highlight for all those with a sweet tooth.
From food to work of art
Start by choosing a nice, large base for your charcuterie: rustic wooden board or a modern slate, the choice is yours. Now position your cold cuts. We recommend serving dips and any vegetables in oil in small bowls on the board. Around the cold cuts and bowls you can place fruit and vegetable wedges to serve as trimmings. You can fill in any other gaps with nuts and crackers. There are no limits to your creativity in all this. Maybe you'll take inspiration for your board from the Mexican kitchen and feature tacos, beans and guacamole, or perhaps you would prefer a more "Bavarian Brotzeit" style with white sausages, lye rolls and sweet mustard, or add a little Scandinavian flair with fish, rye bread and köttbullar meatballs – the possibilities are endless. Of course, you can also make a sweet board. Small pieces of cake, muffins, doughnuts, waffles, and cookies are all perfect for this purpose. You can complement these sweet treats with chocolate and other confectionery. Various fruits, such as sweet and juicy berries, can also be added to bring a little freshness.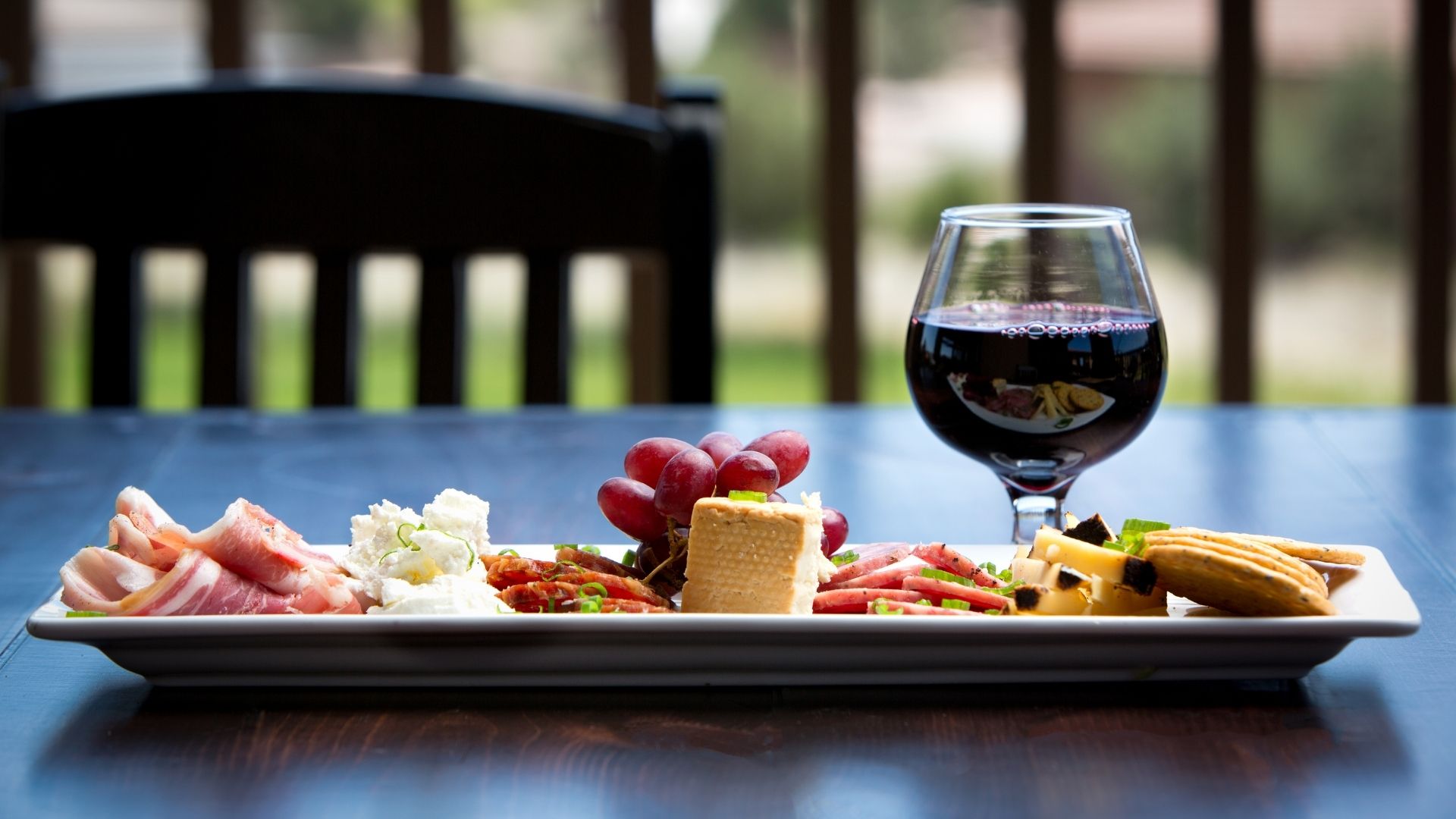 And after the party?
Due to the variety of delicacies on the board, you often end up opening lots of different packets and containers. Of course, if you have the opportunity, you can buy smaller quantities at the weekly market or at the deli counter in the supermarket. However, even then it is often difficult to estimate the exact amount. It is important that after you are finished with the charcuterie, the leftovers are repackaged to avoid food waste. Nuts and crackers should be separated by type and stored in small airtight containers. This prevents the crackers from getting stale. Leftover vegetable sticks can be stored and used the next day in a salad, for example. Or throw them together with any leftover vegetables in oil and possibly even bits of cheese that didn't get finished off, such as cubes of feta, and you can create colourful wraps that you can enjoy the next day.
However, be careful with meat and fish. It is best to only place small amounts on the charcuterie board at a time and refill from your Liebherr refrigerator as needed throughout the evening. However, if anything remains, carefully check the food for changes in appearance or odour. In case of doubt, it is better to exercise caution with these foods and dispose of them. With cheese, you should also visually check any leftovers. As a rule, hard cheeses keep better than soft cheeses. So hard cheese should be able to be eaten up without any worry even after a few hours at room temperature or it can be popped back in the fridge. Just to be sure, do not return any food that has been left on the board to the original package, but store it in separate containers. Then if the food has gone off and you didn't notice, at least the rest in the original package is still good and can be consumed without any worry.
#charcuterie, #appetiser, #cheeseboard, #coldcuts, #cheese, #sausage, #mediterranean, #regional, #plantbased, #vegan, #alternative, #vegetables, #fruit, #sweet, #savoury, #versatile