When you're thinking about buying a new fridge, one of the first questions is: free-standing or built-in appliance? Which variant is right depends on your particular preferences. We'll tell you what you need to bear in mind when making the purchase.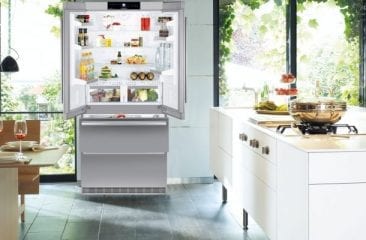 How about something discreetly integrated in high-quality, designer furniture? Or would you prefer something standing prominently in the middle of the kitchen? That's the main, visible differentiating factor between free-standing and built-in appliances. But what other differences are there as well?
In terms of functions, neither of the two versions is inferior to the other. Fridges on their own, as well as fridge-freezers and freezers are available in free-standing and built-in appliance versions. Even wine cabinets are available in both designs. Also, it makes no difference to the cooling performance whether you opt for a free-standing or built-in appliance. There are some points, however, which can help you determine which type of appliance is the right one for you. We'll introduce these to you below.
Built-in appliance – for a neat and tidy look
In some cases, the space available is important when making the decision between a free-standing and a built-in appliance. In small kitchens in particular, the built-in appliance option may be the one to go for as usually these require less space. However, this does not mean that built-in appliances in general have less room for storage. In the past, owners of built-in appliances frequently had to cope with reduced storage space. Today, however, restrictions such as these no longer apply. It is now possible, for example, to assemble complete food storage centers in the built-in variety or to have generously proportioned double-door fridge-freezers delivered for installation – and also small appliances for singles.
Built-in appliances come in a large number of sizes and possible combinations
With a built-in appliance, you have a range of different options when it comes to design. For example, on the one hand, you can opt for an integrated fridge where the focus is on the high quality kitchen fronts. This then integrates seamlessly within the kitchen. Alternatively, with
many models you can also select a stainless steel front. You can use this to direct the focus more towards the appliance. One advantage in each case is the flexibility. If your tastes change as regards design, all you need to do is replace the front to achieve a new look. Another plus of the built-in appliances is that it is easier to keep them clean because no dirt accumulates between the appliance and the wall.
In terms of design, you can really let your imagination run wild with built-in appliances
Under-worktop appliances are a special type of built-in appliance. These can be installed underneath the worktop saving even more space. Above all, appliances can be ideally positioned underneath island units. This means you can have your refrigerated food to hand at all times when you are cooking. Under-worktop appliances with pull-out drawers and the LiftUp-Box are not only great for exploiting the storage space available but also ensure perfect ergonomics. Also, no sacrifices need to be made with under-worktop appliances – these come with both cooling as well as freezing functions. The space underneath your worktop can even accommodate appliances with the BioFresh function.
The pull-out drawer, LiftUp-Box and the positioning within the island units make the under-worktop appliances particularly ergonomic
Free-standing appliance – a real focal point in the centre of the kitchen
Pure-white, free-standing appliances are truly a thing of the past. Refrigerators now come with different surfaces such as stainless steel, black steel or glass; in a range of different colours and with various printed images. It is even possible to design fully-customisable appliances entirely to your own tastes.
Free-standing appliances can now be fully customised with photos of your choice
One great benefit of free-standing appliances is their flexibility. For example, they can be set up in a different location without a great deal of effort. This can be an advantage, in particular if you are due to move house. The large number of different sizes of appliance also means that you retain flexibility. For example, Liebherr offers free-standing appliances in widths from 55 to 90 cm.
Opting for a side-by-side free-standing appliance will give you a real focal point in your kitchen. It also comes with a wide range of storage options. For example, appliances are available not just for refrigerating and freezing food, but also for ensuring the correct temperature of wine.
The side-by-side fridge-freezer is a great focal point for your kitchen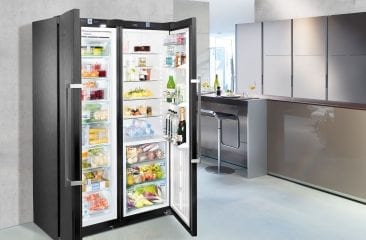 However, the free-standing appliances also offer further benefits. For example, many modern free-standing appliances have a display on the outside. The touch operation is not only intuitive but also convenient. The doors also provide a space for notes, recipes or postcards which you can attach with a magnet. Not only does this give your kitchen a personal touch, but it also provides you with a central memo board.
Free-standing appliances are also available with a display on the outside
The smaller variants of the free-standing appliances are the table-height fridges. These compact appliances are ideal for storing drinks, but also for smaller households or as a second appliance.
For further information, please visit our website: www.myliebherr.ie or phone 01 4600064 or email [email protected]